There are 570 articles attributed to this author.
Displaying articles 501 to 510.
RICKY DE GUZMAN CAPTURES CALIFORNIA CHESS TITLE
12 Oct 2010



FORMER Asian junior champion International Master (IM) Ricardo "Ricky" de Guzman lived up to his high billing by ruling the 2010 Dolan Memorial international chess tournament at the Mechanics Institute Chess Club in San Francisco, C


CORTEZA ENTERS PATTAYA 9-BALL FINALS FOR AN ALL-FILIPINO FINALE
03 Oct 2010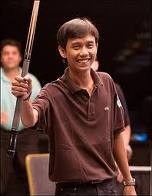 MANILA -- TWO-TIME National Open Champion Lee Vann "The Slayer" Corteza of the Philippines got a final-round berth in the 2010 Sangsom Pattaya 9-Ball Invitational Pool Competition at the Royal Garden Plaza in Pattaya, Thailand today.


PINOY MEMORY ATHLETE WINS SILVER MEDAL IN UK, GAINS GRANDMASTER NORM TO ADVANCE TO THE WORLD MEMORY CHAMPIONSHIPS IN CHINA
30 Aug 2010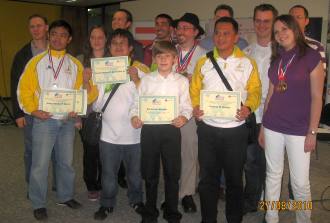 PADDINGTON, CENTRAL LONDON -- Filipino Johann Randall Paton-og Abrina grabs the silver medal for winning the speed cards category by memorizing a deck of cards in lightning fast 1 minute 20 seconds in the just ended 4th U.


RP MEMORY TEAM TO COMPETE IN UK MEMORY MEET
21 Aug 2010
THE Philippine Charity Sweepstakes Office (PCSO)-Mandaluyong, Bagong Henerasyon RP Memory Team players are ready for the 2010 UK Open International Memory Championships in London from August 26 and 27, reported RP Team Manager Aurelio "Reli" De Leon yesterday. The competitors include Roberto Rac


NOKIA B-LEAGUE LAUNCHED
05 Aug 2010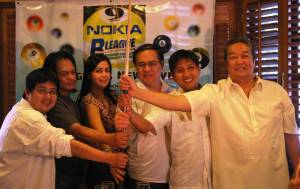 THE NOKIA B-League was officially launched on Wednesday. "This is for the future of Philippine billiards, and we are all here gathered for this event," National Collegiate Billiards League (NCBL) president Aurelio "Reli"


"BATA", "DJANGO" TOP POOL MONEY LIST; REYES, BUSTAMANTE WON'T PLAY IN GUINNESS WORLD SERIES 9-BALL IN JAKARTA
12 Jul 2010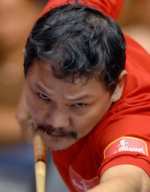 FILIPINO billiards masters Efren "Bata" Reyes and Francisco "Django" Bustamante dominated the latest 2010 Player Money List which includes 2 other Filipino tumbok king in the top 10. According to AZbilliards.com report yeste


BH SUPPORTS RP MENTAL ATHLETES BOUND FOR WORLD MEMORY CHAMPIONSHIPS
07 Jul 2010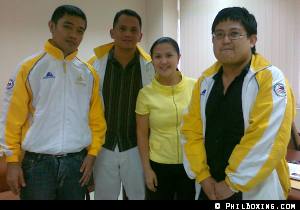 RP Mental Athletes paid a courtesy call today (Wednesday) to Congresswoman Bernadette Hererra-Dy of Bagong Henerasyon (BH) Party List at the Batasan Pambansa in Quezon City. Top photo (L-R): Almario Marlon Bern


BUSTAMANTE, LINING, ARCHER, KUO ENTER SEMIS IN DOHA WORLD POOL
05 Jul 2010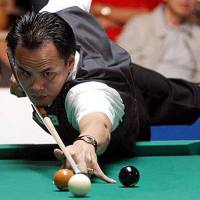 MANILA, PHILIPPINES -- FRANCISCO "Django" Bustamante and Antonio "Nickoy" Lining of the Philippines, Johnny "The Scorpion" Archer and "The Little Monster" Kuo Po-cheng of Chinese-Taipei beat their respective foes to advance int


9 POOL PINOY POOL BETS ADVANCE IN KNOCKOUT STAGES BUT BATA, ORCULLO AND CORTEZA FALTER
04 Jul 2010
NINE FILIPINOS hurdled their knock-out stage rivals but three of the country's best hopes - Efren "Bata" Reyes, Dennis "Robocop" Orcullo and Lee Vann "The Slayer" Corteza, bowed out of contention Saturday in the ongoing 2010 World Pool Championships (World 9-Ball) at the Qatar Billiards and Snooker


BUSTAMANTE, MANALO ADVANCE TO LAST 32 OF DOHA WORLD POOL
04 Jul 2010
FRANCISCO"Django" Bustamante, former World No. 1, made easy work of Oliver "The Machine" Ortmann of Germany, 11-2, while Marlon "Marvelous" Manalo defeated Lu Hui Chan of Chinese-Taipei, 11-8, yesterday, to advance to the round-of-32 of the 2010 World Pool Championships (World 9-Ball) at the Qatar