There are 533 articles attributed to this author.
Displaying articles 501 to 510.
WPC UPDATE: DJANGO, ALEX, BEBENG ADVANCE INTO LAST 64
05 Nov 2007
QUEZON CITY, PHILIPPINES -- FRANCISCO "DJANGO" BUSTAMANTE, Alex "The Lion" Pagulayan and Ramil "Bebeng" Gallego posted back to back contrasting victories yesterday to advance into last 64 of the Philippine World Pool Championship at the Big Dome. The power-breaking Bustamante from Tarlac City be


WPC UPDATE: ALCANO, UCHIGAKI IN ROUND OF 64; INCENTIVES FOR TAIWAN PLAYERS
04 Nov 2007
RONATO ALCANO ENTERS ROUND OF-64 QUEZON CITY, PHILIPPINES -- Ronnie Alcano flashed his toothless smile and winning form yesterday to lead the charge of Filipino cue artists in the World Pool Championship yesterday at the Araneta Coliseum. With the knockout rounds in sight, Alcano didn't


Pacquiao to Welcome WBC Convention Participants
03 Nov 2007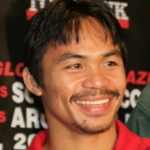 MANILA, PHILIPPINES -- MANNY Pacquiao, arguably the best fighter the Philippines has produced in modern times, will welcome participants to the 45th World Boxing Council (WBC) Convention set Nov. 11-17 at the Manila Hotel. Pacquiao


ALL EYES ON SHANE VAN BOENING IN WORLD POOL CHAMPIONSHIPS
03 Nov 2007
MANILA, PHILIPPINES -- ALL eyes on America's brightest hope Shane Van Boening as his skill will be tested in the biggest 9-ball pool today. While his name hardly rings a bell to many, Van Boening, the recently crowned US Open champion, easily tops the list of fancied players in the World Pool Ch


WPC Update: Taiwanese, Japanese Take First Two Qualifiers
29 Oct 2007
MANILA -- Lu Hui-Chan of Chinese Taipei and Kenichi Ichigaki of Japan took the first two spots of the WPC qualifying tournament at the Star Billiards Center on Saturday, October 27. Lu beat compatriot Ching Yu-lung 9-2 in the final of the first qualifier. The field consisted of 80 players.


JEFF DE LUNA WINS P1-M IN PACMAN 9 BALL TOURNAMENT
28 Oct 2007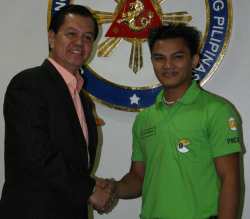 The 23-year-old De Luna, member of the star-studded Bugsy Promotion, beat 2007 Billiards Congress of America (BCA) Enjoypool.com 9-ball winner Dennis Orcollo in an all-Filipino finale, 11-9, late Saturday to win the crown in t


LUAT BEATS JOVEN, GAINS SEMIS IN PACMAN 9-BALL INT'L TOUR
28 Oct 2007
RODOLFO "Boy Samson" Luat got the better of his marquee duel against reigning Korean Pro Tour champion Joven "The Shark" Bustamante and stormed into the semis via a cliff hanging 9-8 victory in the 1st Manny Pacquiao International 9-Ball Open Championships late Saturday at the SM Mall of Asia in Pas


WPC Qualifiers Starts Today with Record Number of Entries
27 Oct 2007
MANILA, PHILIPPINES -- The qualifying tournament for the 2007 World Pool Championship opens today (Saturday, Oct. 27) at the Star Billiards Center in Quezon City with a record 180 players competing for 10 slots in the WPC. Players from 18 countries have signed up for the 10 events. Countries


"MARVELOUS" MANALO STRIKE AGAIN IN PACMAN 9-BALL
26 Oct 2007
THERE was no stopping the express train named "Marvelous" Marlon Manalo. Breaking good and pocketing even better, Manalo jumped the gun on the unsuspecting Karl Boyles of the United Kingdom en route to a runaway 9-1 victory in the P2 million total pot tournament dubbed as Manny Pacquiao Internat


ABS-CBN to Broadcast World Pool
26 Oct 2007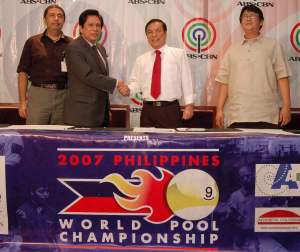 MANILA, PHILIPPINES -- COME November, the most prestigious and biggest pool tournament in the world will be broadcast live over the Philippines' largest television network, ABS-CBN. Raya Sports and Events, the Filip