There are 501 articles attributed to this author.
Displaying articles 441 to 450.
BUSTAMANTE, MANALO ADVANCE TO LAST 32 OF DOHA WORLD POOL
04 Jul 2010
FRANCISCO"Django" Bustamante, former World No. 1, made easy work of Oliver "The Machine" Ortmann of Germany, 11-2, while Marlon "Marvelous" Manalo defeated Lu Hui Chan of Chinese-Taipei, 11-8, yesterday, to advance to the round-of-32 of the 2010 World Pool Championships (World 9-Ball) at the Qatar


BUSTAMANTE, CUARTERO ADVANCE TO LAST 64
01 Jul 2010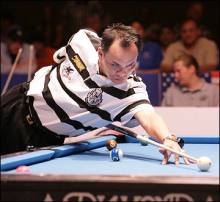 FORMER World no.1 Francisco "Django" Bustamante and Allan "Surigao" Cuartero trounced their respective foes to advance into the round-of-64 and keep their bids alive in the 2010 WPA World Pool Championships (World 9-Ball) at


ALBA UPSETS MANALO IN WORLD 9-BALL CHAMPIONSHIPS IN DOHA
30 Jun 2010
MIDDLE East-based Joven Alba showed better control of his nerves in the thrilling 9-8 come from-behind victory against compatriot Marlon Manalo to lead the opening round winners in the 2010 WPA World Pool Championships (World 9-Ball) at the Qatar Billiards and Snooker Federation hall in Doha, Qatar


PBA LEGEND, FORMER SENATOR ROBERT JAWORSKI IS NEXT PSC CHAIRMAN
29 Jun 2010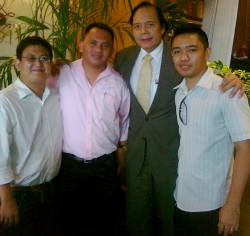 FORMER Senator Robert "Sonny" Jaworski, dubbed as Philippine basketball's "Living Legend," will be the chairman of the Philippine Sports Commission (PSC), when president-elect Benigno "Noynoy" Aquino III formally a


EFREN "BATA" REYES DOMINATES SPANISH OPEN; POCKETS $8,000
26 Jun 2010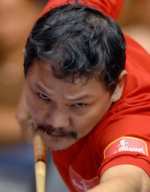 PHILIPPINE billiard icon Efren "Bata" Reyes is once again at the top of the world as he emerged as the winner of the just-ended Spanish Open 9-Ball Championships held yesterday in Vigo, Spain. Reyes, the top player of sports


STRONG FINISH BY PINOYS AT THE 1ST CALIFORNIA POOL TOUR
17 Jun 2010
FILIPINO billiard masters Jose "Amang" Parica and Santos Sambajon did not show up for the 1st CPPT tournament in San Jose, California, but four other younger Pinoy cue artists dominated most of their matches until they faced each other in the semifinals. Deo Mark Alpajora of Las Pinas won all his


THE BEST AND THE BRIGHTEST MENTAL ATHLETES WILL GATHER FOR THE WORLD CHAMPIONSHIPS TITLE; TWO PINOYS RARING TO GO
03 Jun 2010
THE BEST and the brightest mental athletes will gather for the tough and prestigious event of this year's World Memory Championships slated on August 21 to 27 at the Baiyun International Convention Center, Guangzhou, China. The Filipino tandem of Robert Racasa, a former top board player of the Po


VINTAGE TORRE SHINES IN THE 3RD CALGARY INTERNATIONAL CHESS CLASSIC
01 Jun 2010
FILIPINO Grandmaster Eugene Torre flashed his old deadly form when he beat local International Master (IM) Raja Panjwani in the ninth and final round to settled into a tie for 2nd to 4th places at the conclusion of the 3rd Calgary International Chess Classic last May 20 to 24 at the Calgary Chess Cl


PINOY GEARS UP FOR WORLD MEMORY CHAMPIONSHIPS; VIES FOR COVETED GRANDMASTER TITLE
01 Jun 2010
READY and confident. That's how Roberto Racasa and Johann Randall Abrina described their condition in the forthcoming World Memory Championships slated Aug. 21-27 in Guangzhou, China. "I will do my very best for flag and country," said Racasa, a former top board player of Polytechnic University o


RP'S CORTEZA BEATS CHINA'S LO, RULES US OPEN 10-BALL TOUR
23 May 2010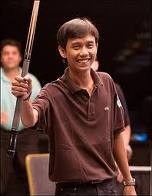 FILIPINO Lee Vann "The Slayer" Corteza defeated Chinese Hi Wen-lo, 13-12, in their rematch on the final to rule the just concluded 2010 US Open 10-ball championship at the Riviera Hotel and Casino in Las Vegas Nevada, USA Saturday.