There are 774 articles attributed to this author.
Displaying articles 331 to 340.
JOHANN CHUA WINS BIG IN 2017 ALL JAPAN CHAMPIONSHIP
Fri, 24 Nov 2017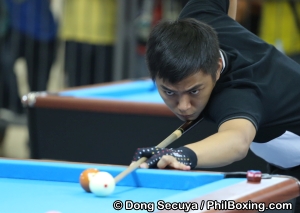 Johann Chua. FILIPINO cue artist Johann Chua emerged champion in the 50th All Japan 10-Ball Championship Thursday night, November 23, 2017 at the Archaic Hall in Amagasaki, Japan. Chua defeated countryman Jundel


NEGROS CHESS WONDER EYES BIG PUSH FOR COUNTRY'S GLORY 18TH ASEAN AGE GROUP CHESS CHAMPIONSHIPS IN PAHANG, MALAYSIA
Fri, 24 Nov 2017
A ten years-old whiz kid from Escalante City, Negros Occidental will be seeing in action in the upcoming 18th ASEAN Age Group Chess Championships slated on November 25 to December 4, 2017 at the Grand Darul Makmur Hotel, Kuantan, Pahang, Malaysia. Dwyane Ermeo-Pahaganas, a grade 5 pupil of Escala


WORLD SENIOR VICE CHAMPION GM ANTONIO VYING HONGKONG INTERNATIONAL OPEN
Thu, 23 Nov 2017
GRANDMASTER Rogelio "Joey" Antonio Jr., the country?s hottest titled player, will be seeking one more International Tournament before the year ends. The 13-time Philippine Open champion Antonio toppled Italian International Master Spartaco Sarno in the 11th and final round after 51 moves of Caro


SUELO DEFEATS OLAY TOPS SINGAPORE CHESS; CEBUANO YAP FINISHES SECOND
Mon, 20 Nov 2017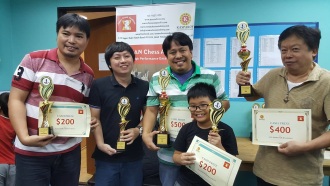 Final Standings (7 Round Swiss-system tournament) 7.0 points---NM Roberto Suelo Jr. (Philippines) 6.0 points---Lincoln Yap (Philippines), IM Liu Xiangyi (Singapore) 5.0 points---FM Lee Qing Aun(Singapore), Joshua Juaneza


Antonio finishes second in Italy World Senior Chess, Torre ties for 2nd
Sun, 19 Nov 2017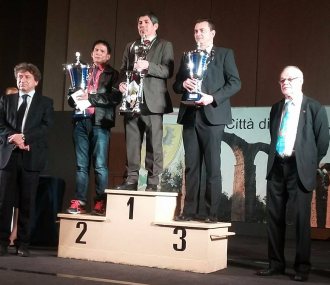 Final Standings/Rankings after tie break was applied: (11 Round Swiss-system) (50+ Open category) 9.5 points---GM Julio Granda Zuniga (Peru) 8.5 points---GM Rogelio Antonio Jr. (Philippines), GM Eric Prie (Franc


Torre gains tie for first place after beating Brazilian IM in 10th round
Sat, 18 Nov 2017
Individual Standings after Round 10: (11 Round Swiss-system) (65 + Open category) 7.5 points---GM Eugene Torre (Philippines), GM Anatoly Vaisser (France), GM Evgeny Sveshnikov (Russia), GM Vlastimil Jansa (Czech Republic), GM Lothar Vogt (Germany), IM Arkady Shevelev (Israel) (50+ Open category)


ROMA, IMPERIAL, CONSTANTINO, PRESENTE LEAD CONCEPCION DOS CHESS CLUB BIDDERS
Sat, 18 Nov 2017
THAILAND blitz king Alvin Roma, Genghis Imperial, Marlon Constantino, the father and son Joey and Juan Carlos Presente led players who are vying for the Concepcion Dos Chess Club non-master chess tournament on November 25, 2017, Sunday at 37 Crimson street Bonita Homes Concepcion Dos in Marikina Cit


ANTONIO WINS, TORRE FALTERS IN WORLD SENIOR CHESS
Thu, 16 Nov 2017
FILIPINO Grandmaster Rogelio "Joey" Antonio Jr. (Elo 2431) trounced American Fide Master Krishan Jhunjhnuwala (Elo 2340) in the eight round Thursday to create a two-way tie for second place in the 27th World Senior Chess Championship 2017 (50+ and 65+ Open-men and women) in Acqui Terme, Italy.


Torre stuns Gutkin, Antonio settles for a draw with Prie
Wed, 15 Nov 2017
Individual standings after round 7: (Open + 65 category) 5.5 points---GM Eugene Torre (Philippines), GM Anatoly Vaisser (France), GM Yuri S Balashov (Russia), GM Vladimir Okhotnik (France), GM Vlastimil Jansa (Czech Republic), GM Davorin Komljenovic (Croatia), GM Lothar Vogt (Germany), IM Arkady


Pacquiao support Star Billiard Center 10-ball tilt
Tue, 14 Nov 2017
AFTER hosting numerous local and international billiards tournaments, Senator Emmanuel "Manny" Pacquiao, the former eight-division world champion and an avid billiards benefactor, is hosting an event at the famous Star Billiard Center at 46 Joy street, Grace Village, Quezon City. The 10-ball Han