There are 745 articles attributed to this author.
Displaying articles 511 to 520.
Laylo shares lead in Malaysia chess tilt
Wed, 19 Sep 2012
KUALA LUMPUR, Malaysia ? Grandmaster Darwin Laylo continued to flex his muscles in the DYTM Raja Nazrin Shah International 2012 on Wednesday at the Olympic Sports Hotel here. Laylo subdued local bet Ng Tze Han in their French encounter, cornering the latter?s king on the eighth rank of h-file and


Barbosa, Paragua off to good start in Malaysia chess tourney
Tue, 18 Sep 2012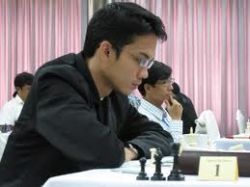 Barbosa. Kuala Lumpur, Malaysia -- GRANDMASTERS Oliver Barbosa and Mark Paragua got off to a blazing start by posting victories in the opening round of the DYTM Raja Nazrin Shah International Open Chess Championship dubbed as KL O


FILIPINO WOODPUSHERS EYE DECENT FINISH IN WORLD CHESS OLYMPIAD
Sat, 08 Sep 2012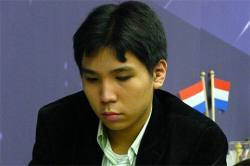 Eleventh and Final Round: Match Points Scoring System Romania versus Philippine men?s team Bosnia and Herzegovina versus Philippine women?s team Manila---AFTER getting the much needed rest, the Philippine men?s and women?


CHESS OLYMPIAD: PHL TEAM CRASHES AGAINST CHINA, 0.5 - 3.5; FACES VIETNAM IN 10TH
Fri, 07 Sep 2012
Team Standings after Round 9: (Match Points Scoring System) 15 points---China, Russian Federation, Armenia, USA 14 points---Ukraine, Netherlands, Argentina 13 points---Czech Republic, Azerbaijan, Hungary, Germany, Philippines, Denmark, Belarus, Poland, Vietnam Manila, Philippines --THE Phili


Philippines Clobbers England; Torre Stands Tall... London Bridge Collapses
Thu, 06 Sep 2012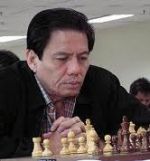 Eugene Torre. PHILIPPINES FACES CHINA IN TODAY'S 9TH ROUND. Team Standings after Round 8: (Match Points Scoring System) 15 points---Russian Federation 13 points---China, Armenia, USA, Germany, Philippines


BAYAN MUNA CONGRATULATES HISTORIC FEAT OF PHILIPPINE CHESS TEAM IN OLYMPIAD: Urges government to provide more funds for sports in 2013 budget
Thu, 06 Sep 2012
Bayan Muna Representative and National Chess Federation of the Philippines (NCFP) Vice-President Neri Colmenares expressed elation over the victories of the Philippine Chess team currently playing in the World Olympiad in Istanbul, Turkey and calls for more government support for chess. ?We co


Pinay aims for win in Oklahoma
Thu, 06 Sep 2012
Luzviminda ?Luz? McClinton, better known as Mama Luz of the Pinoy Big Brother house, aims to bring honor to the country as she represents the Philippines to the World Body Figure and Fitness (WBFF) Body Building Championship on November 10 in Oklahoma, USA. McClinton will also be in the Phil-Asia


CHESS OLYMPIAD: BARBOSA LIFTS PHL PAST BULGARIA; FACES HUNGARY IN ROUND 7
Tue, 04 Sep 2012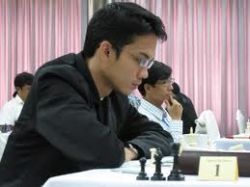 Oliver Barbosa. Round 7 pairings: Board 1 Azerbaijan vs Russia Board 2 China vs Armenia Board 3: Philippines vs Hungary Board 4: Ukraine vs Spain Team Standings after round 6: (Open division, Match Points System) 11 po


PHL RESUMES OLYMPIAD CAMPAIGN VS BULGARIA
Mon, 03 Sep 2012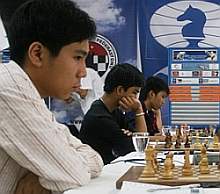 Manila -- Resurgent Philippines resumes its campaign in the 40th FIDE World Chess Olympiad when it battles dangerous Bulgaria in the sixth round Monday at the WOW Convention Center in Istanbul, Turkey. The Filipinos won their last


PHL CHESS SQUAD REBOUNDS, MELTS ICELAND, 3-1
Sun, 02 Sep 2012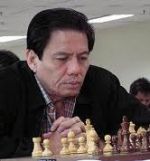 Eugene Torre. Manila -- THE 35th-seed Philippine chess team scored a 3-1 victory over 51st-seed Iceland in the fifth round of the 40th FIDE World Chess Olympiad early Sunday morning (Manila Time) at the WOW Convention Center