There are 757 articles attributed to this author.
Displaying articles 261 to 270.
MICIANO GRABS SOLO LEAD IN THAILAND ASIAN YOUTH CHESS
Wed, 04 Apr 2018
FIDE MASTER (FM) John Marvin Miciano of Davao City claimed the solo leadership in the Asian Youth Chess Championships Standard event after winning his third-round match on Tuesday at the Lotus Pang Suan Kaew Hotel in Chiang Mai, Thailand. Handling the advantageous white pieces, Miciano, the pride


FM NELSON VILLANUEVA WINS 4TH MALAYSIA CHESS TITLE
Sun, 01 Apr 2018
Final Standings: (Nine Round Swiss System) 8.0 points---FM Nelson Villanueva (Philippines) 7.5 points---Wising Abdul Sahim (Malaysia), Andin Faizal (Malaysia), 7.0 points---Hadani Abthar (Malaysia), Ermando Mohd Aizan (Malaysia), A.B Muhd Yusop (Malaysia), Abu Bakar Abdul Wahab (Malaysia), Naj


GM JOHN PAUL GOMEZ STILL ON TOP IN NCFP CHESS TOURNEY
Mon, 26 Mar 2018
Standings after round 5: (Main stage) 5.0 points---GM John Paul Gomez 4.0 points---GM Rogelio "Joey" Antonio Jr., GM Darwin Laylo 3.5 points---IM Roderick Nava, IM Joel Pimentel Jr. 3.0 points---IM Jan Emmanuel Garcia, Daniel Quizon 2.0 points---Michael Concio Jr. 1.5 points---Kylen Joy Mordi


NM EDMUNDO GATUS WINS PECA OPEN BLITZ CHESS TITLE
Fri, 23 Mar 2018
IN preparation for bigger tournaments lined up for him this year, National Master (NM) Edmundo Gatus dominated the Philippine Executive Chess Association (PECA) blitz chess tournament at the Alphaland Makati Place, Ayala Avenue in Makati City Thursday night (March 22, 2018). The former University


GM JOEY ANTONIO WINS PSC CHESS TOURNEY
Tue, 20 Mar 2018
GRANDMASTER (GM) Rogelio "Joey" Antonio Jr. pocketed the top honors in the Philippine Sports Commission (PSC) Chess Tournament 2018 held at the Dasma 2 Central Elementary School near in SM Hyper Market Kadiwa in Dasmari?as City, Cavite over the weekend. The 13-time Philippine Open champion Antoni


GM Darwin Laylo to banner 'The Search for the next Wesley So'
Sun, 18 Mar 2018
GRANDMASTER Darwin Laylo will spearhead a strong local cast clashing in the The Search for the next Wesley So invitational active chess tournament set March 24 to 25, 2018 at the Alphaland Makati Place (2nd Floor) at 7232 Ayala Avenue Corner Malugay Street (near Makati Fire Station) in Makati City.


MICHAEL OCIDO OF NEGROS OCCIDENTAL IS 2018 HANOI CHESS CHAMPION
Fri, 16 Mar 2018
Final Standings: (Challengers section, nine-round Swiss system tournament) 7.5 points---Michael Ocido (Philippines) 7.0 points---FM Vuong Trung Hieu (Vietnam), Recarte Tiauson (Philippines), FM Nelson Villanueva (Philippines), Nguyen Huynh Tuan Hai (Vietnam), WCM Kylen Joy Mordido (Philippines)


CAPOCYAN SIBLINGS LIFT PH'S; 2018 TEXAS STATE SCHOLASTIC CHAMPIONSHIPS RULER
Wed, 14 Mar 2018
MANILA, Philippines---The Capocyan siblings, Sam Lander and John Patrick scored contrasting victories to capture the overall championship of the just concluded 2018 Texas State Scholastic Championships (North/Central) was held at the Marriot Westchase Hotel in Houston, Texas last March 9 to 11, 201


Carlo Biado defeats Jundel Mazon in all-Filipino finals, wins 10-ball Jogja Open, pockets $12,000
Mon, 12 Mar 2018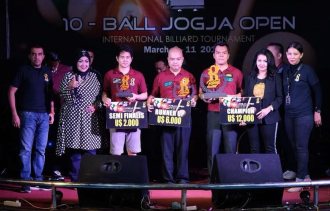 MANILA, Philippines---WITH a grand finale performance that spoke of true greatness and warrior, Carlo Biado capped an amazing week in Indonesia, winning the 10-ball Jogja Open International Billiard Tournament 2018 with a bri


NU rips Adamson, grabs lead in UAAP chess
Wed, 07 Mar 2018
MANILA, Philippines---Back-to-back champion National University continued its impressive showing to grab solo leadership in the seniors men?s division after round 6 in the 80th season of the University Athletic Association of the Philippines (UAAP) chess team championships. National University de