There are 617 articles attributed to this author.
Displaying articles 521 to 530.
ALTA STOPS LAPUZ TO KEEP SUPER WELTERWEIGHT TITLE
21 Sep 2011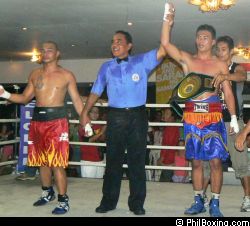 MARLON ALTA of General Santos City retained his Philippine Super Welterweight Title Saturday with a 12th round unanimous decision win against challenger Dondon Lapuz of Cagayan de Oro City which was held at the Elorde Sports Cent


FILIPINO VICTOR ARPILLEDA WINS JOGJAKARTA 9-BALL OPEN; POCKETS $7,000
21 Sep 2011
FILIPINO Victor Arpilleda flashed his vintage form by winning the 2011 Jogjakarta 9-ball Open in Indonesia on Sunday. The Jakarta based Arpilleda who hails from Murphy, Quezon City edged Irsal Nasution of Indonesia, 11-10, in the finals to win the US$7,000 top prize and the championship trophy.


DENNIS ORCOLLO BEATS MIKA IMMONEN, WINS PREDATOR 10-BALL; POCKETS $10,000; ENDS MANILA JINX
19 Sep 2011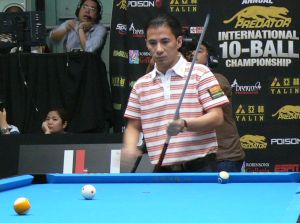 WORLD no.1 Dennis Orcollo of the Philippines put together a big comeback, winning the final three racks to beat Mika Immonen of Finland, 10-8, to capture the 11th Predator International 10-Ball Championship Sunday night at the R


ORCOLLO REACHES PREDATOR 10-BALL TOUR FINALS
19 Sep 2011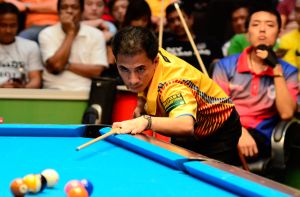 WORLD no.1 Dennis "Robocop" Orcollo of the Philippines reached the 11th Predator International 10-Ball Championships Finals by beating Wu Jia Qing (formerly Wu Chia-ching) of China on Sunday at the Robinson's Galleria in Ortigas


ORCOLLO REACH LAST 16 OF PREDATOR 10-BALL TOURNEY
17 Sep 2011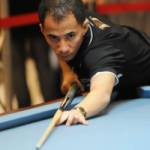 WORLD no. 1 Filipino Dennis "Robocop" Orcollo defeated countryman Carlo "Cool" Biado, 9-3, to advance to the Round of 16 of the 11th Predator International 10-Ball Championships yesterday at the Robinson's Galleria in Ortigas


REYES, ALCANO, GALLEGO, BAUTISTA PREVAIL; BUSTAMANTE FALTERS
16 Sep 2011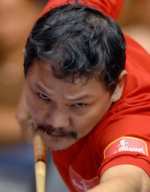 FILIPINO billiards master Efren "Bata" Reyes showed that he still has enough magic tricks left by clobbering American Jayson Shaw, 9-6, to jumpstart his title bid in the 11th Predator International 10-Ball Championships yesterda


FILIPINO TOPS KL CHESS; BARBOSA, BITOON EARNS THIRD GM NORM; OLAY CLINCHES THIRD IM NORM
11 Sep 2011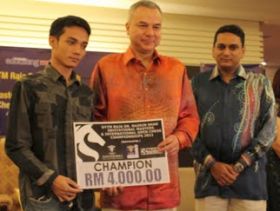 Final standings: (round-robin event) 7.0 points---IM Oliver Barbosa (Philippines) 6.5 points---IM Jahongir Vakhidov (Uzbekistan), IM Richard Bitoon (Philippines) 5.5 points---IM Das Arghyadip (India) 4.5 points---GM


'BATA', 'DJANGO' ADVANCE TO WORLD CUP OF POOL QUARTERS
09 Sep 2011
FILIPINO pool partners Efren "Bata" Reyes and Francisco "Django" Bustamante outhustled their Indian opponents during their Thursday encounter in the 6th Party Poker.net World Cup of Pool at the The Block Atrium of SM North EDSA in Quezon City, Reyes and Bustamante, who make up Philippine Team B,


ORCOLLO SUCCUMBS TO GERMAN FOE IN WORLD POOL MASTERS FINALS
06 Sep 2011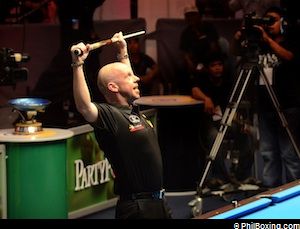 FILIPINO Dennis Orcollo's PartyPoker.net World Pool Masters campaign came to an abrupt end Monday night when he bowed to German Ralf Souquet at the Block Atrium of SM North Edsa Mall. Souquet beat Orcollo in


DENNIS ORCOLLO REACHES WORLD POOL MASTERS FINALS
05 Sep 2011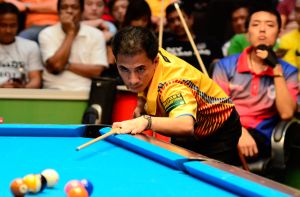 QUEZON CITY, Philippines -- DEFENDING champion Dennis "Robocop" Orcollo of the Philippines reached the 19th Party Poker.net World Pool Masters Finals by beating Fu Jian Bo of China on Monday here at the Block Atrium of SM North