There are 682 articles attributed to this author.
Displaying articles 11 to 20.
Racasa, Buto lead elite cast in Open Kitchen Kiddies Rapid Chess
24 May 2019
The country's youngest Woman Fide Master Antonelle Berthe "Tonelle" Racasa and Asean Master Al-Basher "Basty" Buto take time out from their busy schedule as they head a talent-laden cast of woodpushers playing in the Open Kitchen Kiddies 14 Years old and below Rapid Chess Championship to be held on


Elorta, Cantela, Largo, Reyes rule 1st Eugene Torre Chess Cup - SEA Games Luzon Qualifying Leg 2019
20 May 2019
Final Standings: (Open Division, Rapid Event, Nine Round Swiss-system) 8 points---FM David Elorta, IM Ronald Dableo, IM Jan Emmanuel Garcia 7.5 points---Sherwin Tiu, IM Ricardo de Guzman 7 points---GM Rogelio "Joey" Antonio Jr., NM John Merill Jacutina, WGM Janelle Mae Frayna, US Master Jose "


2nd Meralco Youth Rapid Chess tourney on
18 May 2019
ALL roads lead to Ortigas as it plays hosts to the Meralco Youth Rapid Chess Tournament which fires off June 9, Sunday at the Multi-Purpose hall Ortigas Avenue, Pasig City. Categories entered are the Under 20 division and the Under 14 division in this one-day event, sanctioned by the National Che


Elorde, Vea, Pichay, Gonzales grace GM Torre chessfest on Saturday
17 May 2019
No less than Rotary International District 3810 Governor Liza Elorde will be the guest of honor when the Southeast Asian Games qualification tournament dubbed as 1st Eugene Torre Cup Chess Championship gets under way on Saturday at the Mapua University Gymnasium in Muralla Street, Intramuros, Manila


4Knights Chess Cafe Promotional Rapid Chess Tournament gets underway on May 19
09 May 2019
A wide-open battle for the top honor is set when the 4Knights Chess Cafe Promotional Rapid Chess 1950 and below Non-Master Tournament gets underway on May 19 at the Padilla Nha Avenue Bagong Nayon 2, Barangay San Isidro in Antipolo City. Mark Joseph "MJ" Barbosa, younger brother of US based Gran


36th Goldenmind Chess Dalawahan Team Tournament set in June 2
06 May 2019
THE 36th Goldenmind Chess Dalawahan Team Tournament 2000 average ratings will start off on June 2, 2019 at the third floor Alphaland Southgate Mall, Near MRT Magallanes Station, Edsa, Makati City. "We do this to promote chess in the grass-roots level and discover future chess masters," said tour


1st Kasiglahan Village Rapid Chess Tournament gets underway on Sunday
04 May 2019
The 1st Kasiglahan Village Rapid Chess Tournament (2000 & Below, latest NCFP Rating) gets underway on Sunday, May 5, 2019 at the Munting Ilaw Kasiglahan Village, San Jose, Rodriguez, (Montalban), Rizal. According to Mr. Jed Abudanza, the time control format will be use is Twenty (20) minutes plu


Sta. Maria Bulacan Summer Chess Tournament on Saturday
02 May 2019
THE COUNTRY's woodpushers are in for a treat as Sta. Maria Chess Club will host the 2019 Sta. Maria Bulacan Summer Chess Tournament officially starts on Saturday, May 4 at the Long Meadows Resort, Bowling and Sports Center, Barangay Mahabang Parang, Sta. Maria, Bulacan. The one day chess tournam


Former World Chess Olympiad member WNM Cristina Santos-Fidaer's daughter wins her first US chess tournament
01 May 2019
Former World Chess Olympiad member Woman National Master (WNM) Cristina Santos-Fidaer's daughter Lee-Ann finally got her first taste of chess victory after she finished for 9-11th place in the 2019 National Junior High, K 9 Unrated section chess championships was held last April 26 to 28, 2019 in Gr


43rd US Open 9-Ball Championship: De Luna beats Pagulayan, enters semis
26 Apr 2019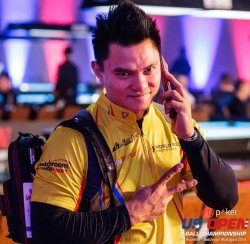 Jeffrey "The Bull" De Luna outplayed Alex "The Lion" Pagulayan, 11-5, in a duel of the fancied Filipino bets to barge into the semifinal round of the partypoker money-rich 43rd US Open 9-Ball Championship being held at the Manda