There are 548 articles attributed to this author.
Displaying articles 101 to 110.
TEAM PHILIPPINES OVER-ALL CHAMPION IN ASEAN AGE GROUP CHESS IN MALAYSIA
05 Dec 2017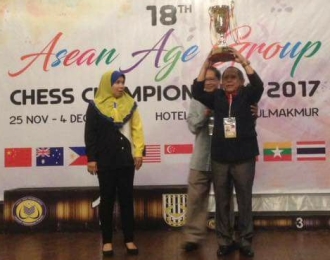 FILIPINO woodpsuhers Jerlyn Mae San Diego of Dasmarinas, Cavite, Mhage Gerriahlou Sebastian of Flora, Kalinga Apayao and Samantha Babol Umayan of Davao City combined their forces with a total 22.0 points output to capt


UMAYAN SIBLINGS SPEARHEAD TEAM PHILIPPINES INTO OVERALL CHAMPIONSHIP AT ASEAN AGE GROUP CHESS IN MALAYSIA
04 Dec 2017
THE Umayan siblings-Samantha and Gabriel John of Davao City scored contrasting victories to help Team Philippines bag the overall championship at the conclusion of the 18th Association of Southeast Asian Nation Age Group Chess Championship in Kuantan, Pahang, Malaysia Sunday night, December 3, 2017.


WHIZ KID BUTO SPEARHEADS TEAM PHILIPPINES TO AN 23-GOLD HAUL IN ASEAN CHESS RAPID
04 Dec 2017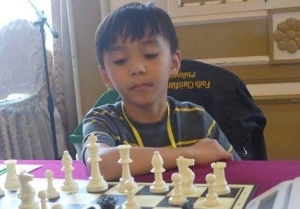 PHILIPPINE chess wizard seven-year-old Al-Basher "Basty" Buto toppled former solo leader Malaysia's Lai Hong Jun in the seventh and final round to clinch the gold medal in the boys 8 years old and under category to lead the Phili


FIDE MASTER "ELO" MARIANO III TOPS BATO CHESS CUP
30 Nov 2017
Final Standings: (Six Round Swiss-system) 5.0 points---FM Nelson Mariano III, FM Mari Joseph Turqueza, Danilo Tiempo 4.5 points---Alvin Roma, NM Ali Branzuela, NM Marlon Bernardino 4.0 points---Virgen Gil, Jerry Areque, Jerry Tolentino, NM Alcon John Datu 3.5 points---Ruvillo Paulin, NM Rolando


CEBU'S QUINANOLA OFF TO HOT START IN 18TH ASEAN AGE GROUP CHESS IN MALAYSIA
28 Nov 2017
CEBUANA Regina Catherine Quiñanola and Ilagan, Isabela bet Ruth Joy Vinuya were off to blazing start by winning their opening round matches at the start of 18th ASEAN Age Group Chess Championship held at the Grand Darul Makmur Hotel in Kuantan, Pahang, Malaysia on Sunday. Quiñanola defeated Nur


IM SENADOR CO-CHAMP IN ASEAN RAPID CHESS OPEN
26 Nov 2017
Final Standings: (Six Round swiss-system) 5.5 points---IM Dede Lioe (Indonesia), IM Emmanuel Senador (Philippines) 5.0 points---Muhd Syakir Shazmeer Azhar (Malaysia), Ruzenan Abu Bakar (Malaysia) 4.5 points---Sumant Subramaniam (Malaysia), NM Roberto Suelo Jr. (Philippines) INTERNATIONAL Maste


JOHANN CHUA WINS BIG IN 2017 ALL JAPAN CHAMPIONSHIP
24 Nov 2017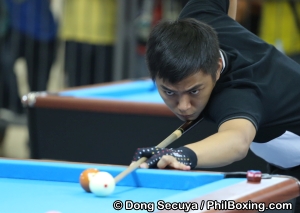 Johann Chua. FILIPINO cue artist Johann Chua emerged champion in the 50th All Japan 10-Ball Championship Thursday night, November 23, 2017 at the Archaic Hall in Amagasaki, Japan. Chua defeated countryman Jundel


NEGROS CHESS WONDER EYES BIG PUSH FOR COUNTRY'S GLORY 18TH ASEAN AGE GROUP CHESS CHAMPIONSHIPS IN PAHANG, MALAYSIA
24 Nov 2017
A ten years-old whiz kid from Escalante City, Negros Occidental will be seeing in action in the upcoming 18th ASEAN Age Group Chess Championships slated on November 25 to December 4, 2017 at the Grand Darul Makmur Hotel, Kuantan, Pahang, Malaysia. Dwyane Ermeo-Pahaganas, a grade 5 pupil of Escala


WORLD SENIOR VICE CHAMPION GM ANTONIO VYING HONGKONG INTERNATIONAL OPEN
23 Nov 2017
GRANDMASTER Rogelio "Joey" Antonio Jr., the country's hottest titled player, will be seeking one more International Tournament before the year ends. The 13-time Philippine Open champion Antonio toppled Italian International Master Spartaco Sarno in the 11th and final round after 51 moves of Caro


SUELO DEFEATS OLAY TOPS SINGAPORE CHESS; CEBUANO YAP FINISHES SECOND
20 Nov 2017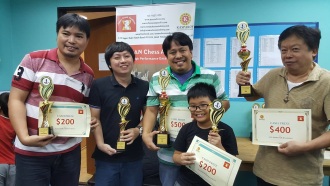 Final Standings (7 Round Swiss-system tournament) 7.0 points---NM Roberto Suelo Jr. (Philippines) 6.0 points---Lincoln Yap (Philippines), IM Liu Xiangyi (Singapore) 5.0 points---FM Lee Qing Aun(Singapore), Joshua Juaneza