There are 547 articles attributed to this author.
Displaying articles 171 to 180.
CYCLING ICON CORNELIO A. PADILLA JR., 67
09 Dec 2013
Back-to-back Tour of Luzon cycling marathon champion Cornelio Agaid Padilla Jr. died of heart failure at St. Luke's Global City Medical Center on Sunday (December 8). He was 67. Padilla carved a name at the pinnacle of national sports in the 1960's when he won the grueling Tour of Luzon cyclin


15,000 ATTENDANCE AT SCUAA-NCR GAMES FOR 2013
29 Nov 2013
"Moving ahead towards sports excellence "in this year's theme, the State Colleges and Universities Athletic Association-National Capital Region (SCUAA-NCR) made history as it opens its 26th season on Nov. 26 at Quirino Grandstand with a 15,000 attendance. Even though the rain poured heavy during


World Cup veterans Barbosa and Dableo lead Chess Fund-Raising at Meralco Chess Club
27 Nov 2013
GM Oliver Barbosa and GM Ronald Dableo led the 8 masters who volunteered to help raise funds for the typhoon victims organized by Meralco Chess Club last Saturday at Meralco Center in Pasig City. The other masters were IM Chito Garma, NMs Efren Bagamasbad, Gerry Cabellon, Ed Garma, Almario Marlon Be


Round 7: Tagaytay chessers near Asian Cities Chess Team Championship Title
25 Oct 2013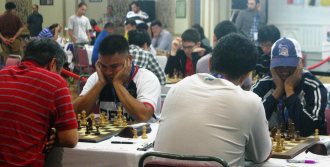 Standings after seven rounds: 13 points---Tagaytay (PHL) 11 points---Shanghai (CHN), Wuxi (CHN) 9 points--- Ulaanbaatar (MGL) 8 points---Manila-PSC (PHL), Pasay-PAF (PHL),Baghdad (IRQ) 7 points---Shah Alam (MAS),Sha


Round 4: Tagaytay-PHL beats Shanghai-China in Asian Cities Chess Team Championship
23 Oct 2013
Standings after four rounds: 8 points---Tagaytay (PHL) 6 points---Manila-PSC (PHL), Wuxi (CHN), Baghdad (IRQ), 5 points---Shah Alam (MAS), Ulaanbaatar (MGL), Shanghai (CHN) 4 points---Singapore (SIN), Sharjah (UAE), Colombo (SRI),Erdenet (MGL), Pasay-PAF (PHL) 3 points---Dubai (UAE) 2 poin


INDONESIA OPEN CHESS: LAYLO DRAWS WITH VASQUEZ, GOMEZ, BARBOSA, NOLTE PREVAIL
14 Oct 2013
FILIPINO GRANDMASTER (GM) Darwin Laylo settled for a truce with Spanish GM Renier Igarza Vazquez to create a 20-way tie for seventh place along with compatriot GMs Oliver Barbosa and John Paul Gomez and International Master Rolando Nolte in the fifth round of the 2013 Indonesian Chess Open Champions


GM 'Joey' Antonio rules Battle of the Grandmasters 'blitz' chessfest
08 Oct 2013
MANILA – Grandmaster Rogelio "Joey" Antonio Jr. finished with a seven-round total of 6.0 points on five wins and two draws to capture his first major title in local soil this year. The multi-awarded campaigner from Calapan, Oriental Mindoro topped the 2013 Battle of the Grandmaster "Blitz" Chess


Battle of Grandmasters: Frayna virtual champ
07 Oct 2013
Standings after 12 rounds: MEN: 28.5 points J.Gomez; 27.0 O. Barbosa; 25.0 D. Laylo; 24.0 R. Antonio; 21.0 R. Barcenilla; 20.0 M. Paragua; 16.5 J. Pimentel, E. Torre, E. Senador; 15.0 R. Nava, R. Bitoon, R. Salcedo III; 7.5 N. Reyes; 4.5 J. Habla WOMEN: 31.5 points J. Frayna; 25.5 C. Perena, J.


Frayna grabs solo lead in 2013 Battle of the Grandmaster Chess Championships; Gomez stays on top after a draw
03 Oct 2013
JANELLE MAE FRAYNA battled Jean Karen Enriquez to a draw after 79 moves of English Opening to assume solo leadership after the fifth round of the 2013 Battle of the Grandmaster Chess Championships late Wednesday at the Philippine Sports Commission Conference Room, Administration Bldg., Vito Cruz


Battle of the Grandmasters: Gomez stays hot; Frayna, Mendoza still unbeaten
02 Oct 2013
GRANDMASTER John Paul Gomez bested International Master Richilieu Salcedo III after 30 moves of French defense using the black pieces late Tuesday to maintain solo leadership in the 2013 Battle of the Grandmaster Chess Championships at the Philippine Sports Commission Conference Room, Administration