There are 546 articles attributed to this author.
Displaying articles 151 to 160.
SO TRIES TO BOUNCE BACK AGAINST DUTCH GM TODAY
23 Jan 2014
Round 8 Standings: Aronian 6pts, Karjakin 5.5pts, Caruana, Dominguez, Giri 5pts, Harikrishna, Van Wely, So 4pts, Rapport, Nakamura 3pts, Gelfand 2pts, Naiditsch 1.5pts Round 9 - Thursday the 23rd Rapport, R. - Giri, A. Nakamura, H. - Caruana, F. Naiditsch, A. - Harikrishna, P. So, W.


Wesley So loses to Cuban GM
22 Jan 2014
Round 8 Standings: Aronian 6pts, Karjakin 5.5pts, Caruana, Dominguez, Giri 5pts, Harikrishna, Van Wely, So 4pts, Rapport, Nakamura 3pts, Gelfand 2pts, Naiditsch 1.5pts Round 9 Thur 23rd Jan 2014 1pm GMT: Rapport-Giri, Nakamura-Caruana, Naiditsch-Harikrishna, So-Van Wely, Gelfand-Dominguez, Aronia


Pinay pool master Anna Tulauan to compete US Pool
22 Jan 2014
Manila, Philippines -- Veteran campaigner Anna Tulauan has all the opportunities to be the world's best. But for now, she is determined to follow in the footsteps of Filipino world champions like Rubilen "Bingkay" Amit, US open runner-up Iris Ranola, Mary-Ann Basas, Cheska Centeno and US based M


Wesley So goes up against Cuban GM
21 Jan 2014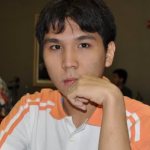 Round 7 Standings: Aronian 5.5, Giri, Karjakin 4.5, Caruana, Dominguez, So 4.0, Harikrishna, Van Wely, Rapport, Nakamura 3.0, Gelfand 2.0, Naiditsch 1.5 Round 8 Tue 21st Jan 12:30GMT: Giri-Aronian, Karjakin-Gelfand, Domingue


So, Karjakin battle to a draw
20 Jan 2014
Round 7 Standings: Aronian 5.5, Giri, Karjakin 4.5, Caruana, Dominguez, So 4.0, Harikrishna, Van Wely, Rapport, Nakamura 3.0, Gelfand 2.0, Naiditsch 1.5 Round 8 Tue 21st Jan 12:30GMT: Giri-Aronian, Karjakin-Gelfand, Dominguez-So, Van Wely-Naiditsch, Harikrishna-Nakamura, Caruana-Rapport. Manil


Aronian stuns So; keeps lead in 76th Tata Steel Tournament Masters
19 Jan 2014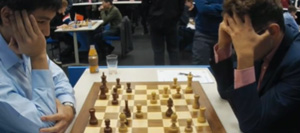 Round 6 Standings: Aronian 5pts, Giri, Karjakin 4pts, Dominguez, Caruana, So 3.5pts, Harikrishna, Nakamura 3pts, Van Wely, Rapport 2pts, Gelfand 1.5pts, Naiditsch 1pts Round 7 Pairings Sun 19th Jan: Caruana-Giri, Rapport-Harikri


76th Tata Steel Chess: Wesley So stays at second place after a win over Gelfand; Faces top-seed Aronian today
18 Jan 2014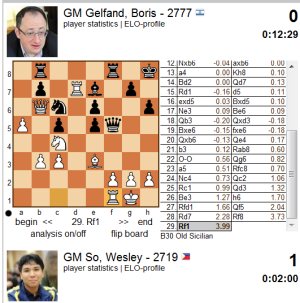 Round 5 Standings: Aronian 4.0pts, Giri, So 3.5pts, Dominguez, Karjakin, Caruana 3.0pts, Harikrishna, Nakamura 2.5pts, Van Wely, Rapport 1.5pts, Naiditsch, Gelfand 1pt. Round 6 Pairings 12:30pm Sat 18th 2014: Giri-Gelfand,


Wesley So Takes on Boris Gelfand in Round 5
17 Jan 2014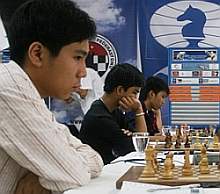 Round 5 pairings: Harikrishna, P. - Giri, A. Caruana, F. - Van Wely, L. Rapport, R. - Dominguez, L. Nakamura, H. - Karjakin, S. Naiditsch, A. - Aronian, L. So, W. - Gelfand, B. Round 4 standings: Aronian 3.0pts, Harik


76th Tata Steel Tournament Masters: Another draw for GM Wesley So
16 Jan 2014
Round 4 standings: Aronian 3.0pts, Harikrishna, Karjakin, So, Giri 2.5pts, Dominguez, Caruana, Nakamura 2.0pts, Van Wely, Rapport 1.5pts, Naiditsch, Gelfand 1pt Round 5 Friday 17th Jan 2014 12:30pm: Harikrishna-Giri, Caruana-Van Wely, Rapport-Dominguez, Nakamura-Karjakin, Naiditsch-Aronian, So-Gelf


Tata Steel Chess: Wesley So seeks revenge vs Anish Giri
15 Jan 2014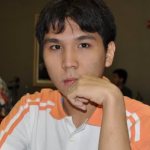 So. Round 3 Standings: Aronian, Wesley So, Harikrishna, Caruana, Nakamura and Giri 2pts/3, Karjakin, Rapport, 1.5pts, Van Wely, Dominguez, 1pt, Gelfand, Naiditsch 0.5pts Round 4 Rijksmuseum, Amsterdam Wed 15th Jan: Gir