There are 866 articles attributed to this author.
Displaying articles 721 to 730.
PINOY GMs BARBOSA, GOMEZ SHARE LEAD WITH UZBEK GM IN NEW DELHI CHESS MEET
Wed, 18 Jan 2012
FILIPINO Grandmasters (GMs) Oliver Barbosa and John Paul Gomez racked up two straight victories to share the top spot with Uzbek GM Marat Dzhumaev in the on-going 10th Parsvnath International Open Chess Tournament 2012 yesterday (Wednesday) at Ludlow Castle Sports Complex, Civil Lines in New Delhi,


PHILIPPINE MEMORY ATHLETES FETED AT MANDALUYONG CITY HALL
Mon, 16 Jan 2012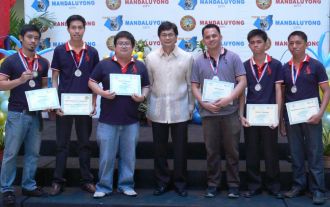 SIX of the nine members of the Philippine Charity Sweepstakes Office-Mandaluyong-Bagong Henerasyon Philippine Memory Team were honored today (January 16, 2012) at the Regular Monday Program in Mandaluyong


SO, LAYLO, PARAGUA SET TO GRACE MARIKINA CHESS TOURNEY
Sat, 14 Jan 2012
THE COUNTRY'S top rated Grandmaster (GM) Wesley So is looking forward to meeting young chess players as the 2050 Non-Master Below rapid chess tournament gets underway on February 5, 2012, Sunday at no. 96 M.A. Roxas St. corner H. Roxas St., San Roque, Marikina City. ?As a veteran chess player, I?


PINOY GM GOMEZ TIES FOR 2ND IN INDIA CHESS MEET
Thu, 12 Jan 2012
REIGNING Southeast Asian Games silver medalist Grandmaster (GM) John Paul Gomez made the country proud anew when he finished in a tie for second at the conclusion of 4th Chennai Open 2012 International Grandmaster Chess Tournament at Multipurpose Indoor Stadium, Periamet, Chennai, India on Thursday.


INDIA CHESS: BARBOSA WINS, GOMEZ CEASEFIRES IN ROUND 10
Wed, 11 Jan 2012
GRANDMASTER (GM) Oliver Barbosa beat IM Jahongir Vakhidov of Uzbekistan after 35 moves of King's Indian defense to stay in contention in the tenth round of the SDAT-RMK 4th Chennai Open Grand Master Chess Tournament in Chennai, India on Wednesday. Thus, the Taytay, Rizal native Barbosa raised his


INDIA CHESS: GM GOMEZ IS TOP FILIPINO FINISHER AFTER RD 9
Tue, 10 Jan 2012
Grandmaster (GM) John Paul Gomez is the top Filipino finisher in the on-going SDAT-RMK 4th Chennai Open Grand Master Chess Tournament in Chennai, India. This after the Binan, Laguna native beat Swayams Mishra of India using the disadvantageous black pieces after 37 of Slav defense in the ninth ro


GMs SO, TORRE TO HOLD A RARE SIMUL CHESS FOR A CAUSE FOR THE BENEFIT OF THE FAMILY OF THE LATE NM MAGA
Mon, 09 Jan 2012
GRANDMASTERS (GMs) Wesley So and Eugene Torre will hold a rare simultaneous chess exhibition to challenge woodpusher's problem solving abilities, critical and strategic thinking in the "Maging Sino Ka Man" chess for a cause starting at 1pm on February 4, 2012 at the Meralco Canteen, Meralco compound


INDIA CHESS: PARAGUA, BITOON WIN; GOMEZ FALTERS
Mon, 09 Jan 2012
GRANDMASTERS (GMs) Mark Paragua and Richard Bitoon of the Philippines toppled their respective rivals in the seventh round of SDAT-RMK 4th Chennai Open Grand Master Chess Tournament on Monday in Chennai, India. The Bulacan based Paragua defeated Navalgund Niranjan of India while the Medellin, Ceb


INDIA CHESS: GOMEZ WINS; BITOON FALTERS
Sun, 08 Jan 2012
GRANDMASTER (GM) John Paul Gomez continues his winning ways to keep the Philippine flag high. However, countryman GM Richard Bitoon yielded in the sixth round of SDAT-RMK 4th Chennai Open Grand Master Chess Tournament on Sunday in Chennai, India. The Binan, Laguna bet Gomez toppled Navin Kanna of


INDIA CHESS: GOMEZ, BITOON, PARAGUA PREVAIL IN 5TH ROUND; BARBOSA FALTERS
Sat, 07 Jan 2012
GRANDMASTERS (GMs) John Paul Gomez, Richard Bitoon and Mark Paragua of the Philippines toppled their respective fifth round assignments in the on-going SDAT-RMK 4th Chennai Open Grand Master Chess Tournament on Saturday in Chennai, India. The Binan, Laguna bet Gomez crushed FM Gagare Shardul of I