There are 55 articles attributed to this author.
Displaying articles 1 to 10.
Fight Report: Bendana Stops Beattie - Former Amateur Stars Towl and Coulson Win In Style On Pro Debuts
Mon, 07 Sep 2020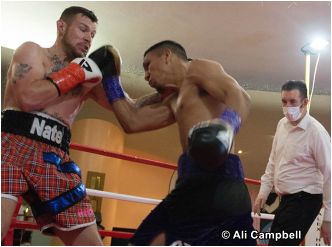 The second event in the LET BATTLE COMMENCE 'behind closed doors' series, in association with PAPA JOHN'S PIZZA and NEON ENERGY DRINK, which was broadcast live on FITE TV, finally took place on Friday night at the th


Birthday Boy McAllister Beats Djarbeng Into Submission to Become Six Time, Five Division World Champion
Mon, 07 Oct 2019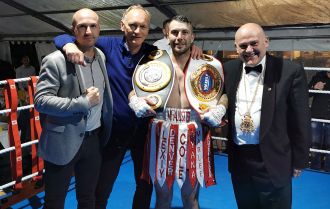 Storm Lorenzo may have been creating havoc across the UK on Saturday, but even that could not stop the fans in Aberdeen turning out in force to support local hero Lee McAllister in his quest to become a Six Time, Five Divis


Fight Report: Peaky Blinder of a Night in Derby as Peers, Varley, Russo and Jones Win in Style
Tue, 24 Sep 2019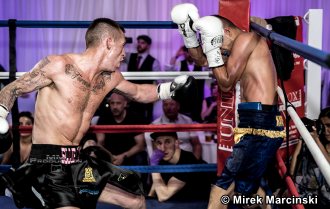 Peers goes after Narvaez. On Saturday night somehow Derby promoter Dan Gray managed to turn what seemed to be a doomed special ?Peaky Blinders? themed event, into a massive success. Originally the event, at the Quee


Fight Report: Cook Digs Deep in Battle Royale Against Aguilar to Secure First Title
Mon, 16 Sep 2019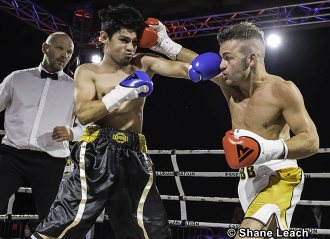 Cook and Aguilar. On Saturday night, the fans turned out in force to support Clacton-on-Sea?s Super Bantamweight prospect Ben ?The Claxican? Cook make his first challenge for a Championship accolade, against Nicaragua?s


McGivern Secures Light Heavy Title the Hard Way at Historic Clacton-on-Sea Event
Tue, 20 Nov 2018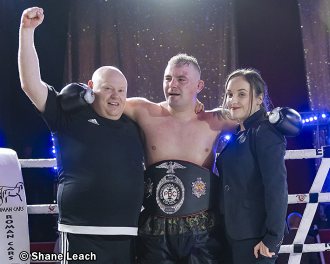 On Saturday night at the Princess Theatre in Clacton-on-Sea, Essex, Professional Boxing made a most welcome return to the seaside town after almost 80 years, when Colchester's Tommy Jacobs presented his latest boxing pr


Fight Report: Trio of New Stars Emerge, Jacobs, Lyall & Crosby Impress on Debuts as Hillyard, Decastro & Taylor All Win By Stoppage
Mon, 14 Mar 2016
London promoter Mark Lyons had a nightmare of a run up to his first show of 2016, that took place on Friday night at York Hall, after seven fights are cancelled due to illness or injury in the preceding ten days and Ernest Amuzu, the opponent for headlining George Hillyard WBU International Title de


Fight Report: Docherty Stops Kelly to Secure WBU Crown as McEwan, Allan and Robb take Victory Laurels
Tue, 18 Aug 2015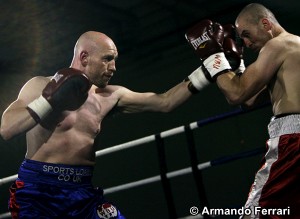 Scottish Promoter Thomas Melville made his intentions clear for all to see with his debut event on Saturday night, even with seriously major dramas leading up to the event, including losing one of his big draws, former WBO Fe


Fight Report: Corito Reigns Supreme In Title Clash - Laamouz Stops Mukhamadiyarov as New Stars Farrugia and Brown Shine.
Wed, 03 Jun 2015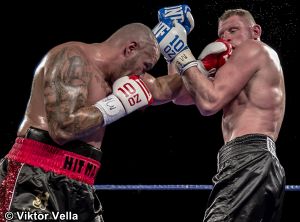 On Friday night, in the grounds of the incredibly beautiful Monte Kristo Estates in Hal Luqa, Malta, local boxing fans were treated to a magnificent night of International boxing. The event, which was headlined by the M


Fight Report ? Allan Edges Wood In A True Thriller As Robb Just Pips Ellis At The Post.
Tue, 28 Apr 2015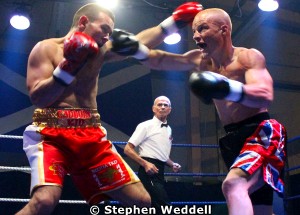 Well known Scottish WKA Kick Boxing promoter Stewart Allan promoted his first pro boxing event on Saturday night, at his Rivals Gym venue in Wishaw, and boy oh boy did he do a fantastic job of it. This was my first time north


Fight Report: Decastro KOs Rozembergs as Wood & Smith Score Sensational TKO Debut Victories.
Tue, 31 Mar 2015
Usually it is either a Friday or Saturday night that I get my regular fix of pugilistic action, this week though it was a little different as I made the trip from London up to Leeds on Sunday morning, in order to catch the latest offering from former Irish Champion, turned promoter, Lee Murtagh.