There are 424 articles attributed to this author.
Displaying articles 81 to 90.
Team Philippines ready for 1st Hongkong Open Memory Championships
04 Aug 2013
TEAM PHILIPPINES will bring its act to Hongkong as it competes in the 1st Hongkong Open Memory Championships on September 28 and 29, 2013 in Hongkong. Members of the team are led by 2013 Philippine Memory Open over-all champion Johann Randall P. Abrina, runner-up Mary Sharmaine Deldio Dianquinay


Biado settles for 2nd place in US Open 8-Ball Championship
29 Jul 2013
Filipino Carlo "The Black Tiger" Biado yielded to eventual champion American Shane Van Boening, 13-11, in the finals of this year's US Open 8-Ball Championship held at the Rio Hotel and Casino in Las Vegas, Nevada, yesterday. The Bugsy International Promotions ace Biado, who was the winner of the


NATIONAL OPEN CHESS SEMIS GETS UNDERWAY AT PONCIANO BERNARDO ELEMENTARY SCHOOL IN CUBAO
23 Jul 2013
The semifinal round of the 2013 National Open chess championship gets underway on Saturday, July 27, 2013. The 9-round Swiss system competition, divided into men and women's divisions organized by the National Chess Federation of the Philippines (NCFP) headed by it's Chairman/President Prospero "


Orcollo wins US Open One Pocket title
23 Jul 2013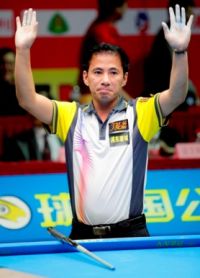 The Philippines' Dennis "Robocop" Orcollo is once again at the top of his game after winning the US Open One Pocket Championship 2013 at the Rio All-Suite Hotel and Casino in Las Vegas, Monday Manila Time (Sunday


Pacquiao to play in 1st UNTV Cup at the Big Dome?
20 Jul 2013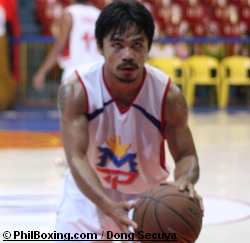 Boxing legend and Sarangani representative Manny Pacquiao is known to be a basketball enthusiast aside being a chess and billiards lover. In the past he participated basketball game in the country. The guessing game is whe


GRANDMASTER MARK PARAGUA CHESS SIMUL
17 Jul 2013
World Cup bound and reigning National Champion GM Mark Paragua will be conducting a Simultaneous Chess Exhibition at SM City Marilao, Bulacan on Saturday July 27, 2013. Paragua, the 1998 World U-14 Rapid Champion who qualified for his 4th World Cup appearance recently by placing 3rd in the recent


FILIPINO CARLO BIADO IS HARD TIMES 10 BALL OPEN CHAMPION; POCKETS $5,300
16 Jul 2013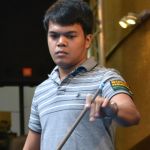 Biado. Rising star Carlo Biado emerged as this year's Hard Times 10 ball Open champion with an 11-1 victory over countryman Alex Pagulayan in the finals held at the Crooks and Castle in Bellflower, Los Angeles California o


Filipino Pride: story of an chess teacher in Thailand
11 Jul 2013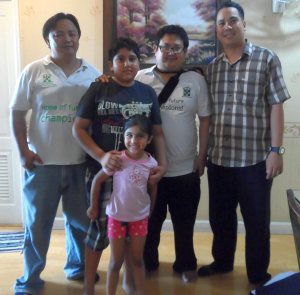 NONTHABURI, Thailand – IT takes a lot of courage, guts and sacrifice for a former English Teacher who gave up his work and try to put up an school of chess in this province renowned for growing the best Durian in the count


FM DENIEL CAUSO RULES BANGKOK CHESS CLUB OPEN BLITZ TOURNAMENT
06 Jul 2013
Final Standings of the Bangkok Chess Club Blitz Tournament in Bangkok, Thailand on Friday, July 5, 2013 (Single Round Robin Format, Five Minutes Play To Finish Event) 1. FM Deniel Causo (PHI) 11.5/12 2. Jimson Bitoon (PHI) 11 3. NM Almario Marlon Bernardino Jr. (PHI) 10 4. NM Ric Portagal


Team Philippines ready for Thailand Open Memory Championship on Saturday
05 Jul 2013
Amphoe Muang Nonthaburi, Nonthaburi, Thailand -- THE Antipolo-Rizal Memory Sports Council Inc. and the Philippine Memory Sports Council Inc. bring its act to Bangkok as it compete in the 6th Thailand Open Memory Championship gets underway on Saturday (July 6, 2013)at the Kasetsat University. Mem