There are 1,274 articles attributed to this author.
Displaying articles 31 to 40.
HAWTON STOPS VILLALOBOS
09 Dec 2018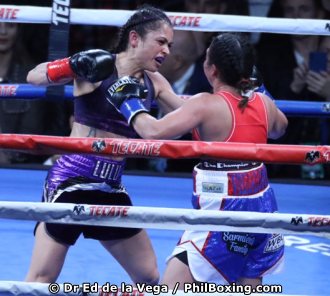 CARSON, CA -- Filipina-Aussie Louisa Hawton (9-2-0, 5KOs) of Perth, Australia stops Lorraine Villalobos (2-2-0, 0KOs) of the United States to win the WBC Atom weight Interim belt. After a slam bang non stop exchanges from


EARLY RESULTS FROM CARSON, CA (PHOTOS)
09 Dec 2018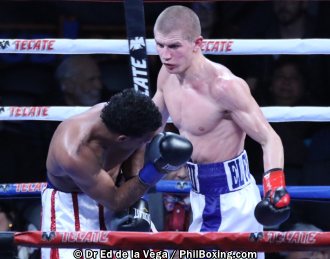 Below are the early undercard results of the double female unified world championships headlined by the Cecilia Breakhaus vs Aleksandra Lopes IBF, IBO, WBA, WBC, WBO World Female welterweight titles and the Claressa Shie


THEY DON'T CALL IT A "PRIZE-FIGHT" FOR NOTHING
30 Nov 2018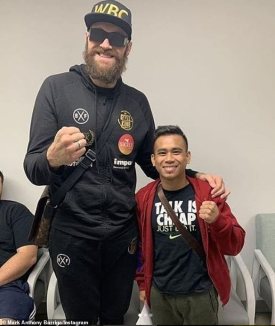 For the longest time in the "sports" they call boxing, fighters at the lowest spectrum of the "weight divisions" had been ignored. Although these puny little guys also sacrifice and at times offer their lives for the ent


WEIGHTS FROM T-MOBILE ARENA: CANELO - 159.4 LBS., GGG - 159.6 LBS. (PHOTOS)
15 Sep 2018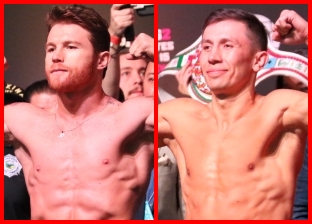 LAS VEGAS -- The official weigh-in for the huge Canelo vs GGG2 was held moments ago at the swank T-Mobile Arena, Las Vegas. The venue is the same place where tomorrow's (Saturday's) blockbuster fight featuring two of


DE LA VEGA: TEAM ASTON PALICTE – AN EPITOME OF CLASS
10 Sep 2018
As most everyone knows, particularly boxing fans from the Philippines, I have the honor of being the cutman for both Donnie Nietes and Aston Palicte. Needless to say, their recent fight put a huge monkey on my back. I had to make a choice as to whom I shall help as a cutman during their fight.


DE LA VEGA: A NIETES-PALICTE REMATCH? I DON'T THINK SO!
10 Sep 2018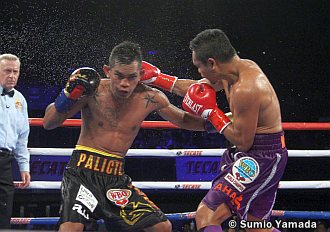 Donnie Nietes and Aston Palicte, two of Philippines' world class super flyweights, gave it their all at a fight at the Forum on 360 Promotions' Superfly3 Series last Saturday night. Both fighters gave their best and e


DE LA VEGA: NIETES vs PALICTE FROM THEIR CUTMAN'S POINT OF VIEW
07 Sep 2018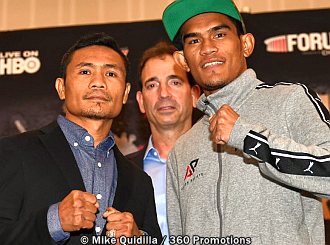 For the longest time that I was involved with boxing, not once was I handed the rare opportunity to see two fighters I helped get to a world title fight battle each other for a world title belt. But, that is exac


ASTON PALICTE SECURES FIRST COMMERCIAL SPONSOR IN FIGHT VS. DONNIE NIETES
09 Aug 2018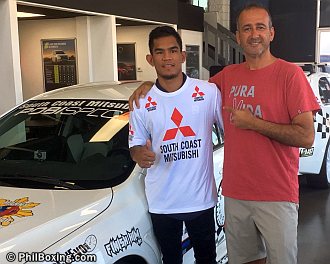 "Salamat po sa tulong sa akin," states Aston Palicte when news was relayed to him that he has landed his first sponsor. "Malaking tulong po sa akin yan," he added. (Thank you. This is a big help to me) Today Palicte tr


PALICTE ARRIVES IN L.A.; PRESSCON WITH NIETES SET TOMORROW
08 Aug 2018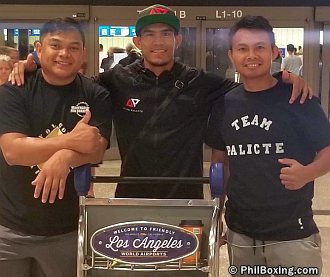 LOS ANGELES -- Moments ago, Aston Palicte arrived in LA full of pep and enthusiasm and very excited about his coming title with his province-mate, Donnie Nietes. For a while there, his crew meeting him at the


MIKEY GARCIA DROPS EASTER IN 3RD EN ROUTE TO A UD VICTORY TO UNIFY WBC/IBF LIGHTWEIGHT BELTS
29 Jul 2018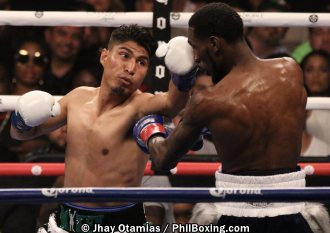 STAPLES CENTER, LOS ANGELES -- Mikey Garcia drops Robert Easter Jnr late in round three with a right left combo but could not finish the job. Easter survived by his long left jabs and his legs alone and had no answer to Ga