There are 1,262 articles attributed to this author.
Displaying articles 1151 to 1160.
Golden Boy Wants Hatton Next at Dodger Stadium
11 Nov 2007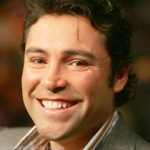 Los Angeles, CA -- Reports indicate that the Golden Boy, Oscar de la Hoya is looking ahead next summer to fight again. De la Hoya wants to hold his next fight at a site located in the heart of Los Angeles, at Chavez Ravine, th


ANA JULATON IMPRESSIVELY WINS PRO DEBUT
04 Nov 2007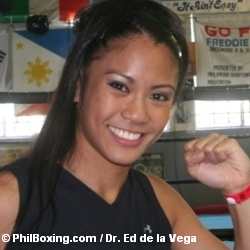 LOS ANGELES -- Ana "The Hurricane" Julaton, last night won her first pro fight. The fight was an undercard of the Saul Roman- Kassim Ouma tiff promoted by Golden Boy Promotions at the Morongo Casino at Cabazon, California.


"Pollo" Valenzuela's Return is a Dud
04 Nov 2007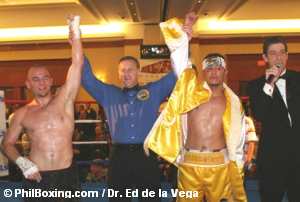 WOODLAND HILLS, CA -- Juan Valenzuela of Culiacan , Mexico once a prospective contender in the welterweight division made his long awaited comeback after more than three years of absence. He headlined Art of Boxing's initi


Julation's Pro Debut… a New Opponent
02 Nov 2007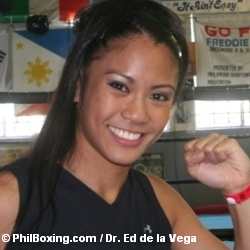 Los Angeles, CA -- Word has reached this writer that Ana Julaton's pro debut scheduled at the Morongo Casino Resort in Cabazon, California tomorrow, November 2, 2007 is on as previously reported. However, Julaton will hav


VARGAS-MAYORGA: THE HEAT IS ON!
01 Nov 2007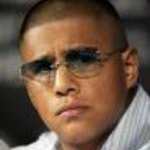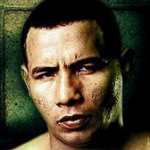 LOS ANGELES -- The much awaited Fernando Vargas-Ricardo Mayorga rumble in Los Angeles is finally on. The bout which was postponed and re-scheduled after Vargas repo


JULATON'S PRO DEBUT IS FINALLY ON!
31 Oct 2007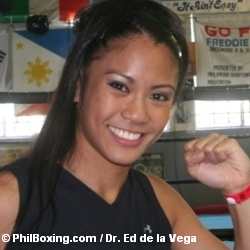 LOS ANGELES -- Word has just been sent informing us that the long delayed pro debut of Ana Julaton, the charming young woman-boxer from Northern California will finally occur on Friday, November 2, 2007 at the Morongo Casino


The Donaire Title Defense… Why at Foxwood?
23 Oct 2007
The first title defense of the "Filipino Flash", Nonito Donaire, Jr as announced from New York, will be held at the Foxwood Resort and Casino in the State of Connecticut. The fight will be the main undercard of a triple world championship card featuring among others, Antonio Tarver vs. Vernon F


Pacquiao to Receive Fighter of the Year Award
13 Oct 2007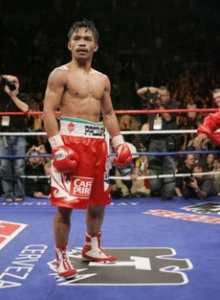 Los Angeles, CA -- Reports from reliable sources indicate that Filipino ring idol,Manny "Pacman" Pacquiao will receive the "Fighter of the Year Award" from the World Boxing Hall of Fame. The award is in recognition


Breaking News: Pacquiao Going Home a Day Ahead of Schedule
09 Oct 2007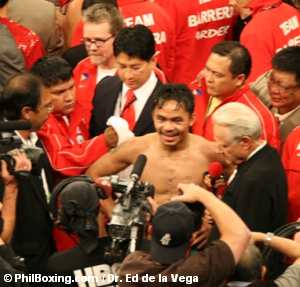 LOS ANGELES -- Manny Pacquiao, fresh from a unaminous 12-round decision last Saturday over the Mexican legend, Marco Antonio Barerra, was set to arrive home in the Philippines on Friday, October 12th. N


HOLY MASS AT THE PACQUIAO SUITE
07 Oct 2007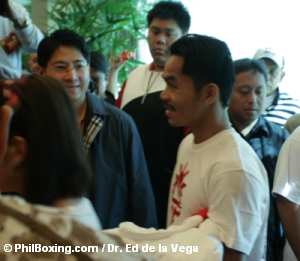 LAS VEGAS--The traditional Holy Mass that is part and parcel of the Pacquiao Team preparation was held today at the Pacquiao suite 61906 atop the 61st floor of The Hotel at the Mandalay Bay Casino and Resort. As