There are 1,289 articles attributed to this author.
Displaying articles 341 to 350.
DIRELL BEATS BIKA BY UD, CAPTURES WBC SUPER MIDDLEWEIGHT CROWN
Sun, 17 Aug 2014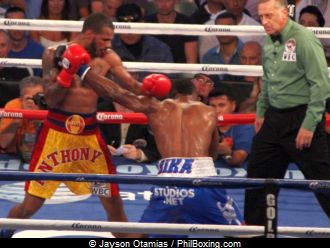 CARSON, CA -- In the principal supporting main event, Sergio Bika of Sydney, Australia and Anthony Dirrell of Flint Michigan battled through an ugly fight that involved a lot of clinching that needed to be broken by referee Jack


FIGUEROA STOPS ESTRADA IN 9
Sun, 17 Aug 2014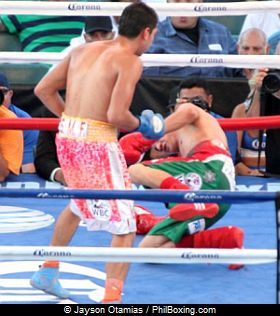 In the 10th fight for the day at StubHub, two excellent Latino fighters met head on Lightweight title for the WBC, Omar Figueroa of Westlaco, Texas and David Estrada of Mexico City. Figueroa is backed up by Juan Manuel Marqu


QUIGLEY TKO NAJERA IN 3
Sun, 17 Aug 2014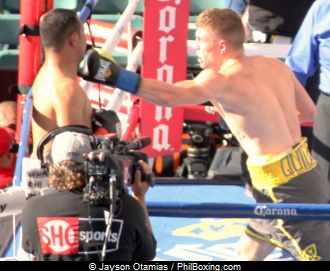 CARSON, CA -- Jason Quigley (2-0-0, 1KO) of Donegal, Ireland was impressive with his initial fight at the StubHub gaining a decent win over Fernando Najera (1-4-0, 0KO) of Tijuana , MX. Najera appears to be fighting two op


RHODES TKO NATER IN 5TH
Sun, 17 Aug 2014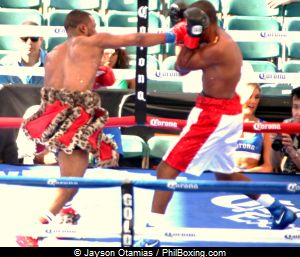 CARSON, CA -- Lydell Rhodes (23-0-0, 23 KO) (R, above photo) of Oklahoma City, OK kept his record clean with a great win over John Nater (13-7-0, 10KO) of Bayamon, Puerto Rico. Nater however proved to be a tough customer in spi


WILDER, LINARES WIN BY KNOCKNOUTS
Sun, 17 Aug 2014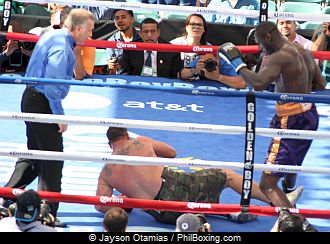 Stubhub Center, CARSON, CA -- In the 7th bout of the night on the undercard of Shawn Porter-Kill Brook boxing card, Deontay Wilder (32-0-0, 32KO) of Tuscaloosa, AL carried Jason Gavern (25-17-4, 11KO) of Orlando, Florida for


Early Results from StubHub Center, City of Carson
Sun, 17 Aug 2014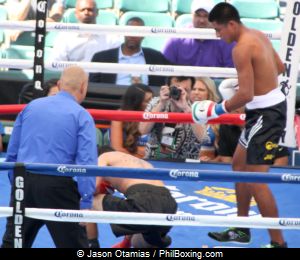 CARSON -- For some reason, today?s? Golden Boy fights started at 1:00 PM during the height of the heat and the sun in this suburb south east of LA. So not too many of the media folks were around as the previous announced


WEIGHTS FROM CARSON, CA: PORTER - 146.5 LBS., BROOK - 146.75 LBS.
Sat, 16 Aug 2014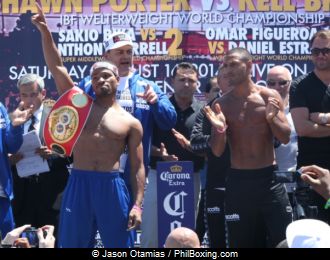 Carson, CA: Leading up to their big fight tomorrow at the StubHub Center converted tennis court in this city, both main event fighters, Shawn Porter and Kell Brook made weight at the official weigh-in this afternoon he


"HONOR & GLORY": OSCAR IS BACK!
Sun, 13 Jul 2014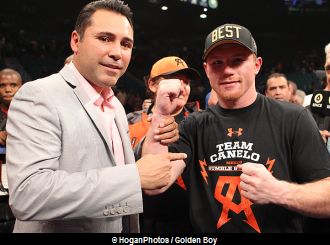 LAS VEGAS -- The fight was dubbed as ?Honor and Glory?- Canelo vs. Lara. At the onset it appears that the fight was meant to hype the fight between two bold gladiators. And indeed they gave a fight that some would say w


MARES DEFEATS OQUENDO BY UD
Sun, 13 Jul 2014
MGM GRAND GARDEN ARENA, LAS VEGAS -- In the non title supporting main event, Abner Mares of Guadalajara, Mexico regained his winning ways by scoring a unanimous decision victory over Jonathan Oquendo of Alta Vega, Puerto Rico. Scores were 96-94, 98-92, 98-92.


VARGAS TKO JUANMA LOPEZ IN 4
Sun, 13 Jul 2014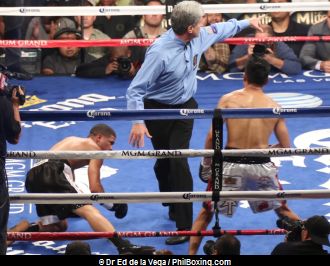 MGM GRAND GARDEN ARENA, LAS VEGAS -- They say old champions never die, they just fade away. Well, tonight that maybe the case for Juan ManUel Lopez of Puerto Rico (34-4-30, 31 KO). Lopez elected to exchange and got dropped