There are 1,293 articles attributed to this author.
Displaying articles 331 to 340.
BRIAN VILORIA SCORES A KO BUT SUFFERS A 7-STITCH CUT
Sun, 07 Dec 2014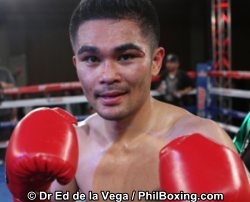 Glendale, CA: - Former two time world champion, Brian Viloria (35-4-0-2, 20KO) just hours ago got to show the boxing world that he is well on his way back to regain the belts he lost to Juan Francisco Estrada of Mexico a


VILORIA STOPS VAZQUEZ IN 4
Sun, 07 Dec 2014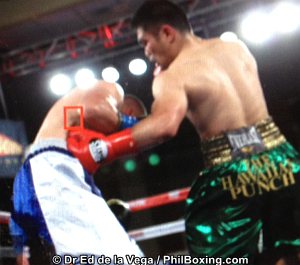 Former two-time world champion Brian Viloria landed a wicked left hook to the liver and dropped Armando Vazquez of Mexicali at 1:37 of the 4th round to win by knockout at the Glendale Civic Auditorium in Glendale, CA Satu


UNDERCARD RESULTS FROM GLENDALE: BARBOSA, FALCAO, KILIC WIN
Sun, 07 Dec 2014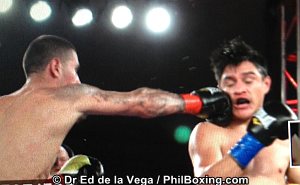 Below are the early results from Glendale Civic Auditorium, a boxing event headlined by Filipino-American Brian Viloria who goes up against Armando Vazquez of Mexico in a 10-round flyweight title bout. Arnold Barbosa of Lo


'MAYHEM' TURNS INTO A BORING FIGHT; IS PACQUIAO NEXT?
Sun, 14 Sep 2014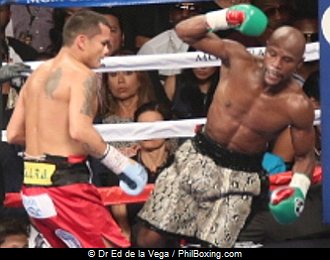 Las Vegas, NV:- Floyd Mayweather?s handlers and promoters dubbed the fight as ?Mayhem?. The last time I checked that word meant ?violent or damaging disorder; chaos.? Truth be told -- it was far from being one! In fact


A BITE WITH A MOUTHGUARD ON?
Sun, 14 Sep 2014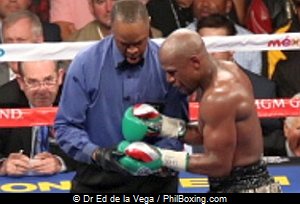 Las Vegas, NV:- Floyd Mayweather, during a clinch in round 8, suddenly backed out and started to complain to referee Kenny Bayless that Maidana ?bit his left hand.? As a dentist that makes mouthguards for many athletes, inc


MAIN SUPPORTING BOUT: SANTA CRUZ TKO 2 MIGUEL ROMAN
Sun, 14 Sep 2014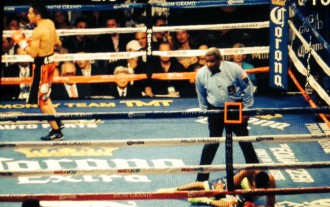 MGM GRAND GARDEN ARENA -- Leo Santa Cruz (28-0-1, 15KO) of Rosemead, CA kept his WBC super bantamweight title via a 2nd round TKO over Miguel Roman (17-3-3, 6KO) of Tijuana, MX. Time: 55 secs rd 2.


FIRST TV FIGHT: BEY WINS BY SPLIT DECISION OVER VAZQUEZ IN BORING FIGHT
Sun, 14 Sep 2014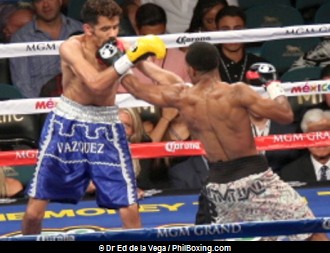 MGM GRAND GARDEN ARENA -- The first TV fight on Showtime was a title fight. Guadalajara?s Miguel Vasquez (34-3-0, 13KO) the IBF lightweight champion laid his crown against Cleveland, Ohio?s Mickey Bey (20-1-1, 10 KO). He is the


SIXTH BOUT: DE LA ROSA BEATS ANGULO BY UD
Sun, 14 Sep 2014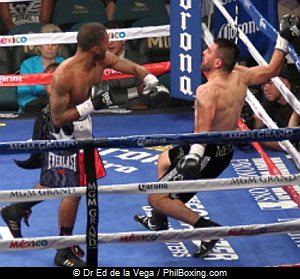 MGM GRAND GARDEN ARENA -- Mexicali slugger, Alfredo Angulo (22-4-0, 18KO) who now makes his home in Los Angeles was matched against James de la Rosa (22-2-0, 15KO) of San Bruno, Texas in a match that in paper appears even.


FIFTH BOUT: SOTO BEATS MOLINA BY UD
Sun, 14 Sep 2014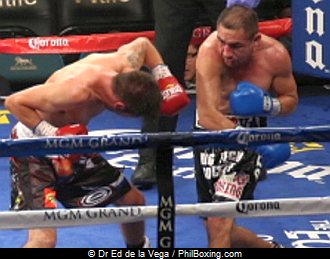 MGM GRAND GARDEN ARENA -- Veteran Humberto Soto (64-8-0, 35 KO) of Los Mochis, MX met a young upcoming fighter from Covina, CA in the person of John Molina (27-4-0, 22KO) in the fifth fight of the 'Mayhem' Floyd Mayweather vs Ma


EARLY RESULTS FROM LAS VEGAS
Sun, 14 Sep 2014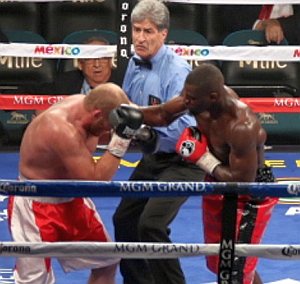 MGM GRAND GARDEN ARENA -- ?Mayhem? started at 2:00 PM surprisingly on time and the undercards to the mammoth Floyd Mayweather vs Marcos Maidana rematch later tonight are underway. The first fight however was not even close