There are 1,289 articles attributed to this author.
Displaying articles 331 to 340.
A BITE WITH A MOUTHGUARD ON?
Sun, 14 Sep 2014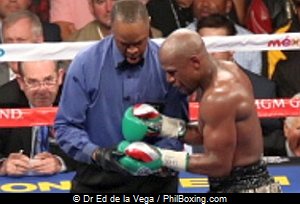 Las Vegas, NV:- Floyd Mayweather, during a clinch in round 8, suddenly backed out and started to complain to referee Kenny Bayless that Maidana ?bit his left hand.? As a dentist that makes mouthguards for many athletes, inc


MAIN SUPPORTING BOUT: SANTA CRUZ TKO 2 MIGUEL ROMAN
Sun, 14 Sep 2014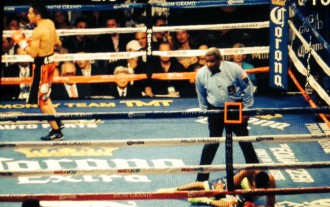 MGM GRAND GARDEN ARENA -- Leo Santa Cruz (28-0-1, 15KO) of Rosemead, CA kept his WBC super bantamweight title via a 2nd round TKO over Miguel Roman (17-3-3, 6KO) of Tijuana, MX. Time: 55 secs rd 2.


FIRST TV FIGHT: BEY WINS BY SPLIT DECISION OVER VAZQUEZ IN BORING FIGHT
Sun, 14 Sep 2014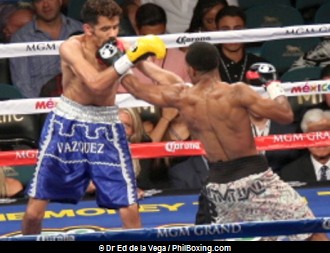 MGM GRAND GARDEN ARENA -- The first TV fight on Showtime was a title fight. Guadalajara?s Miguel Vasquez (34-3-0, 13KO) the IBF lightweight champion laid his crown against Cleveland, Ohio?s Mickey Bey (20-1-1, 10 KO). He is the


SIXTH BOUT: DE LA ROSA BEATS ANGULO BY UD
Sun, 14 Sep 2014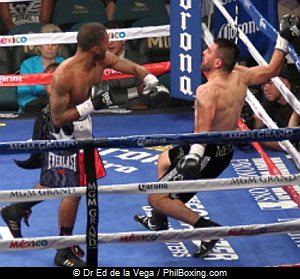 MGM GRAND GARDEN ARENA -- Mexicali slugger, Alfredo Angulo (22-4-0, 18KO) who now makes his home in Los Angeles was matched against James de la Rosa (22-2-0, 15KO) of San Bruno, Texas in a match that in paper appears even.


FIFTH BOUT: SOTO BEATS MOLINA BY UD
Sun, 14 Sep 2014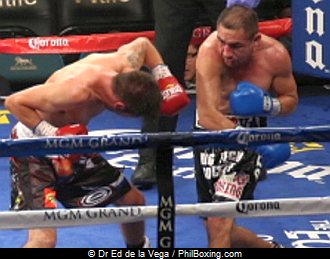 MGM GRAND GARDEN ARENA -- Veteran Humberto Soto (64-8-0, 35 KO) of Los Mochis, MX met a young upcoming fighter from Covina, CA in the person of John Molina (27-4-0, 22KO) in the fifth fight of the 'Mayhem' Floyd Mayweather vs Ma


EARLY RESULTS FROM LAS VEGAS
Sun, 14 Sep 2014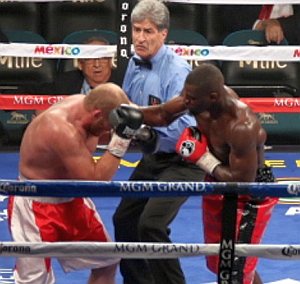 MGM GRAND GARDEN ARENA -- ?Mayhem? started at 2:00 PM surprisingly on time and the undercards to the mammoth Floyd Mayweather vs Marcos Maidana rematch later tonight are underway. The first fight however was not even close


WEIGHTS FROM LAS VEGAS: MAYWEATHER - 146.5 LBS., MAIDANA - 146 LBS. (Complete Weights and Photos)
Sat, 13 Sep 2014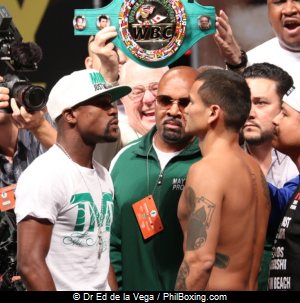 MGM Grand Garden Arena- Las Vegas:- Golden Boy Promotions in cooperation with the Mayweather Promotions, O?Reily Auto Parts, Cerveza Corona, MGM, and the Mexico Tours held the official weigh-in this afternoon fo


THE PACQUIAO-ALGIERI LA PRESSCON IS PURE CLASS (PHOTOS)
Thu, 04 Sep 2014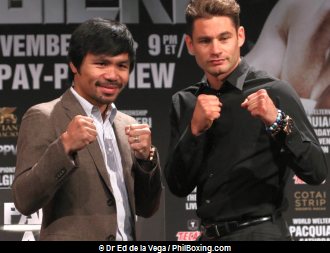 West Los Angeles: Top Rank Promotions and its group of co-sponsors Star Boxing, Banner Promotions, Tecate Beer and The Venetian Macao Cotai Arena, held the US West Coast press conference for the Pacquiao vs Algieri fight


PACQUIAO SHINES IN BASKETBALL
Thu, 04 Sep 2014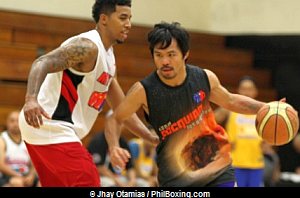 Between the photo sessions and seemingly endless press conferences and tours to hype the upcoming November 2014 blockbuster in Macau between Manny Pacquiao (58-5-2, 38 KO) and Chris Algieri, (20-0-9, 8KO) of Huntington


BROOK SNATCHES PORTER'S IBF WELTER BELT WITH A MD VICTORY
Sun, 17 Aug 2014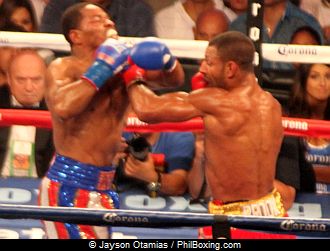 CARSON, CA -- Shawn Porter (24-1-1, 15 KO) of Cleveland, OH did not do what he was supposed to do and got beat by an Englishman from Sheffield, UK, Kell Brook (33-0-0, 22KO) tonight at the Stuhub Center here. Brook returns