There are 1,289 articles attributed to this author.
Displaying articles 1221 to 1230.
Julaton Goes for Higher Ranking
Fri, 27 Apr 2007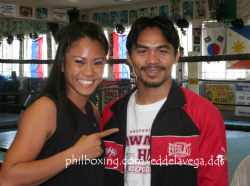 Ana "The Hurricane" Julaton, the Filipino featherweight from the Bay Area in Northern California who boxes as an amateur will be going up the ring on May 5th in an attempt to improve her #4 ranking. Julaton will meet


Bautista-Banal Update
Sat, 21 Apr 2007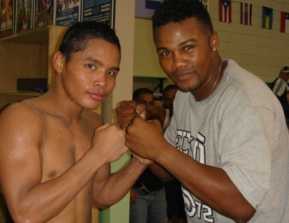 I just got off the phone with Edito ALA Villamor, who together with Rey ?Boom Boom? Bautista and AJ ?Bazooka? Banal are in Puerto Rico training with the famed world champion, Oscar ?Golden Boy? de la Hoya. According to Vi


Do you believe in d?j? vu?
Wed, 18 Apr 2007
They say that lightning never strikes on the same place twice. Others say, "Love is lovelier the second time around". With that in mind, I ask: Do you believe in d?j? vu? But what has that got to do with boxing? Part of the fun of being a media person cum amateur sports photogra


The Head Butt That Hastened Solis's Downfall
Tue, 17 Apr 2007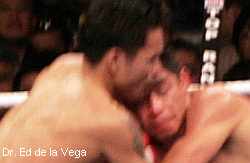 Canoga Park, CA -- Before the much-hyped Pacquiao-Solis "Blaze of Glory" at the Alamodome in San Antonio, Texas last Saturday, many pundits and common boxing fans predicted that Pacquiao will end his fight with S


Pacquiao KO's Solis in 8, Who's Next?
Sun, 15 Apr 2007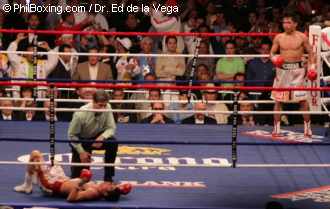 San Antonio, Texas -- Manny "Pacman" Pacquiao, tonight at the Alamodome in this historic Texas city, KO'd Jorge Solis of Mexico after 8 short rounds to retain his WBC International Super featherweight title.


Pacquiao and his belief in good luck charms
Tue, 10 Apr 2007
Since I was a kid growing up in the Philippines I have always heard of folks who firmly believe in good luck charms. Manny Pacquiao is no different from all those folks. My lovely wife will never step in a casino in Las Vegas or even to the local Indian-run casinos that proliferate in the Southe


The Pacman Breaks Camp, All Set to Blaze New Glory!
Sun, 08 Apr 2007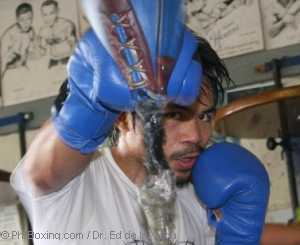 LOS ANGELES -- Manny Pacquiao, after spending full three weeks in LA had his final training day today and immediately broke camp. He then gave instructions for his team to prepare to fly to San Antonio, Texas to meet


Jorge Solis Finally Shows Up!
Sat, 07 Apr 2007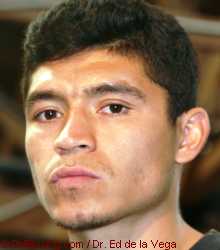 Canoga Park, CA -- I received Top Rank?s email last night indicating that Jorge Solis, the Pacquiao foe from Mexico will be at the Pound4Pound Gym today (Thursday, April 5th, LA time) to meet the LA Press Corps for a ?media workou


Jhonny Gonzales Wins Arizona Tiff with Pacheco
Sat, 31 Mar 2007
Tucson, Arizona -- WBO bantamweight champion Jhonny Gonzales, the 26 year old fighter from Pachuca, Mexico just moments ago won via a convincing 9th round TKO over Irene Pacheco, a veteran southpaw from Antioquia, Columbia. Pacheco was a former IBF flyweight champion. Gonzales therefore, kept a


Pacquiao fitted with a new mouth guard
Fri, 30 Mar 2007
When Manny Pacquiao gets in the ring, all the details leading to the fight are meticulously taken cared of. Take for instance, his mouth guard, a protective devise that reduces the possibility of intra-oral injuries as well as possible concussion resulting from his opponent's punches.