There are 1,272 articles attributed to this author.
Displaying articles 1101 to 1110.
IAN MAULEON LOSES IN PRO DEBUT
24 May 2008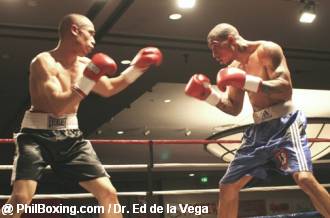 Montebello, CA:- There are not too many Fil-Am boxers from the greater Los Angeles area in the recent past. So, when one comes out of the woodwork, it is always interesting to see how well he will do. And, when one co


"LA BATALLA" NEWS CONFERENCE
21 May 2008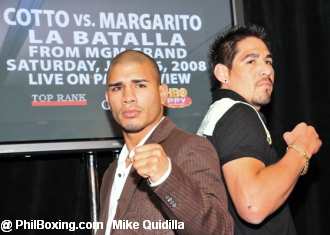 Los Angeles, CA:- Today at the Olympic Ballroom of the upscale Hyatt Regency Century Plaza Hotel at Century City south of Beverly Hills, Top Rank Promotions hosted the first of the many press conferences they scheduled to hy


JHONNY GONZALES IS BACK ON HIS WINNING WAYS (WITH PHOTOS)
18 May 2008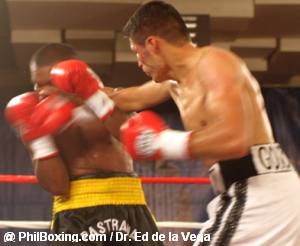 Cabazon, CA -- Since losing his WBO bantamweight title to Gerry Penalosa at the Arco Arena at Sacramento, California, last August 11, 2007, Jhonny Gonzales has been quietly fighting his way back to an eventual title figh


FIL-AM SUPER MIDDLEWEIGHT DEBUTS AT MONTEBELLO
17 May 2008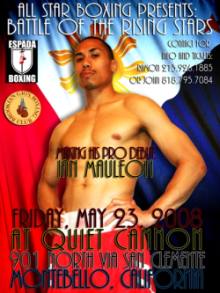 A Fil-Am super middleweight boxer will debut on May 23, 2008 at the Quiet Canon in Montebello, CA. His name is Ian Mauleon. He was born and raise in Oakland, California, one of three boys of Mario and Erlinda Mauleon.


WATCH OUT DAVID, MANNY IS BACK ON THE GROOVE
16 May 2008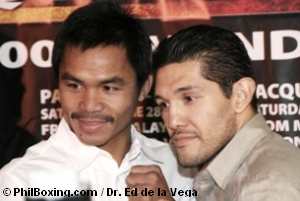 Los Angeles, CA - After all the wait for Manny Pacquiao to begin his training at the Wildcard, things have finally settled down and today, (Thursday, LA Time) Pacquiao finally got to the Wildcard on his usual time to begin prepari


FARENAS UNDAUNTED BY UNKNOWN OPPONENT
16 May 2008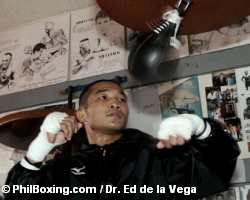 Los Angeles, CA:- Michael Farenas, the up and coming protégé of WBO bantamweight champion Gerry Penalosa was in full swing of his training when we walked into the Wildcard Gym late this morning. We were there to cover the training o


'LETHAL COMBINATION' LA PRESSCON (With Photos)
14 May 2008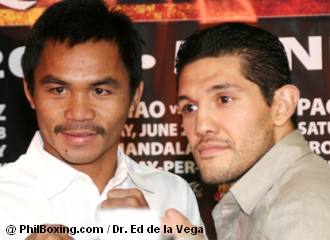 LOS ANGELES -- Bob Arum and the Top Rank Promotions this afternoon hosted the very first of the many press conferences they plan to hold with both David Diaz and Manny Pacquiao in attendance. Judging from the fairly lar


THE PACMAN IS BACK – LET THE SHOW BEGIN
13 May 2008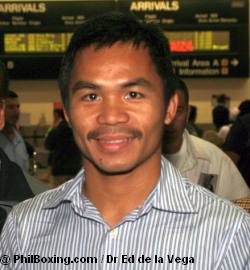 Los Angeles, CA -- Manny Pacquiao must have completed all or most of his current commitments back in the Philippines. Thus, moments ago, he finally blew into town (he was scheduled to arrive last Saturday, May 10th) confident that h


WEIGHTS FROM THE PERSHING SQUARE, LOS ANGELES
03 May 2008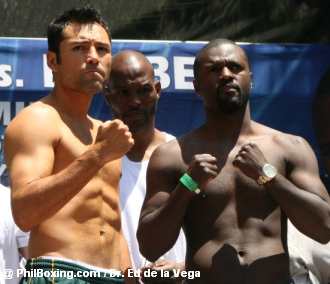 Los Angeles, CA:- Today at high noon, the Golden Boy Promotions held the official weigh-in at the historic Pershing Square in downtown Los Angeles for everyone participating in tomorrow's big fight at the Home Depot Cent


OSCAR DE LA HOYA GETS A STATUE AT THE STAPLES' STAR PLAZA
01 May 2008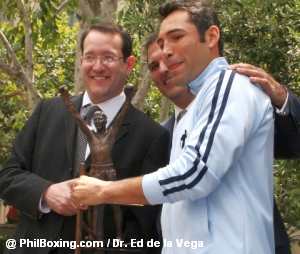 Los Angeles, CA -- Today, at the final press conference hyping this Saturday's fight card dubbed as "Homecoming" featuring Oscar de la Hoya vs Steve Forbes held at the open court yard of the Los Angeles Central Libr