There are 1,258 articles attributed to this author.
Displaying articles 1201 to 1210.
Pacquiao fitted with a new mouth guard
30 Mar 2007
When Manny Pacquiao gets in the ring, all the details leading to the fight are meticulously taken cared of. Take for instance, his mouth guard, a protective devise that reduces the possibility of intra-oral injuries as well as possible concussion resulting from his opponent's punches.


Banal's first day at the Wildcard Gym
29 Mar 2007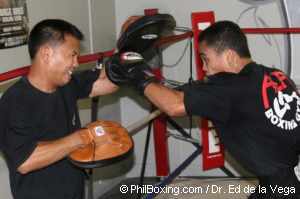 LOS ANGELES -- AJ "Bazooka" Banal, the young prospect from the famed ALA Gym, today finally achieved one of his dreams: to train at the Wildcard Gym in Hollywood, much like his stable mates Z Gorres and Boom Boo


THE ALA BOYS ARE IN TOWN!
27 Mar 2007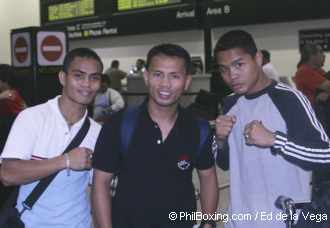 LOS ANGELES--Moments ago, two young gladiators who are the pride of the famed ALA Gym in Cebu, Rey "Boom Boom" Bautista and AJ "Bazooka" Banal arrived in Los Angeles in preparation for their


Pacman fully focused, even on small details
26 Mar 2007
At the "Moment of Truth" Promotions held at Cebu City last month, Manny Pacquiao upon seeing me, cordially extended a nice friendly greetings. "Hi Doc, kumusta ka. Kelan ka dumating?" That recognition alone made my day. As I extended my hand to him to feel his warm handshak


"De Nuevo" -- Solis Again a No Show at Today's Announced Press Meeting
24 Mar 2007
Canoga Park, CA-Yesterday, I asked the staff to re-schedule my patients so I can be at the Wildcard Gym today to take photos of Jorge Solis, the April 14th Mexican foe of Manny Pacquiao. Modesty aside, in my dental practice, re-scheduling patients is not an easy task as we book patients two t


Blaze of Glory? Solis is a No-Show!
22 Mar 2007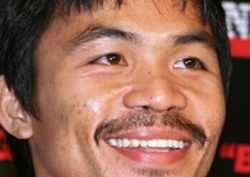 West Hollywood, California -- What is so difficult to comprehend is the fact that boxers involved in big promotions suffer from issues concerning "visas". Isn't it the responsibility of the promote


Ponce de Leon Retains Title Via Unpopular Decision Win Against Peņalosa
19 Mar 2007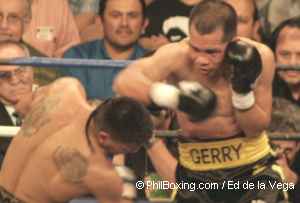 Las Vegas -- Daniel Ponce de Leon, the fistic terror from Chihuahua, Mexico proved once more that indeed, size, power and a little help from the judges make a hell of a lot of difference in boxing. Last nig


Disodado Gabi KO's Columbian Foe Antonio Cochero
19 Mar 2007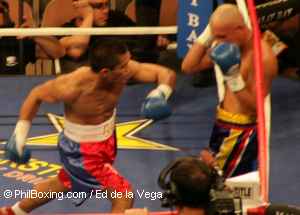 Las Vegas -- Diosdado Gabi, (29-3-1, 21 KO) the tiny but mighty dynamite from Davao City did very well last night at the Mandalay Bay Events Center. He won via a 2nd round knock-out. Gabi hardly broke a sweat in his


Breaking News: Mandalay Bay Book Makers Pull Out Ponce de Leon-Penalosa Odds
17 Mar 2007
Las Vegas--The book-makers at the Mandalay Bay Sportsbook, tonight (March 16th) in their ultimate wisdom decided to pull out the betting line on the Ponce de Leon-Penalosa WBC Super bantamweight title fight tomorrow. Their action is allegedly because the odds against Penalosa winning the fight is so


'Fearless' Headliners Make Weight (with photos)
17 Mar 2007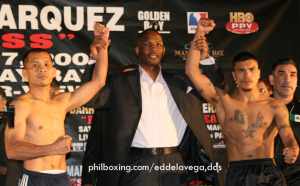 Las Vegas, Nevada -- Just moments ago, the main combatants for this weekend's boxing extravaganza dubbed as "Fearless -- the WBC Super Featherweight Championship" put together by the Golden B