There are 1,273 articles attributed to this author.
Displaying articles 1181 to 1190.
Golden Boy Promotions and the Morongo Tribe Sign a Promotional Agreement
07 Sep 2007
Los Angeles, CA -- Golden Boy Promotions has done it again! The world famous promotions company of Oscar de la Hoya recently announced an agreement they signed with the Morongo Tribe, one the largest Native America Tribes in California. The Tribe runs the Morongo Casino Resort and Spa at Cabazo


Batawang and Quijano Take a Long Deserved Sunday Break
28 Aug 2007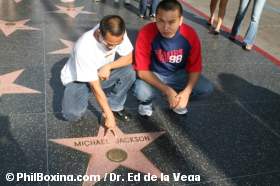 With his scheduled fight on September 16th still in limbo, Bert Batawang was feeling a little disappointment and wanted to do something for a change in an effort to keep his spirits up. Batawang called this writer lat


Vargas-Mayorga on September 8th is postponed.
26 Aug 2007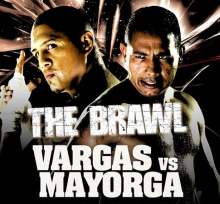 Reports coming out from many sources indicate that the showdown between two former champions, two-time world champ Fernando Vargas and three-time world champ Ricardo Mayorga has been postponed indefinitely because Vargas has som


"I WILL TAKE IT AS FATE" – BERT BATAWANG
24 Aug 2007
Bert Batawang lately, hasn't been lucky in so far as fight schedules is concerned. First, he was supposed to fight at the World Cup in Sacramento last August 11th as a member of Team Philippines. But his opponent suffered an ill-fated detached retina. Thus, the fight was cancelled. Althou


'September 16th is My World Cup' - Bert Batawang
23 Aug 2007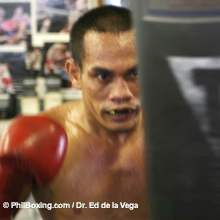 Los Angeles: - Still smarting from having his fight during the World Cup at Sacramento cancelled due to an eye injury on his opponent, Bert Batawang the "old warrior" from the famed ALA Gym in Cebu emp


Fernando Vargas' Last Hurrah -- It's For Pride, He Says
23 Aug 2007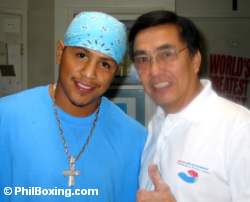 Two time junior middleweight champ, Fernando Vargas, the fearless warrior from Oxnard, California will finally be doing his last fight. On Saturday, September 8 at the Staples Center in Los Angeles, Vargas will b


Pacquiao's First Day at the Wildcard
09 Aug 2007
Manny Pacquiao, the Filipino dynamo and present day boxing hero of hundreds of thousands of boxing aficionados from the homeland and abroad finally arrived in Los Angeles last night to begin the 7 week training for his fight with Marco Antonio Barrera in October. Today, bright and early Pacquiao


BAUTISTA HONORED TO CAPTAIN TEAM PHILIPPINES
04 Aug 2007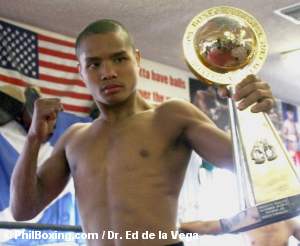 "Malaki pong karangalang ang maging captain ng mga kasama ko. Pipilitin ko pong manalo para sa kanila, sa ALA, sa pamilya ko at sa bayan natin," Rey "Boom Boom" Bautista replied when asked abou


WORLD CUP: TEAM PHILIPPINES MEETS THE PRESS
03 Aug 2007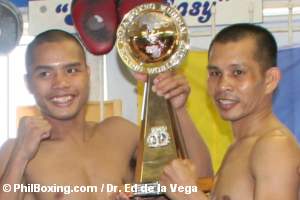 Hollywood, Ca. -- Today, at the Wildcard Gym in a press conference arranged by Oscar de la Hoya's Golden Boy Promtions, Team Philippines faced the Los Angeles media for the final time in the Southern California a


TEAM PHILIPPINES UNVEIL NEW LOOK AND BATTLE CRY
02 Aug 2007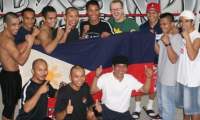 Hollywoods, CA - Posing today for an exclusive photo for PhilBoxing.com and the ABS crew from the Philippines, the members and coaches of World Cup Team Philippines showed off their new look and revealed their battle cry.