There are 1,268 articles attributed to this author.
Displaying articles 1181 to 1190.
Fernando Vargas' Last Hurrah -- It's For Pride, He Says
23 Aug 2007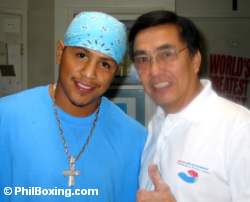 Two time junior middleweight champ, Fernando Vargas, the fearless warrior from Oxnard, California will finally be doing his last fight. On Saturday, September 8 at the Staples Center in Los Angeles, Vargas will b


Pacquiao's First Day at the Wildcard
09 Aug 2007
Manny Pacquiao, the Filipino dynamo and present day boxing hero of hundreds of thousands of boxing aficionados from the homeland and abroad finally arrived in Los Angeles last night to begin the 7 week training for his fight with Marco Antonio Barrera in October. Today, bright and early Pacquiao


BAUTISTA HONORED TO CAPTAIN TEAM PHILIPPINES
04 Aug 2007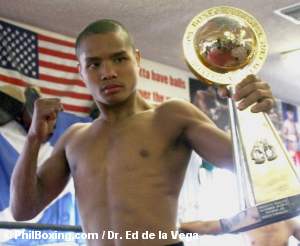 "Malaki pong karangalang ang maging captain ng mga kasama ko. Pipilitin ko pong manalo para sa kanila, sa ALA, sa pamilya ko at sa bayan natin," Rey "Boom Boom" Bautista replied when asked abou


WORLD CUP: TEAM PHILIPPINES MEETS THE PRESS
03 Aug 2007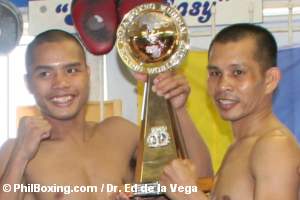 Hollywood, Ca. -- Today, at the Wildcard Gym in a press conference arranged by Oscar de la Hoya's Golden Boy Promtions, Team Philippines faced the Los Angeles media for the final time in the Southern California a


TEAM PHILIPPINES UNVEIL NEW LOOK AND BATTLE CRY
02 Aug 2007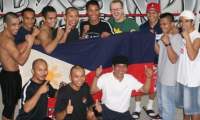 Hollywoods, CA - Posing today for an exclusive photo for PhilBoxing.com and the ABS crew from the Philippines, the members and coaches of World Cup Team Philippines showed off their new look and revealed their battle cry.


Amonsot Set to Go Home; World Cup Team Right on Track
26 Jul 2007
I visited the Wildcard Gym today to check on the World Cup Team and get a first hand info about Czar Amonsot. Trainer Edito Villamor who is in constant touch with Michael Aldeguer and Sammy Gello-ani in Las Vegas informed that Amonsot got released by the hospital early today with a clean bill of


Injuries to Amonsot and Katsidis Could Have Been Minimized
24 Jul 2007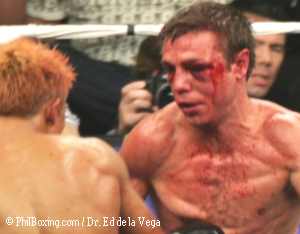 Watching the Michael Katsidis/CzarAmonsot fight last Saturday at the Mandalay through my 300mm digital camera lens from the overhead photographers section was something that scared the mittens out of me. I mean,


KATSIDIS WINS THE BATTLE, AMONSOT, THE FANS
22 Jul 2007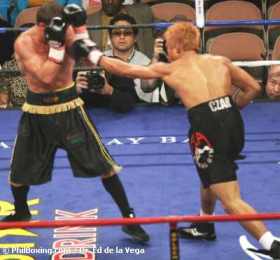 Las Vegas, Nevada -- For the country and for Czar Amonsot, it was not meant to be. The Philippines is now 2 and 1 in title fights for the month of July 2007. Tonight, at the Mandalay Bay Casino in Las Vegas, Cz


ALA Boys World Cup Participants Will Sport Custom-Made Mouth Guards
19 Jul 2007
Today, Michael Domingo and Bert Batawang accompanied by their trainer Jeremiah Quijano, were at our offices to be fitted with custom-made mouth guards. They will use the new mouth guards for their fights on August 11th in the World Cup of Boxing at the Arco Arena in Sacramento, California. The


Nonito Donaire Homebound on Thursday
17 Jul 2007
Nonito Donaire Sr. has informed a few minutes ago that the Donaire family will be leaving for Manila and points south to share the victory of his son Nonito with his Filipino fans. "You just missed him" Donaire Sr. said when I spoke to him on the phone today. "He went to meet w