There are 1,293 articles attributed to this author.
Displaying articles 351 to 360.
WEIGHTS FROM CARSON, CA: PORTER - 146.5 LBS., BROOK - 146.75 LBS.
Sat, 16 Aug 2014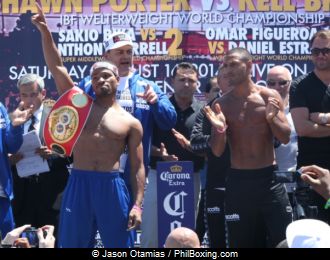 Carson, CA: Leading up to their big fight tomorrow at the StubHub Center converted tennis court in this city, both main event fighters, Shawn Porter and Kell Brook made weight at the official weigh-in this afternoon he


"HONOR & GLORY": OSCAR IS BACK!
Sun, 13 Jul 2014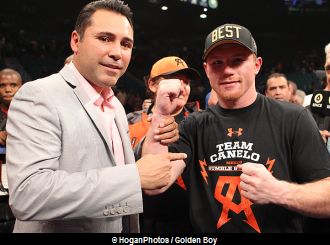 LAS VEGAS -- The fight was dubbed as ?Honor and Glory?- Canelo vs. Lara. At the onset it appears that the fight was meant to hype the fight between two bold gladiators. And indeed they gave a fight that some would say w


MARES DEFEATS OQUENDO BY UD
Sun, 13 Jul 2014
MGM GRAND GARDEN ARENA, LAS VEGAS -- In the non title supporting main event, Abner Mares of Guadalajara, Mexico regained his winning ways by scoring a unanimous decision victory over Jonathan Oquendo of Alta Vega, Puerto Rico. Scores were 96-94, 98-92, 98-92.


VARGAS TKO JUANMA LOPEZ IN 4
Sun, 13 Jul 2014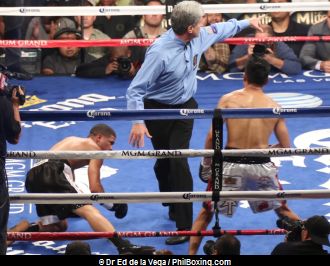 MGM GRAND GARDEN ARENA, LAS VEGAS -- They say old champions never die, they just fade away. Well, tonight that maybe the case for Juan ManUel Lopez of Puerto Rico (34-4-30, 31 KO). Lopez elected to exchange and got dropped


HERRERA WINS BY MAJORITY DECISION OVER JOHAN PEREZ
Sun, 13 Jul 2014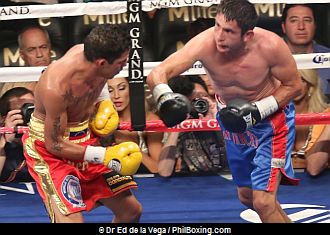 MGM GRAND GARDEN ARENA, LAS VEGAS -- Mauricio Herrera of Riverside, CA fought a hard 12 round fight with Johan Perez of Caracas Venezuela and gained a majority decision with the judges scoring 114-114 and 116-112, 116-112. W


TOMOKI KAMEDA KNOCKS OUT PUNGLUANG SOR SINGYU IN RD 7
Sun, 13 Jul 2014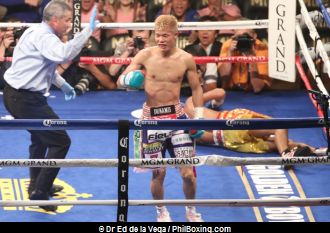 MGM GRAND GARDEN ARENA, LAS VEGAS -- A wicked left hook by Tomoki Kameda (30-0-0,19KO) of Tokyo to the liver of Pungluang Singyu of Bangkok, Thailand (46-3-0, 31KO) allowed him to keep his WBO bantamweight title. Kamed


EARLY RESULTS FROM LAS VEGAS
Sun, 13 Jul 2014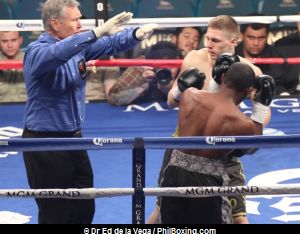 MGM GRAND GARDEN ARENA, LAS VEGAS -- The undercards of the highly anticipated Canelo Alvarez vs Erislandy Lara junior middleweight bout got underway here tonight. Below are the initial results. Third fight: Jason Quiglely o


GUERRERO WINS COMEBACK FIGHT OVER KAMEGAI
Sun, 22 Jun 2014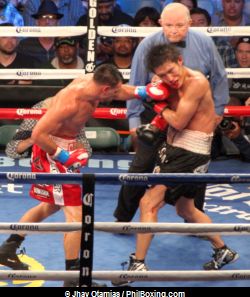 CARSON, CA -- Robert Guerrero needed this fight if only to show the boxing world that he is still on top of the heap, well at least very near it. This is particularly true after he signed with Al Haymon in a classic "if y


LOMACHENKO WINS OVER RUSSELL BY MAJORITY DECISION
Sun, 22 Jun 2014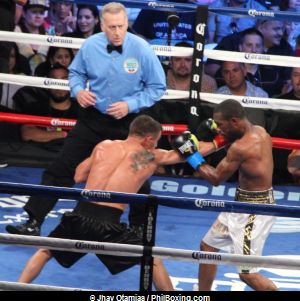 CARSON, CA -- The supporting main event was an unbelievable match-up. It was a fight between a rapidly rising young veteran Gary Russell of Capitol Hills, Maryland (24-1-0, 14KO), if after 20 fights, you can call him th


ALEXANDER DOMINATES SOTTO-KARASS FOR UD WIN
Sun, 22 Jun 2014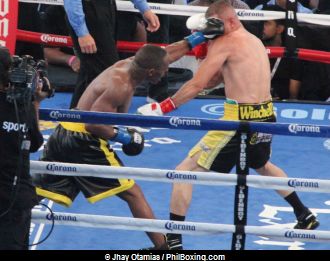 CARSON, CA -- Devon Alexander (26-2-0, 14KO) of St Louis, MO. was simply too slick and too fast for a lumbering slugger like Jesus Soto Karass (28-10-3, 18KO) of Los Mochis, Mexico. He, in most instances beat Sotto