There are 1,291 articles attributed to this author.
Displaying articles 91 to 100.
The Palicte-Rodriguez Fight ? An adventure for the Team (Photos)
Sun, 10 Dec 2017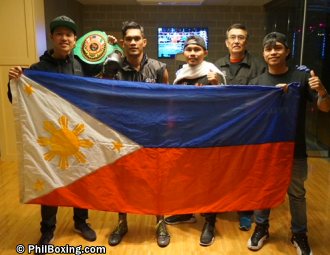 When Roy Jones Promotions announced not too long ago that Aston Palicte will be defending his crown for the first time in the USA, Round Rock, Texas specifically, the Team became outright excited and promised to do well


PALICTE KNOCKS OUT RODRIGUEZ, RETAINS NABF BELT
Sat, 09 Dec 2017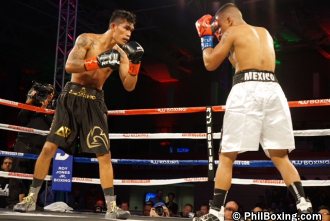 Round Rock, Texas:- Aston Palicte of Bago City, Negros Occidental as he promised, left everything on the canvas tonight at the Round Rock Arena, a nice multi-event venue in this bedroom community just outside the City o


Aston Palicte and Jose Alfredo Rodriguez Make Weight
Fri, 08 Dec 2017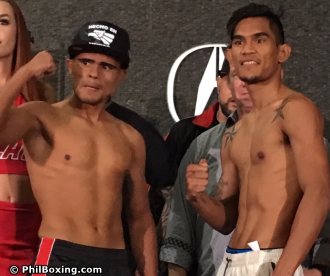 Round Rock, Texas:- Today at the giant show room of the Central Texas Acura car dealership, a few miles from the Sleep Inn and Suites, the official hotel of the Roy Jones Jr Promotions, the weigh-in for the fighters i


ASTON PALICTE ARRIVES IN TEXAS
Thu, 07 Dec 2017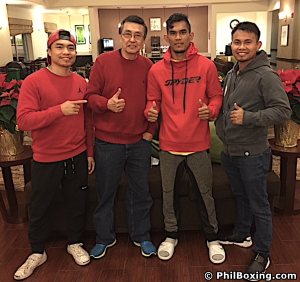 NABF Super flyweight champion, Aston Palicte of Cebu City together with his support team, trainer Rodel Mayol, assistant trainer Ernel Fontanilla and this writer who also acts as Palicte's cutman, arrived


De La Vega: Luis Nery "Beats" Arthur Villanueva at Tijuana
Sun, 05 Nov 2017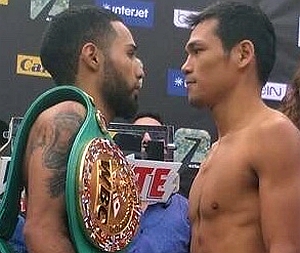 Tonight before a near sell out crowd at the GasMart Stadium in Tijuana, Mexico, WBC bantamweight champion Luis ?Pantera? Nery ?beat? his challenger, Arthur ?King? Villanueva of the famed ALA Gym of Mandaue, Cebu by a


NERY AND VILLANUEVA WEIGH-IN RESULTS
Sat, 04 Nov 2017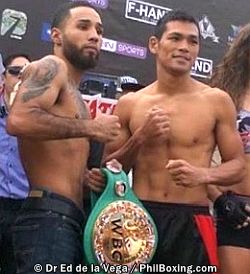 Today at just about noon, the weigh-in for the gladiators for the big event at the GasMart Arena in Tijuana, Mexico tomorrow night was held with the supervision of WBC and the Promoters headed by Fernando Beltran.


PhilBoxing?s Jhay Otamias Wins Pamana Nang Lahi Photo Contest
Sun, 29 Oct 2017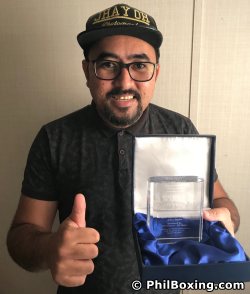 Jason ?JhayO? Otamias, a boxing photo enthusiast from Torrance, CA was declared the winner of the Photo of the Year Contest at the just concluded Pamana ng Lahi, a month-long art and photography exposition at the Filipino C


Team Villanueva is not leaving any stone unturned
Sun, 29 Oct 2017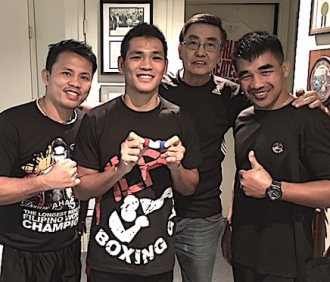 After extensively training at the ALA Gym at Mandaue, Cebu, WBO Asia Pacific bantamweight champion, Arthur Villanueva and his Team, Coach Edito Villamor and Coach Michael Domingo landed in LA yesterday to resume training


Gabriel Rosado batters Glenn Tapia, stops him in 6 rounds
Fri, 20 Oct 2017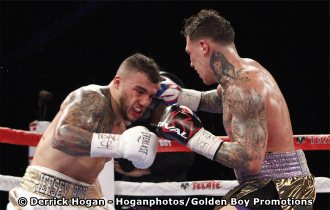 At the first boxing event held at Las Vegas after the brutal attack of a crazed person on concert goers a few days ago, Gabriel Rosado of Philadelphia (24-11-0, 14KO) battered a fast sinking former sparring partner of Manny


Sta. Cruz keeps title with a great domination of Cris Avalos
Sun, 15 Oct 2017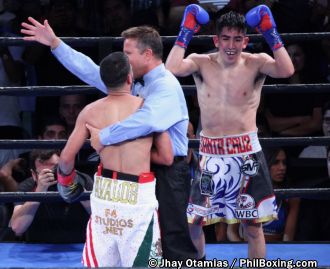 Tonight at the StubHub Center in Carson, CA., Leo Sta Cruz (34-1-1, 19KO) of Los Angeles dominated Chris Avalos (27-6-0-, 20KO) of Lancaster, CA from the first bell preventing Avalos from winning even one round. Sta. C