There are 1,135 articles attributed to this author.
Displaying articles 121 to 130.
Will Arum, Roach be out for good?
Fri, 09 Mar 2018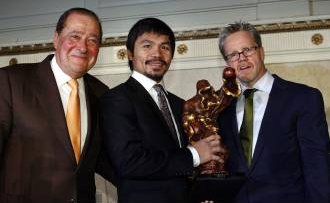 GOLDEN Boy, not Top Rank, will be helping promote Manny Paquiao?s next fight in Kuala Lumpur. The announcement was brief, firm, definite: ?MP Promotions of Sen. Manny Pacquiao and Golden Boy Promotions of boxing leg


POC and Milo: Terrific timing
Thu, 08 Mar 2018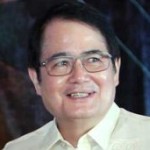 Ricky Vargas. Philippine Olympic Committee president Ricky Vargas walked up to his predecessor, Peping Cojuangco, and both gentlemen shook hands as a sign of reconciliation, the Inquirer reported yesterday. A report


Did both Arum and Pacquiao tell the truth?
Mon, 05 Mar 2018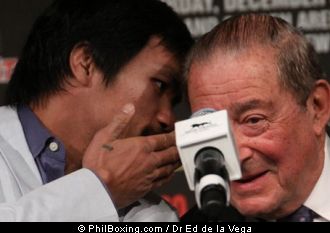 VETERAN promoter Bob Arum has been saying that Manny Pacquiao?s demotion to an undercard role was not the honest reason the eight-division world title winner from the Philippines has pulled out from Top Rank?s April 14 card in La


Paging Sen. Pacquiao: Mr Roach calling, calling
Thu, 01 Mar 2018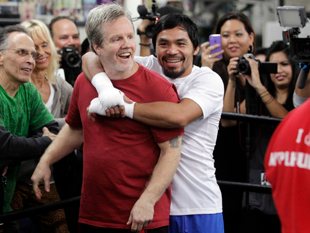 IN a report by the eminent Lance Pugmire of the Los Angeles Times, it was asked if Freddie Roach has been fired as trainer of Filipino world boxing legend Manny Pacquiao. The same report wondered if Pacquiao?s boyhood ally a


Nietes storms elite circle with venom KO
Tue, 27 Feb 2018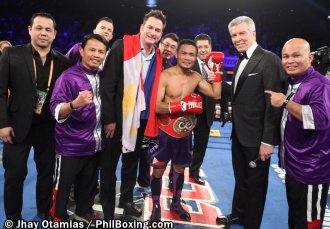 WHILE Manny Pacquiao was not looking, the usually subtle Donnie Nietes of the Philippines scored a stormy knockout victory in California on Sunday to retain his IBF world flyweight title. A picture at center ring, with


When is Manny Pacquiao fighting?
Fri, 23 Feb 2018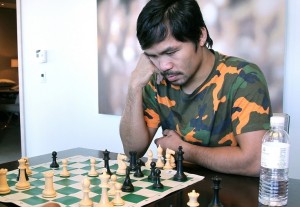 IF he?s indeed fighting on April 14, as offered by Bob Arum, shouldn?t Manny Pacquiao be back training by now, or hitting the road last week yet? Top Rank announced it has scheduled a Pacquiao bout for April, side-by-side w


Urgent call: Make it Pacquiao vs. Matthysse
Wed, 14 Feb 2018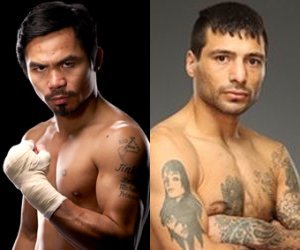 VETERAN promoter Bob Arum made a promise to provide something unique (and nice) for Manny Pacquiao?s next fight. After a long wait, it turned out the unusual opponent Arum meant was former world title-holder Mike Alvar


Great win, but not everybody thrilled
Sat, 10 Feb 2018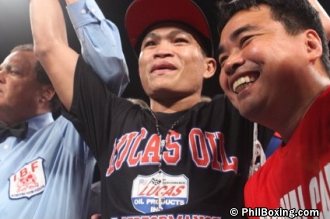 The chief handler of Jerwin Ancajas has given the new Filipino boxing sensation a grade of 7 (in a scale of 10) for his successful defense of the IBF super flyweight crown in Texas on Sunday. Trainer Joven Jimenez made


Yes, Ancajas is his own kind of warrior
Tue, 06 Feb 2018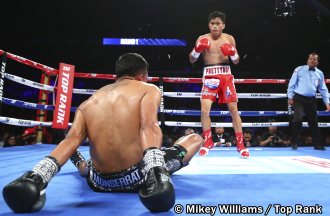 JERWIN Ancajas didn?t have to make a pre-fight announcement that he would go and fight in his own way. Manny Pacquiao himself called Ancajas minutes before last Sunday?s title defense in Texas for a vital advice.


Good indeed: Can Ancajas really go great?
Fri, 02 Feb 2018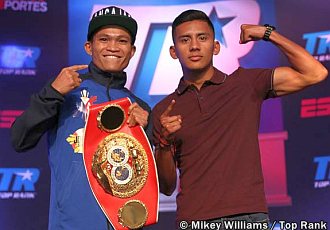 HE said he still has a lot to show, IBF junior bantamweight titlist Jerwin Ancajas of the Philippines admitted upon arriving in Texas for a fourth title defense on Sunday. Not that he?s ill at ease with his titl