There are 923 articles attributed to this author.
Displaying articles 181 to 190.
TWO WBA ASIA TITLES IN QUIBORS' ROAD TO GREATNESS: APRIL 13 @ QUIBORS GYM IN BACOOR, CAVITE
Mon, 08 Apr 2019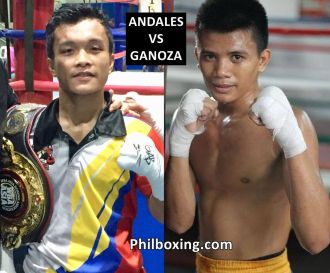 Unbeaten 19-year-old world-ranked ArAr "Asero" Andales (9-0, 2 KO's) of the Quibors Boxing Gym makes the first defense of his WBA Asia 105-Pounds belt against more-experienced southpaw Cris Ganoza (17-2, 8 KO's) of Cebu's Bi


Indonesia's Golden Boy Andika Sabu Wins WBA Asia Light Flyweight Belt Saturday in Jakarta
Sun, 07 Apr 2019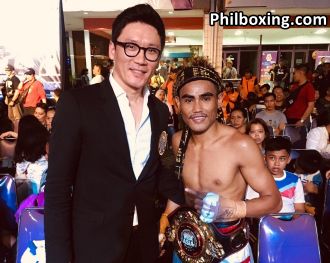 Indonesia's unbeaten hot prospect D' Golden Boy Andika Sabu (16-0, 8 KO's) defeated Romshane "Hammer" Sarguillas (7-3-2, 4 KO's) in a sixth chapter technical decision to claim the vacant WBA Asia Light Flyweight strap Saturday, Apr


Vicelles Overcomes Onggocan to Win VISPROBA Belt; Remandiman Edges Rosia in Thriller in Cebu
Sat, 06 Apr 2019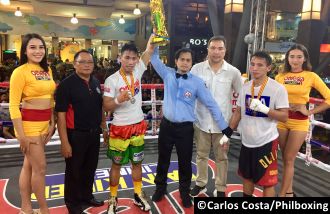 Vicelles wins. CEBU CITY, Philippines -- In a non-stop war, unbeaten Mark "Thunder" Vicelles (10-0-1, 5 KO's) of the Omega Boxing Gym scored a hard-fought round five technical decision win over tough Dapitan trained


Baconaje Shocks and Stops Mangubat to Claim WBC Asia Silver Belt in Cebu (FIGHT PHOTOS)
Sat, 06 Apr 2019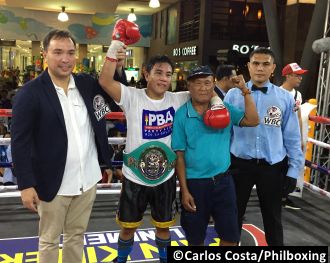 CEBU CITY, Philippines -- In an intense rough combat tough Iloilo warrior "The Silencer" Arnel Baconaje (11-3, 8 KO's) silenced the City of Cebu by overpowering and knocking out in eight rounds unbeaten hard-hitting Om


OMEGA'S #KUMBATI 2: "WAR DOG" MANGUBAT 125.7 LBS, "THE SILENCER" BACONAJE 125.1 LBS FOR WBC ASIA BELT @ PARKMALL CEBU
Thu, 04 Apr 2019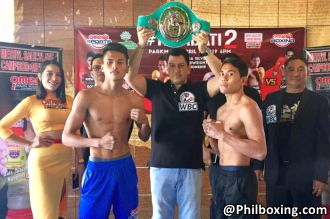 CEBU CITY, Philippines -- Weights OK for Omega's #Kumbati2 @ Parkmall Cebu! Unbeaten hard-hitting "War Dog" Tomjune Mangubat (10-0-1, 9 KO's) weighed-in at 125.7 pounds, while tough Iloilo warrior "The Silencer"


Boxing Making a Come Back in Kolkata, India
Wed, 03 Apr 2019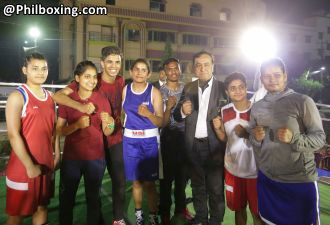 Kolkata, the former capital of India and birthplace of modern Indian literary and artistic thought, is famous for its passion for football and cricket. But pro boxing is steadily winning a place in the hearts of Kolk


Lito Dante's Fantastic OPBF Win in Photos from the Camera of Naoki Fukuda (FIGHT PHOTOS)
Tue, 02 Apr 2019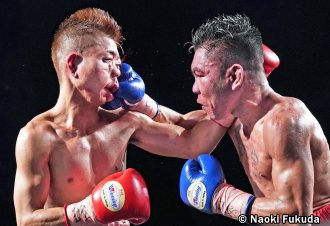 Sunday night in Yokohama marked one of Filipino Lito Dante's most rewarding victories in his long boxing career. A knock out win over an undefeated promising boxer, ranked by the WBC as the world's # 3 fighter, claiming


OMEGA BOXING #KUMBATI2 APRIL 5 @ PARKMALL IN MANDAUE CEBU..!
Mon, 01 Apr 2019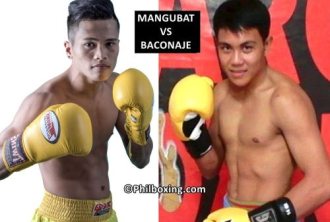 CEBU CITY, Philippines -- Undefeated hard-hitting Tomjune "The War Dog" Mangubat (10-0-1, 9 KO's) battles tough Iloilo warrior "The Silencer" Arnel Baconaje (10-3, 8 KO's) for the vacant WBC Asia Silver Featherweight


Filipino Lito Dante Wins OPBF Minimumweight Belt Sunday in Japan
Mon, 01 Apr 2019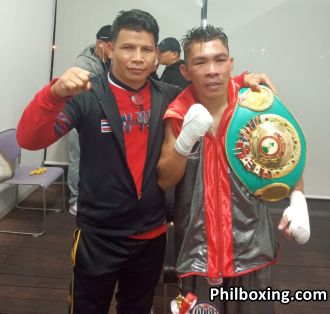 Veteran Filipino warrior Lito Dante from the Paradise Island of Bohol, dominated, overpowered and knocked out in the 12th round heavy-handed Japanese champion WBC # 3 Tsubasa Koura to claim the OPBF Minimumweight Belt Sunday, Marc


Results from Bacolod: Zulueta Outsmarts Aton to Claim IBO Oceania Belt; Montaño Lights Out Wenceslao
Sun, 31 Mar 2019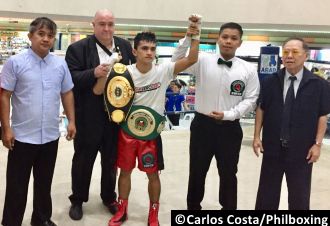 John Michael Zulueta wins IBO Oceania & Oriental Title today March 30 in Bacolod Negros Occidental BACOLOD CITY, Negros Occidental -- Displaying superior boxing skills, unbeaten local warrior John Michael Zulu