There are 880 articles attributed to this author.
Displaying articles 181 to 190.
Rementizo Scores Crushing Knockout Win Saturday Night in Thailand
23 Dec 2018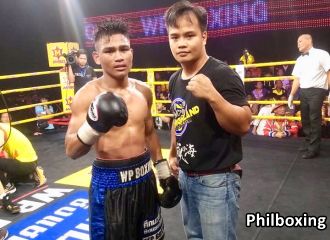 In an electrifying stoppage, Filipino Minimumweight Marco John Rementizo (9-3, 6 KOs) of Wowie Adnan Boxing Gym brutalized and stopped more experienced Thai warrior Siridech Deebook (17-5, 13 KO's) Saturday night (Dec 22) at t


Weights from Butuan: Merin 128 lbs, Quiñones 128 lbs Ready to Rumble @ Robinsons Place Butuan (PHOTOS)
22 Dec 2018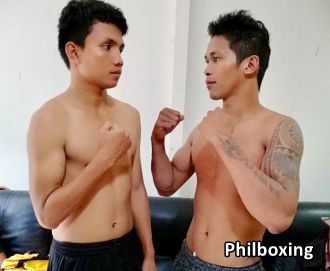 Quinones and Merin during Saturday's weighin. The Battle of Butuan III boxing show is good to go after fighters made weight for tomorrow's rumble @ Robinsons Place in the heart of the flourishing Caraga region, B


Weighs from Cebu for Omega's #Kumbati @ Robinsons Galleria Cebu (PHOTOS)
21 Dec 2018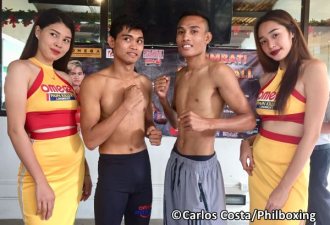 CEBU CITY - Tough Omega warrior Ponciano "Ponce" Remandiman (8-4-1, 4 KO's) of Leyte came-in at 116.9 pounds while Vicente "Enting" Casido (6-1-1, 2 KO's) of Dumaguete tipped the scales at 116.7 ahead of their eig


Weights from Manila: Dacquel 118 vs Escaner 118 Ready to Rumble @ Elorde Complex in Parañaque
21 Dec 2018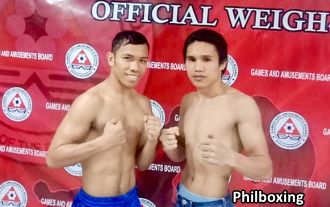 Dacquel (R) and Escaner (L). Both "The Abra Kumander" Rene Dacquel (20-8-1, 6 KO's) and tough Giovanni Escaner (18-3, 11 KO's) of Sultan Kudarat made identical weight of 118 pounds for their exciting main event


Saturday Boxing in Manila! Dacquel vs Escaner, Landres vs Buenaobra @ Elorde Sports Complex in Parañaque
20 Dec 2018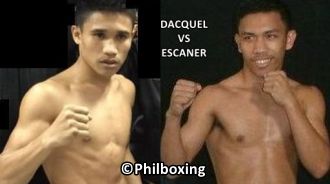 In a very even match-up, "The Kumander" Rene Dacquel (20-8-1, 6 KO's) of Abra Province battles bantamweight Giovanni Escaner (18-3, 11 KO's) of Sultan Kudarat in the exciting main event of the Marty Elorde Promotions card s


Nietes vs Ioka WBO World Title LIVE Dec 31 on Sky Cable PPV and ABS CBN S+A
18 Dec 2018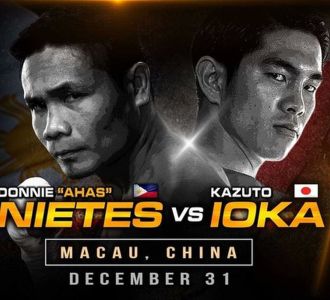 Boxing fans in the Philippines have just got their New Year's celebration even better as ABS CBN S+A and Sky Cable PPV will air LIVE the WBO Super Flyweight World Title rumble between Filipino three-division champion Donn


#Kumbati at the Mall: Ramandiman, Dela Torre, Araneta In Thrilling Omega Action Dec 22 @ Robinsons Galleria Cebu
17 Dec 2018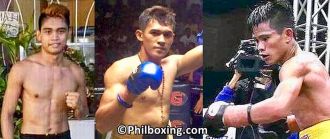 CEBU CITY - As a Christmas treat to Cebu boxing fans, some of the hottest prospects of dynamic boxing outlet Omega Gym will see action this coming Saturday (Dec 22) at Robinsons Galleria Cebu, an exciting afternoon


Hall of Famer Robert Byrd is the Referee for Nietes-Ioka WBO Title Fight
15 Dec 2018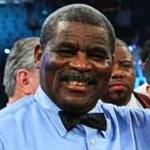 The World Boxing Organization (WBO) headquartered in the Island of Enchantment, Puerto Rico, has assigned Las Vegas Hall of Fame referee Robert Byrd, 75, as the third man in the coming clash for the vacant WBO Super Flyweight


Mig Elorde Battles Thai, Paniamogan Rumbles Borbon and More Sunday @ Elorde Complex in Parañaque, Metro Manila
14 Dec 2018


Exciting boxing continues thrilling fans at the Elorde Sports Complex in Sucat, Parañaque. This Sunday's (Dec 16) main event features the 10-round non-title rumble of world-ranked WBO #3 super bantamweight Juan Miguel "Mig"


GAB Ring Officials of Cebu and Central Visayas Hold Meaningful and Fun Christmas Party
12 Dec 2018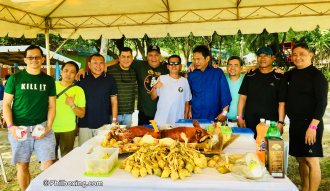 MACTAN, Cebu - Following the blessed annual tradition, members of GAB Boxing Ring Officials of Cebu and Central Visayas held their Christmas party at Portofino Beach in Mactan, Cebu, a fun celebration that saw t