There are 870 articles attributed to this author.
Displaying articles 21 to 30.
Complete Results from Elorde's Night of Champions XVIII: Daisuke Sugita Claims WBA Asia South Super Bantam Belt; Medura Edges Nakagawa
04 Aug 2019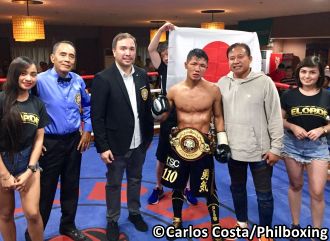 Sugita wins. MANILA, Philippines -- Japanese fighter Daisuke Sugita (杉田大祐), a boxer, as well as an active police officer for the Tokyo Police Department, successfully claimed the WBA S


Weights for Elorde's Night of Champions: Omagao vs Sugita at 122 for WBA Asia Belt; Medura vs Nakagawa Ready to Rumble
03 Aug 2019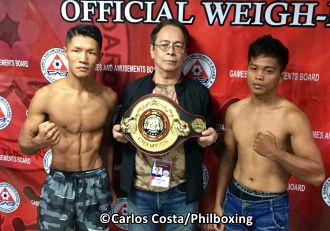 Omayao and Sugita. Fighters successfully made weight for Bebot Elorde's Night of Champions XVIII, the exciting 15-fight pro boxing event set fire up the stage today Saturday, August 3, at the Elorde Sports Complex


Weights for Highland Promotions: Cuello, Pen, Simson, Laurel, Singh, Mancito Scaled-in OK; Ready for tonight's Wars in Mandaluyong, Metro Manila
03 Aug 2019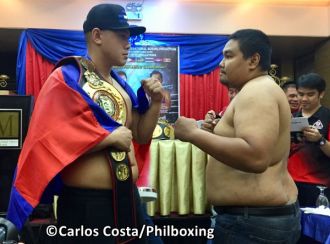 Pen and Koswara at Friday's weighin. Fighters made weight for Highland Promotions "History in the Philippines" show today Saturday, August 3, at Barangay Vergara's Covered Court in Mandaluyong City, Metro Manila.


Niyomtrong, Andales Make Weight for WBA Minimumweight World Title Clash in Thailand
01 Aug 2019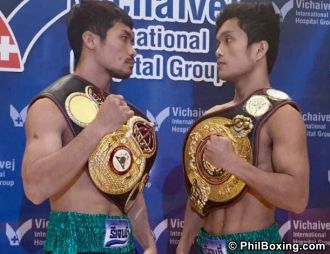 WBA World Champion Thammanoon Niyomtrong aka "Knockout CP Freshmart" (19-0, 7 KO's) of Thailand and Filipino Challenger Ar Ar Andales (10-0, 2 KO's) of the Quibors Boxing Gym in Bacoor, Cavite, both scaled-in at the


Elorde's Night of Champions XVIII: Omayao Battles Sugita for WBA Asia Belt, Medura Rumbles Nakagawa
31 Jul 2019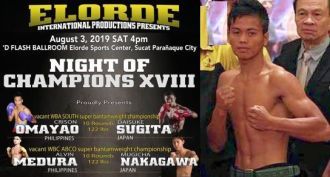 Popular award-winning promoter Gabriel "Bebot" Elorde's aims at thrilling fans once again with Night of Champions XVIII, the exciting 14-fight pro boxing show set fire up the stage this Saturday, August 3, at the Elor


GAB Holds Dialogue with Boxing Stakeholders
29 Jul 2019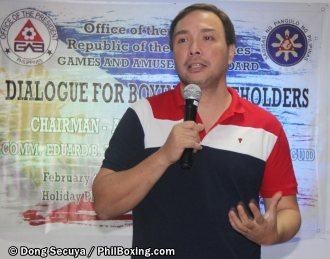 GAB Chairman Abraham Mitra. The Games and Amusement Board (GAB) is set to hold an open dialogue with boxing stakeholders and members of the Filipino boxing family. The important gathering is intended to be a wide c


GAB Holds Dialogue with Boxing Stakeholders
29 Jul 2019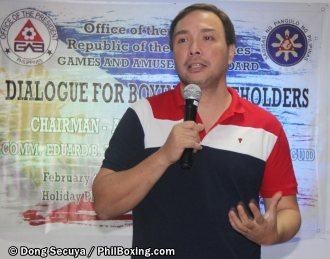 GAB Chairman Abraham Mitra. The Games and Amusement Board (GAB) is set to hold an open dialogue with boxing stakeholders and members of the Filipino boxing family. The important gathering is intended to be a wide c


Results from ALA Promotion in Iloilo: World-Ranked KJ Cataraja and Christian Bacolod Stop Foes
27 Jul 2019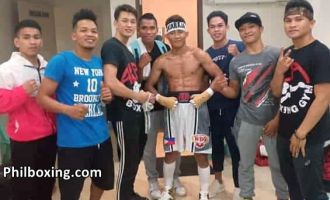 Cataraja (C) poses with his team after Friday's win. Cataraja and Bacolod victorious. Unbeaten world-ranked Cebuano warriors KJ Cataraja and Christian Bacolod secured crushing knockout wins during the entertaining ALA


Gervonta Davis, Ricardo Núñez Clash for WBA Super Featherweight World Title
27 Jul 2019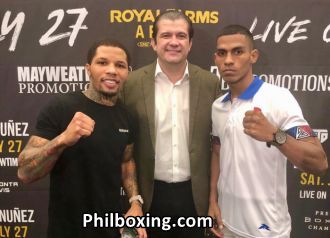 In a battle of hard-swinging sluggers, unbeaten super featherweight star Gervonta Davis (21-0, 20 KO's) makes the second defense of his WBA Super Title against tough and focused world-ranked Ricardo Núñez (21-2, 19 KO's) of P


History in the Philippines: Double Heavyweight Action Aug 3 in Mandaluyong, Metro Manila
25 Jul 2019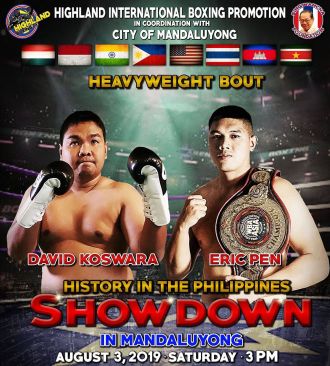 Highland Boxing Team aims to excite fans again, this time bringing double heavyweight battle as never seen before in the Philippines. It will all unfold Saturday, August 3, at Barangay Vergara's Covered Court in Mandaluyon