There are 817 articles attributed to this author.
Displaying articles 731 to 740.
ANA JULATON AND YESSICA MARCOS HOLD PRESSCON IN ARGENTINA
15 Mar 2012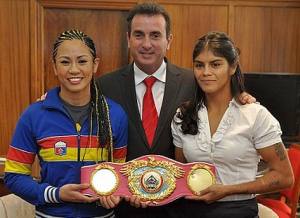 Today in Argentina took place the official presscon for this Friday's world boxing title clash between gorgeous fight girls champions from Argentina and The Philippines: 26-year-old undefeated WBO interim super bantam


JUANMA LOPEZ APOLOGIZES FOR COMMENTS HE MADE AFTER FIGHT WITH ORLANDO SALIDO
12 Mar 2012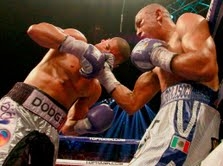 Minutes after Juan Manuel "Juanma" Lopez's stunning technical KO defeat to Mexican Orlando Salido, the proud Puerto Rico star declared in a live interview with TV network Showtime that the stoppage of referee Roberto Ramire


LOPEZ-SALIDO II: ANOTHER THRILLING PUERTO RICAN-MEXICAN WAR AT 'LA ISLA DEL ENCANTO'
10 Mar 2012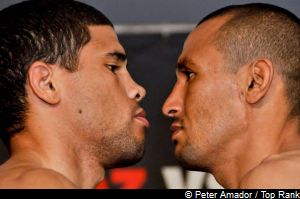 One of the most awaited combats of the year is already knocking our doors. Puerto Rico's boxing star "Juanma" Lopez has weighed-in 125.75 lbs. while his opponent WBO featherweight world champion Orlando "Siri" Salido re


Pinoy Allan Tanada 128 lbs, Puerto Rico's Gamalier Rodriguez 128 lbs for tomorrow's fight in Puerto Rico
10 Mar 2012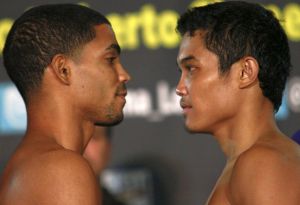 Promising Filipino featherweight Allan Tanada (11-1-2, 5KO's) and his tough Puerto Rican opponent Gamalier Rodriguez (17-2-3, 12KO's) weighed-in 128 lbs., ahead of their battle of tomorrow at the historic Coliseo Rober


Bernabe Concepcion and Mickey Garcia face off during presscon in San Juan, Puerto Rico
08 Mar 2012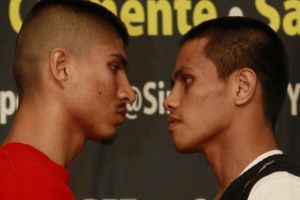 Concepción and García faced off today. Hard-hitting Filipino Bernabé "Abe" Concepción (29-5-1, 15 KO's), a boxer managed by fellow Filipino Manny Pacquiao, will have the golden opportunity to challenge world ra


Juanma Lopez vs Orlando Salido, a thrilling rematch this Saturday in San Juan, Puerto Rico
06 Mar 2012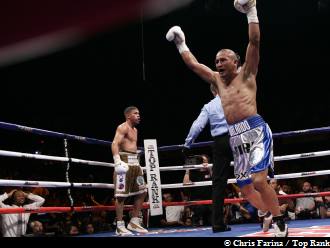 In a much awaited rematch, Mexican Orlando Salido (37-11-2, 25 KOs) will defend for the second time his WBO featherweight world title against popular Puerto Rican star Juan Manuel "Juanma" Lopez (31-1, 28 KOs) this Saturday


In intense battle Jilo Merlin loses to Poonsawat Kratingdaenggym in round 9 in Thailand
06 Mar 2012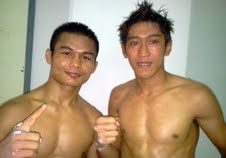 In an intense battle, world ranked former WBA super bantamweight world champion Poonsawat Kratingdaenggym of Thailand defeated unheralded Filipino Jilo Merlin via 9th round technical KO yesterday in the northern Thai


Unheralded Filipino Jilo Merlin in tough battle against former world champ Poonsawat Kratingdaenggym today in Chiang Mai
05 Mar 2012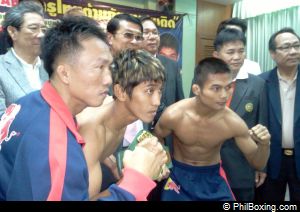 This afternoon in Chiang Mai, northern Thailand, the PABA super bantamweight title fight will take place between former WBA world title holder and defending PABA champion Poonsawat Kratingdaenggym (45-2, 31KOs), and un


Rayito Garcia TKOs Michael Landero in 3; Rojas and Montiel score convincing wins in Mexico
04 Mar 2012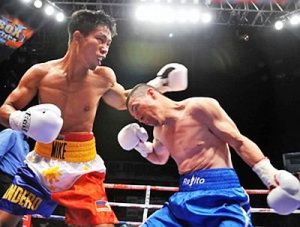 Garcia (R) and Landero battle it out in Tijuana. Former Mexican world champions Tomas "Gusano" Rojas, Raul "Rayito" Garcia and Fernando "Kochulito" Montiel won in convincing and exciting fashion their respective


Michael Landero 105.8 lbs, "Rayito" Garcia 106.2 lbs for tomorrow's clash in Tijuana
03 Mar 2012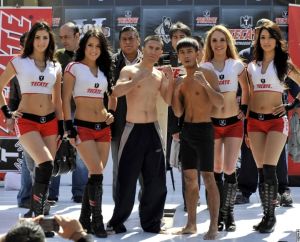 Filipino minimumweight figther Michael Landero (15-5-4, 5 KO's) of Pontevedra, Negros Occidental, weighed 105.8 lbs, while his more experienced opponent, former 2-time world champion champion Mexican Raul "Rayito"