There are 910 articles attributed to this author.
Displaying articles 831 to 840.
Unheralded Filipino Jilo Merlin in tough battle against former world champ Poonsawat Kratingdaenggym today in Chiang Mai
Mon, 05 Mar 2012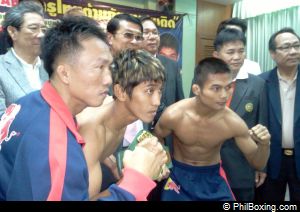 This afternoon in Chiang Mai, northern Thailand, the PABA super bantamweight title fight will take place between former WBA world title holder and defending PABA champion Poonsawat Kratingdaenggym (45-2, 31KOs), and un


Rayito Garcia TKOs Michael Landero in 3; Rojas and Montiel score convincing wins in Mexico
Sun, 04 Mar 2012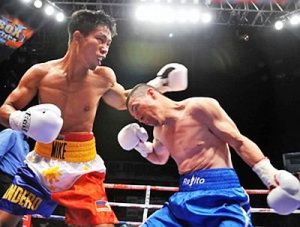 Garcia (R) and Landero battle it out in Tijuana. Former Mexican world champions Tomas "Gusano" Rojas, Raul "Rayito" Garcia and Fernando "Kochulito" Montiel won in convincing and exciting fashion their respective


Michael Landero 105.8 lbs, "Rayito" Garcia 106.2 lbs for tomorrow's clash in Tijuana
Sat, 03 Mar 2012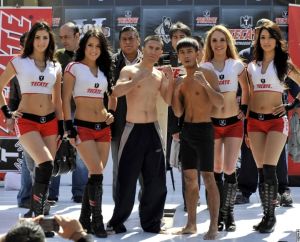 Filipino minimumweight figther Michael Landero (15-5-4, 5 KO's) of Pontevedra, Negros Occidental, weighed 105.8 lbs, while his more experienced opponent, former 2-time world champion champion Mexican Raul "Rayito"


Mexican Hernan "Tyson" Marquez is WBA fighter of year
Fri, 02 Mar 2012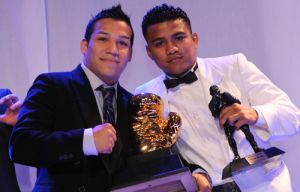 PANAMA CITY, Panama - The World Boxing Association (WBA) held its 19th Annual Awards Dinner attended by over 40 champions and former champions who enjoyed the gala held at the plush Intercontinental Miramar Hotel


Happy Birthday Chris Farina!
Tue, 17 Jan 2012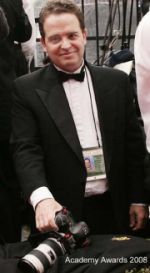 Chris Farina. American Chris Farina has been for a long time one of the leading professionals in boxing photography, the winner of countless photography awards. Chris Farina, a top photographer for Top Rank, is a


EDGAR SOSA KO'S GOLEZ, CHALLENGES VILORIA
Sun, 08 Jan 2012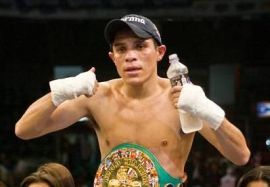 WBC Emeritus and WBC International flyweight champion Mexican Edgar Sosa retained his title via technical KO at 2:30 of the seventh round over brave Filipino Roilo Golez tonight at Foro Polanco in Ciudad de Mexico. Sosa looked flawles


Roilo Golez 110, Edgar Sosa 111.9 in Ciudad de Mexico
Sat, 07 Jan 2012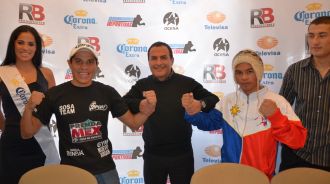 Filipino Roilo Golez, 24, of Compostela Valley, Mindanao, weighed-in 110 lbs. while his more experienced opponent WBC Emeritus Flyweight champion Mexican Edgar Sosa tipped the scales at 111.9 lbs., ahead of their WBC Int


GOLEZ GETS IN THE WAY TO SOSA'S 2ND TITLE RUN (PHOTOS)
Thu, 05 Jan 2012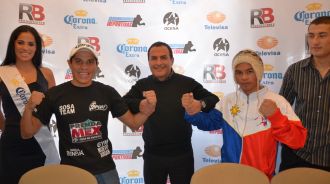 WBC emeritus champion and former flyweight world champion, Edgar Sosa, begins a new stage in his career and officially announced his business relationship with Producciones Deportivas, a company headed by Ricardo Maldonado J


CELESTINO CABALLERO RETAINS HIS WBA WORLD TITLE IN YOKOHAMA
Sun, 01 Jan 2012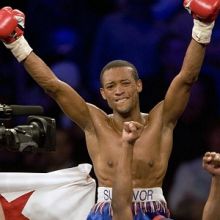 Panamanian star fighter Celestino "Pelenchin" Caballero successfully retained his WBA featherweight championship by scoring a unanimous decision victory over brave Japanese challenger Satoshi Hosono on new year's even in


Celestino Caballero and Nonito Donaire meet during training in Japan
Sat, 24 Dec 2011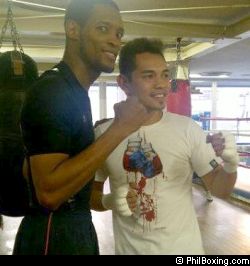 WBA Featherweight world champion Celestino "Pelenchin" Caballero of Panama and Filipino superstar Nonito Donaire had a very cordial meeting yesterday during training at the Teiken Boxing Gym in Japan. Celestino Caballero