There are 796 articles attributed to this author.
Displaying articles 11 to 20.
Moruti Mthalane Defends Against Masayuki Kuroda Monday in Tokyo, Japan
13 May 2019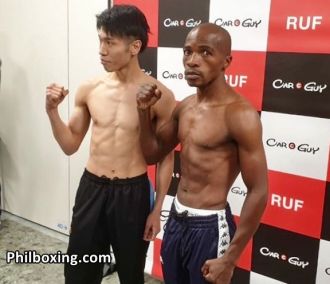 Mthalane and Kuroda ready to rumble. South African IBF Flyweight World Champion Moruti "Baby Face" Mthalane (37-2, 25 KO's) and world-ranked local warrior Masayuki Kuroda (30-7-3, 16 KO's) are set to lock horns for Mthala


Results from Hong Kong: Xiang Li Edges Raymond Poon in Thriller, Claims Three Regional Belts
13 May 2019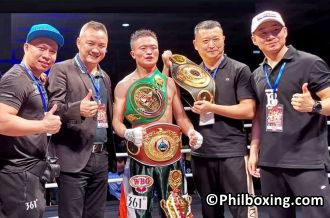 In a back-and-forth action thriller that fully entertained Hong Kong fans, 20-year-old Chinese boxer Xiang Li 李翔 (7-2-1, 2 KO's) of Liu Gang's Max Power stable defeated by unanimous decision Hong Kong's rising sta


Renz Dacquel Defeats Nanako Suzuki Saturday Night in Hong Kong
12 May 2019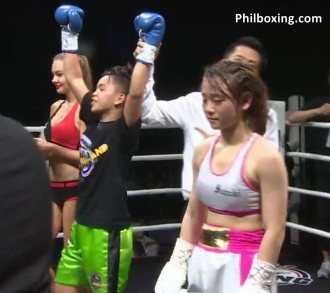 Filipina light flyweight boxer Renz Dacquel (2-1, 1 KO) of Highland Boxing Gym scored a four-rounder non-title unanimous decision win over Japanese fight girl Nanako Suzuki (3-2, 1 KO) tonight Saturday, May 12,


Pacquiao vs Thurman in WBA Welterweight Unification July 20 on FOX PPV
12 May 2019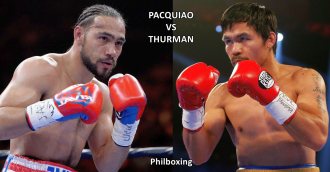 Filipino icon eight-division world champion Manny "Pacman" Pacquiao (61-7-2, 39 KO's) will most likely wage his next exciting world title battle in the U.S. against unbeaten American WBA Welterweight "Super Champion" Keith "


Nanako Suzuki and Renz Dacquel Make Weight for May 12 Battle in Hong Kong
11 May 2019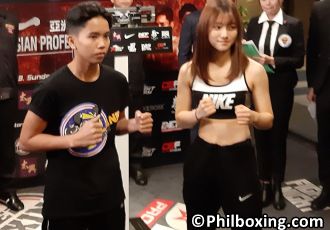 Japanese boxing girl Nanako Suzuki (3-1, 1 KO) of Tokyo and young Filipina battle lady Renz D. Dacquel (1-1, 1 KO) of the Highland Boxing Team both make 108 pounds ahead of their non-title four-chapter battle Sunday, Ma


Nanako Suzuki and Renz Dacquel Make Weight for May 12 Battle in Hong Kong
11 May 2019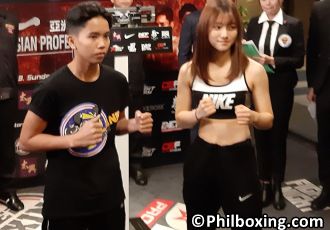 Japanese boxing girl Nanako Suzuki (3-1, 1 KO) of Tokyo and young Filipina battle lady Renz D. Dacquel (1-1, 1 KO) of the Highland Boxing Team both make 108 pounds ahead of their non-title four-chapter battle Sunday, Ma


Randy Peltacorin Back in Action June 9 in the Philippines
10 May 2019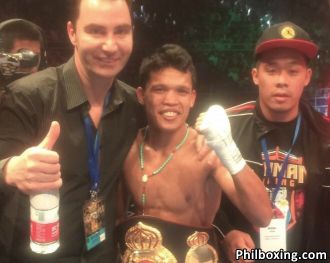 L-R: Maniatis, Petalcorin and Manangquil. Former WBA interim light flyweight world champion Randy Petalcorin (29-3-1, 22 KO's) can look forward to a return to boxing action on June 9th in the Philippines, said today A


Moloney will not fight Ancajas; Maniatis: "We have other plans"
09 May 2019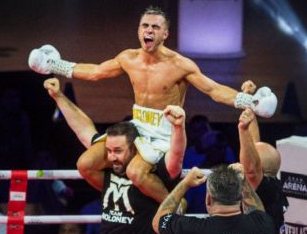 Andrew Moloney. Undefeated Australian IBF/WBA/WBC world-ranked super flyweight "The Monster" Andrew Moloney (19-0, 12 KO's) will not be fighting Jerwin Ancajas. Instead, the 28-year-old Australian will battle a t


Filipino Jelbirt Gomera's WBC 7-Day Weigh-in at 124, Looks Forward to Ryan Burnett's Belfast Battle on ESPN+
09 May 2019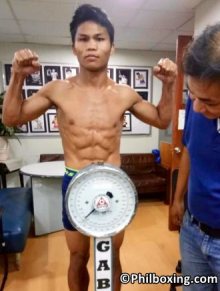 Gomera on the scales. Filipino super bantamweight Jelbirt Gomera (14-5, 7 KO's) of the Highland Boxing Team weighed-in at 124 pounds in his WBC mandatory 7-day pre-fight weigh-in ahead of the southpaw's colli


Gerry Peņalosa's UBS Ultimate Boxing Series Kamaong Pinoy Set to Thrill Fans on ESPN5 Philippines
08 May 2019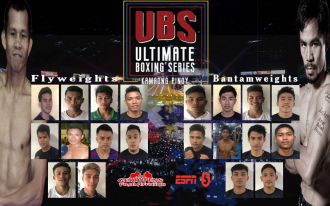 Two-division world champion "Fearless" Gerry Peņalosa, fast becoming one of the most successful boxing promoters in his native Philippines, launches his new project in search of the next generation of Filipino boxing sta