There are 866 articles attributed to this author.
Displaying articles 11 to 20.
Sosa Decks, Stops Rhodes in Seven
11 Aug 2019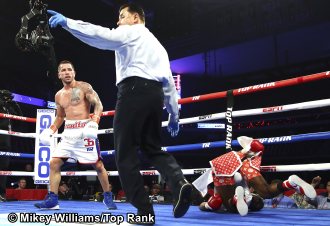 Boricua former WBA 130-pound world champ Jason "El Canito" Sosa (23-3-4, 16 KO's) of New Jersey came-in in top form delivering a crushing body-attack beat down of Oklahoma tough man Haskell Lydell Rhodes (27-4-1, 13 KO's) for


Carlo Caesar Peņalosa's Time to Shine has Come
10 Aug 2019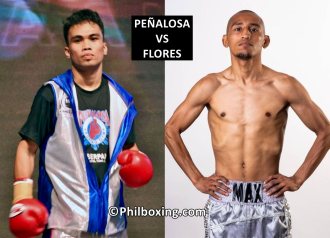 Young Filipino boxer Carlo Caesar Peņalosa (14-1, 7 KO's) battles tough and experienced Mexican Max Flores (24-4-1, 17 KO's) for the vacant IBO Flyweight World Title Sunday, August 25, at TV5 Studio in Novaliches, Quez


WBSS Final: Naoya Inoue Battles Nonito Donaire Nov 7 in Saitama, Japan
09 Aug 2019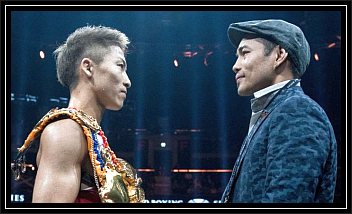 The WORLD BOXING SUPER SERIES confirms that the Bantamweight Final featuring Japanese super star Naoya Inoue (18-0, 16 KO's) and the "Filipino Flash" Nonito Donaire (40-5, 26 KO's), will thrill audiences Thursday, Nove


Happy Birthday Gerry Peņalosa
07 Aug 2019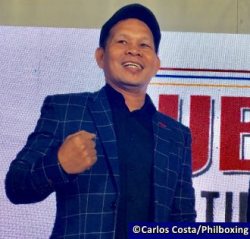 He became one of the post popular and beloved Filipino boxers ever. Easy to smile, polite and friendly, the now retired, former two-division world champion Gerry Peņalosa (55-8-2, 37 KO's), celebrates today, August 7, his 47th bir


Results from Thailand: Yordan Claims WBC Asian Belt; Padyod, Yadav, Yokubov Stop Foes
07 Aug 2019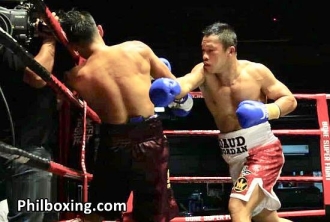 Former IBO Featherweight and Lightweight Champion Daud "Chino" Yordan (39-4, 27 KO's) has just got back into combat mode, stopping Thai veteran warrior Aekkawee Kaewmanee (21-12, 10 KO's) during the rough action of cha


Complete Results for Highland Promotion: Cuello, Singh and Laurel Score Wins in Regional Title Fights; Pen, Simson, Almacen, Magali Stop Opponents
06 Aug 2019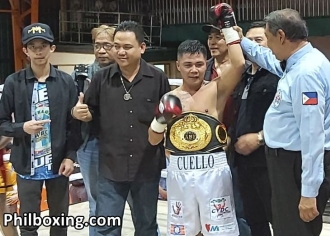 Highland Promotions show "History in the Philippines" did not fail to thrill and entertain fans last Saturday, August 3, at Barangay Vergara's Covered Court in Mandaluyong City, Metro Manila; fans now asking for more. In


Complete Results from Elorde's Night of Champions XVIII: Daisuke Sugita Claims WBA Asia South Super Bantam Belt; Medura Edges Nakagawa
04 Aug 2019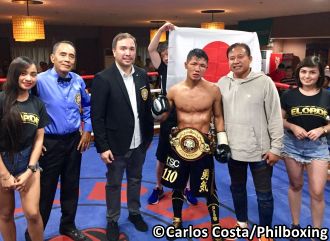 Sugita wins. MANILA, Philippines -- Japanese fighter Daisuke Sugita (杉田大祐), a boxer, as well as an active police officer for the Tokyo Police Department, successfully claimed the WBA S


Weights for Elorde's Night of Champions: Omagao vs Sugita at 122 for WBA Asia Belt; Medura vs Nakagawa Ready to Rumble
03 Aug 2019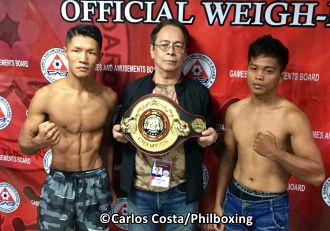 Omayao and Sugita. Fighters successfully made weight for Bebot Elorde's Night of Champions XVIII, the exciting 15-fight pro boxing event set fire up the stage today Saturday, August 3, at the Elorde Sports Complex


Weights for Highland Promotions: Cuello, Pen, Simson, Laurel, Singh, Mancito Scaled-in OK; Ready for tonight's Wars in Mandaluyong, Metro Manila
03 Aug 2019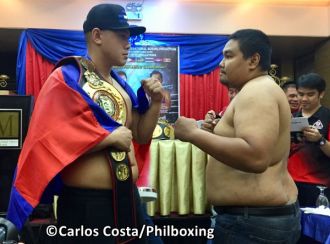 Pen and Koswara at Friday's weighin. Fighters made weight for Highland Promotions "History in the Philippines" show today Saturday, August 3, at Barangay Vergara's Covered Court in Mandaluyong City, Metro Manila.


Niyomtrong, Andales Make Weight for WBA Minimumweight World Title Clash in Thailand
01 Aug 2019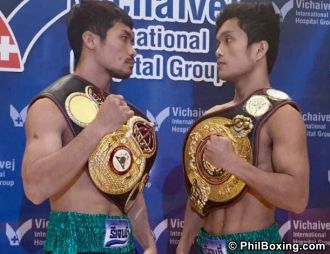 WBA World Champion Thammanoon Niyomtrong aka "Knockout CP Freshmart" (19-0, 7 KO's) of Thailand and Filipino Challenger Ar Ar Andales (10-0, 2 KO's) of the Quibors Boxing Gym in Bacoor, Cavite, both scaled-in at the