There are 879 articles attributed to this author.
Displaying articles 581 to 590.
Former Servania Opponent Genaro "Poblanito" Garcia Killed in Mexico
22 Jun 2013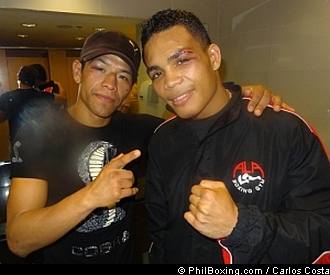 Mexican world-class fighter Genaro "Poblanito" Garcia was killed with four gun shots to his head in San Agustin Atzompa, junta auxiliar de San Lorenzo Chiautzingo in Mexico, the Mexican media reported today.


MONTIEL 122, PADUA 122 FOR THE WBC INTERNATIONAL BELT IN IXTAPA, MEXICO
22 Jun 2013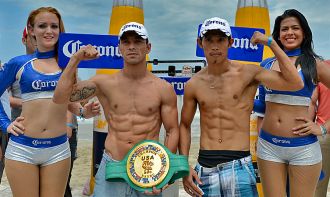 Mexican three-time world champion Fernando "Kochulito" Montiel (49-4-2, 37KO's) and his Filipino opponent Jaderes Padua (8-2-1. 5KO's) scaled-in at 55.3 kgs (122 lbs) ahead of their 12-rounder clash for the vacant WBC Inte


MAYON PADUA BATTLES FERNANDO MONTIEL; WENG HAYA FIGHTS MIGUEL BERCHELT THIS SATURDAY IN MEXICO
20 Jun 2013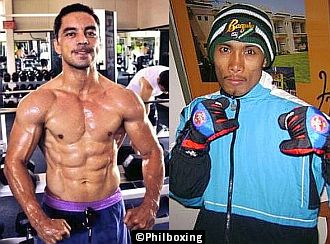 Filipino fighters Jaderes "Mayon" Padua and Weng Haya are scheduled in tough battles this Saturday night in Mexico (Sunday morning in the Philippines). WBC Youth champion Jaderes Padua (8-2-1. 5KO's) will face none other t


"ZOU SHIMING: FISTS OF GOLD II" JULY 27 IN MACAU; MELINDO, SERVANIA STAR ATTRACTONS
16 Jun 2013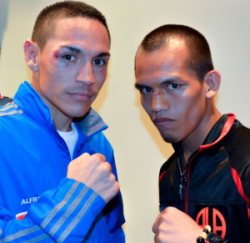 "ZOU SHIMING: FISTS OF GOLD II" is set to fire-up Macau on July 27 when 2-time Olympic gold medalist and 3-time Amateur World Champion Zou Shiming gets back into action to battle Mexican Jesús "Jibarito" Ortega in the headli


CHONLATARN DEFEATS MARAYAN TO RETAIN PABA TITLE (PHOTOS)
08 Jun 2013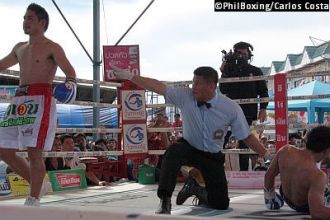 NAKHON SAWAN, Thailand - World-rated Chonlatarn Piriyapiyo (47-1, 30KO's), the Thai featherweight who lost a landslide unanimous decision to WBA world super champion Chris John last year in Singapore, successfully re


MATEO HANDIG HEADS TO MÉXICO FOR IBF WORLD TITLE ELIMINATOR
03 Jun 2013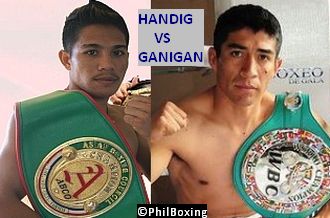 In a Canelo Alvarez Boxing Promotions event, Filipino IBF #1 world-ranked Mateo Handig (13-5-0, 7KO) of Samar (LEFT), will battle Mexican former WBC Silver Champion Gánigan "El Zurdo" López (22-5-0, 15KO) in an 12-rounder IB


HONG KONG'S STAR REX TSO RETAINS WBC ABCO TITLE; FILIPINO EDGAR GABEJAN WINS IN HONG KONG
29 May 2013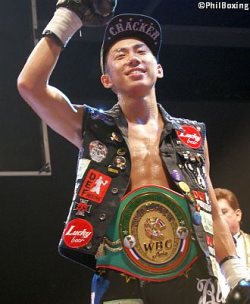 Rex Tso. Hong Kong Rising Star Rex Tso (9-0, 6KO's) impressively retained his WBC Asian Continental Super Flyweight Belt by scoring a fourth round technical KO over veteran Thailand warrior Wandee Singwancha (67-17-1


WEIGHTS FROM HONG KONG (PHOTOS)
27 May 2013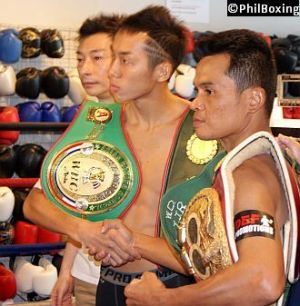 Tso and Wandee Singwancha. The young gun vs the hungry old tiger. Hong Kong's rising star WBC Asia Continental Super Flyweight Champion Rex Tso (8-0, 5KO's) and battle-tested Thai challenger Wandee Singwan


REX TSO DEFENDS WBC ABCO BELT MAY 28 IN HONG KONG; FILIPINOS TUMBAGA, COONEY, GABEJAN IN ACTION
23 May 2013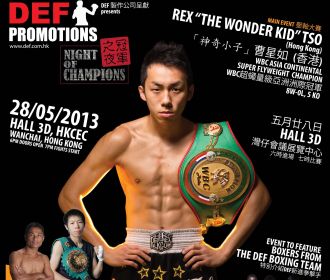 Hong Kong's rising boxing star Rex "The Wonder Kid" Tso (8-0, 5KO's) is set to defend for the first time his green WBC Asian Continental Super Flyweight belt against battle tested Thai veteran Wandee Singwancha (67-16-1, 18


Srisaket Sor Rungvisai Knocks Out Yota Sato to Become New WBC Super Flyweight World Champ
04 May 2013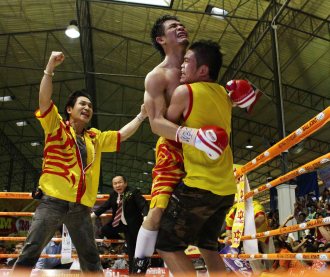 In an intense fight, Thai slugger Srisaket Sor Rungvisai (19-3-1, 18 KO's) became the new WBC Super Flyweight world champion by knocking out Japanese Yota Sato (26-3-1, 12 KO's) Friday (May 3) at Stadium Khonmuangsri in the