There are 882 articles attributed to this author.
Displaying articles 601 to 610.
Márquez: "I'd Love to Fight Bradley"
31 Mar 2013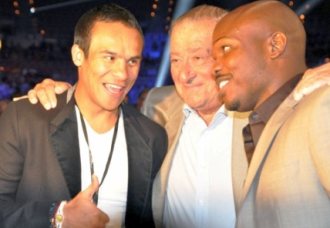 Upon his arrival at the Mandalay Bay Hotel & Casino to attend the Alvarado-Rios II fight, Mexican superstar world champion Juan Manuel Márquez received standing ovation and cheers from adoring Las Vegas fans. I


Weights from México: García 106 lbs, Guevara 107 lbs for WBC Silver Jr. Flyweight Title
30 Mar 2013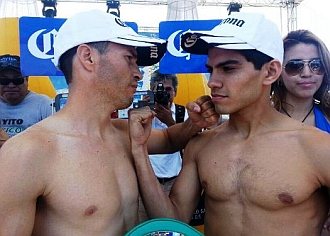 Mexican two-time world champion Raúl "Rayito" García (33-2-1, 21KO's) of Baja California, weighed-in 106 lbs (48.1 kgs), while fellow Mexican opponent Pedro "Jibran" Guevara (18-1-1, 13KO's) of Sinaloa, scaled-in


Former Nietes Foe, Mexican Ramón García Hirales, Won by KO in Baja California
24 Mar 2013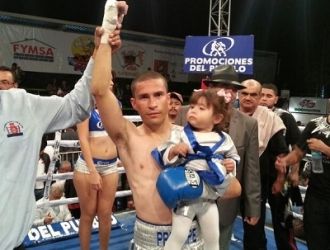 Mexican former Jr. Flyweight World champion Ramón "El Principe" García Hirales (17-4-1, 10 KO's) successfully returned to the winner's circle with a knockout victory over fellow Mexican José Guadalupe "Lobito" (


Fight Report: Malinga, Mathebula win IBF Eliminators in South Africa (PHOTOS)
24 Mar 2013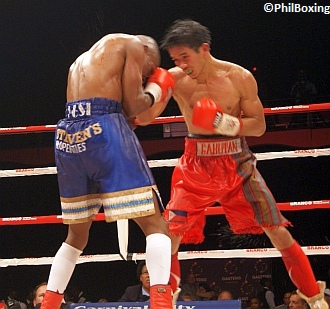 In an exciting action-packed fight, IBF world's No. 7 bantamweight Vusi "Marvelous" Malinga of Ekurhuleni, South Africa, won by unanimous decision over brave Ilocos Sur's Dayer Gabutan Singwancha tonight at Carnival City


Bautista vs Ramírez in "Pinoy Pride XIX Mexican Invasion" April 20 in Davao
23 Mar 2013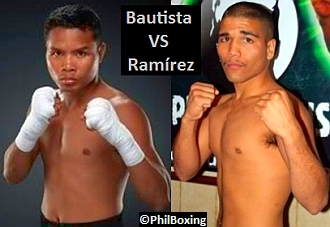 Popular Filipino puncher Rey "Boom Boom" Bautista (34-2, 25KO's) is back in action against tough Mexican Jose "El Negro" Ramírez (24-3, 15KO's) of Mexicali, Baja California, in the main event of Pinoy Pride XIX "Mexican Inv


Malinga 118 lbs, Gabutan 117.4 lbs for IBF Eliminator in South Africa (PHOTOS)
22 Mar 2013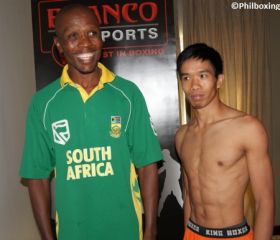 Successful IBF weight-in ceremony today in South Africa. Filipino Dayer "Die Hard" Gabutan Singwancha of Ilocos Sur Province weighted-in 117.4 lbs (53.3kgs), while opponent Vusi "Marvelous" Malinga of Ekurhuleni scale


IBF Designates Officials for the Malinga-Gabutan, Mathebula-Ndlovu World Title Eliminators in South Africa
22 Mar 2013
Filipino Dayer "Die Hard" Gabutan (21-1-2, 18KO's) and South African Vusi Malinga (20-4-1, 12KO's) - both lefties - will clash in a 12-rounder IBF eliminator for the No. 1 mandatory ranking in the bantamweight division tomorrow night (March 23) at Carnival City Casino in Johannesburg, South Africa,


MALINGA-GABUTAN, PENERIO-TETE MEET DURING PRESSCON IN SOUTH AFRICA (PHOTOS)
20 Mar 2013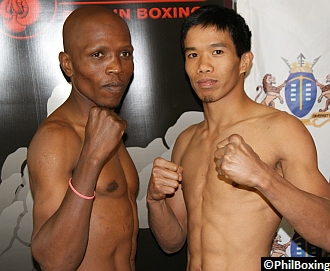 Tough Filipino fighters Dayer "Die Hard" Gabutan of Ilocos Sur and Eduard "Big Heart" Penerio of Maguindanao met their respective South African opponents during the promotional presscon staged hours ago by the South Afric


RINGSIDE REPORT: CASIMERO-RIOS, APOLINARIO-VAZQUEZ FIGHTS IN PANAMA (PHOTOS)
19 Mar 2013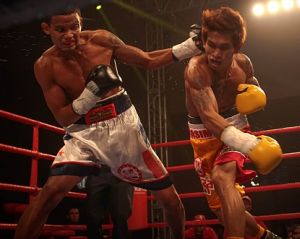 CIUDAD DE PANAMA, Panama - It was great time for Filipino fighters Johnriel Casimero, John Mark Apolinario and their teams during their stay in the Latin American nation of Panama. Not only the Filipinos had good perfor


FILIPINO GABUTAN VS SOUTH AFRICA'S VISU MALINGA IN IBF WORLD TITLE ELIMINATOR THIS SATURDAY IN SOUTH AFRICA
19 Mar 2013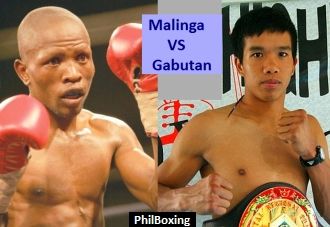 Following an excellent weekend for Casimero and Apolinario in Panama, Filipino fighters want more success. The turn is now for Dayer Gabutan and Eduard Penerio in South Africa. Dayer Gabutan of Ilocos Sur and Eduard "Big Heart"