There are 688 articles attributed to this author.
Displaying articles 41 to 50.
Amanda Nunes frustrates Ronda Rousey's return to the Octagon
31 Dec 2016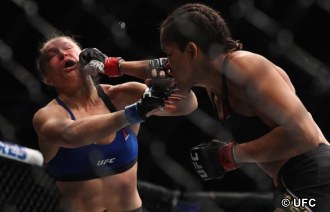 "SHE'S BACK" was the slogan for Ultimate Fighting Championship's UFC 207, referring to the return of Mixed Martial Arts (MMA) superstar Ronda Rousey. But Rousey's return after her devastating first career defeat to Holly Hol


"Bad Boy' Gonzales wagers Philippine Lightweight title in a rematch against Sermona
26 Nov 2016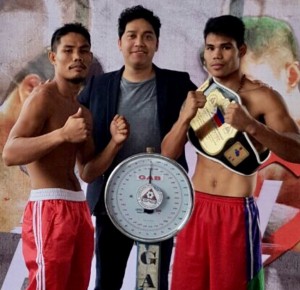 Roberto Gonzales, the Lightweight Champion of the Philippines, will risk his title and reputation against his Filipino rival who gave him his first taste of defeat in his career as professional boxer. Known as the "


Senator Manny Pacquiao dons his superhero attire to win another world boxing title (Photos)
06 Nov 2016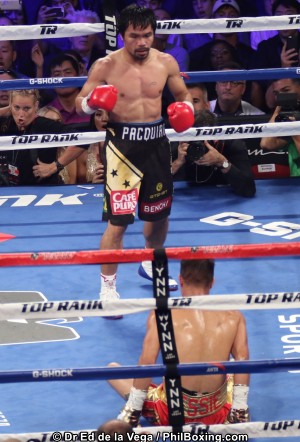 Las Vegas, NV - Nowadays, during the week, Manny Pacquiao is dressed in a good-looking suit and debates with his fellow lawmakers in the floor of Philippine Senate. Tonight, that suit is off, his title is set aside an


Oscar Valdez retains WBO Featherweight belt in first defense against Hiroshige Osawa
06 Nov 2016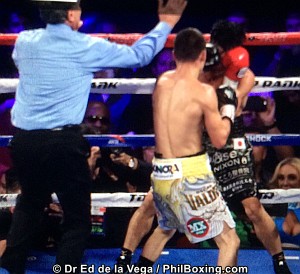 Las Vegas - Oscar Valdez successfully defended his WBO Featherweight crown with a stoppage of Japanese challenger, Hiroshige Osawa in the 7th round of the co-main card of Manny Pacquiao versus Jessie Vargas at the Thomas and Ma


Jessie Magdaleno dethrones Nonito Donaire Jr. to win WBO gold
06 Nov 2016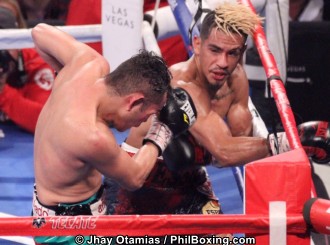 Las Vegas, NV - Unbeaten challenger, Jessie Magdaleno dismissed reigning champion Nonito Donaire Jr. in 12 rounds of gritty action to win the WBO Junior Featherweight world title - his first in his young career. Mag


Zhou Shiming defeats Prasitak Phaprom for first world title in Las Vegas
06 Nov 2016
Las Vegas, NV - Popular Chinese fighter, Zou Shiming (8-1, 2 KOs) captured his first world title with a masterful performance agaisnt Prasitak Phaprom (39-1-2, 24 KOs) of Thailand. Shiming knocked down, boxed, clowned, taunted and dominated the experienced Phaprom in 12 rounds of action to open


Juan Francisco Estrada dominates Raymond John Tabugon of the Philippines in Super Flyweight debut
09 Oct 2016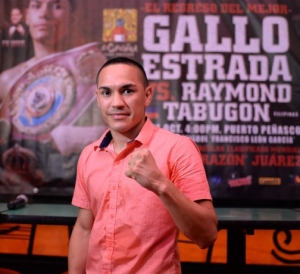 Sonora, Mexico's avid boxing fans came out Saturday night to support their champion – Juan Francisco "El Gallo" Estrada – in his first fight at a higher weight class. Estrada, the former WBO and WBA (112 pound) flywei


Pacquiao delivers a one-punch KO in the Senate
19 Sep 2016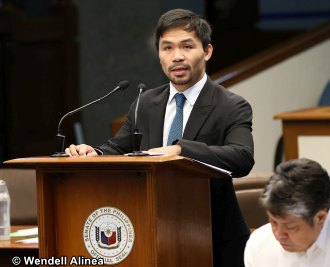 Manny Pacquiao's next fight would not be in six week's time, but the Fighting Senator from the Philippines is already in full fighting form as he delivered a one-punch political KO in the Philippine Senate. The Phi


HIDILYN DIAZ MAKES HISTORY IN RIO
08 Aug 2016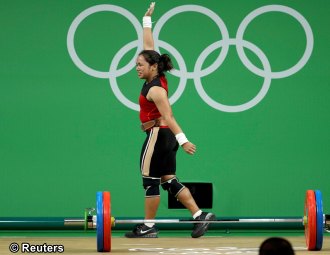 On her third try in the world's biggest stage, not only did Hidilyn Diaz fulfilled her lifelong dream, she also achieved her nation's twenty-year old dream. The drought is over for the Philippines. The co


'LITTLE PACMAN' FALLS IN FLORIDA
16 Jul 2016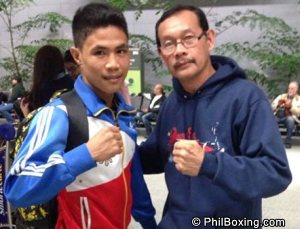 He was nicknamed after the popular boxing icon and his fellow General Santos City pugilist the Philippines. But on Friday night at Kissimmee, Florida - Joebert "Little Pacman" Alvarez suffered a disastrous loss in the ring.