There are 731 articles attributed to this author.
Displaying articles 291 to 300.
Zou Shiming batters Toscano
Sun, 24 Nov 2013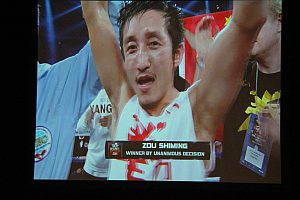 Shiming. Macao, China - Chinese star and two time Olympic gold medalist Zou Shiming (3-0) wowed his countrymen here in Macao, China via an electrifying victory over Juan Toscano of Mexico 4-1, 1 KO). Shiming bl


Verdejo dominates Thai opponent
Sun, 24 Nov 2013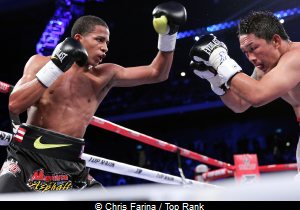 Macao, China - Puerto Rican prospect Felix Verdejo scored a commanding win via Unanimous Decision over Petchsamuthr Duanaaymukdahan (9-2, 1 KO) of Bangkok, Thailand. The 20 year old fighter from San Juan Puerto, Rico wa


Dan Nazareno Jr. stops Liam Vaughan in 2
Sun, 24 Nov 2013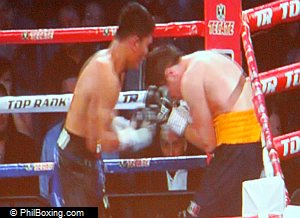 Macao, China - Dan Nazareno Jr. made it 2 - 0 for the Philippines with a TKO victory in the 2nd round over Liam Vaughan of England (8-2, 2 KOs). Nazareno Jr. (18-10, 13 KOs) of Pampanga rocked Vaughan early in the fi


Early results for from Macao for Pacquiao-Rios: Chinese fighters dominate opponents
Sun, 24 Nov 2013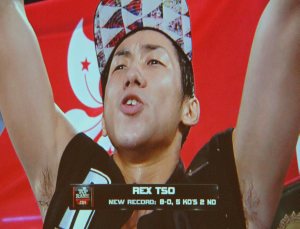 Rex Tso. Macao, China - Hometown fighters from mainland China and Hong Kong won their fights decisively against their respective counterparts here in the early stages of the mega event at The Cotai Arena dubbed as 'The


Early results from Macao: Pinoy Harmonito Dela Torre wins by KO
Sun, 24 Nov 2013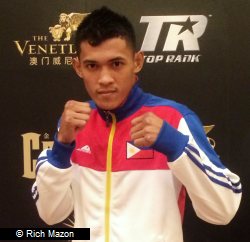 Macao, China - The mega event here at The Cotai Arena opened with one of two fighters from the Philippines against a fighter from Indonesia. Harmonito Dela Torre of General Santos City (11-0, 6 KOs) knocked out Jason Buta


A country's favorite son will fight for a nation in distress
Sun, 24 Nov 2013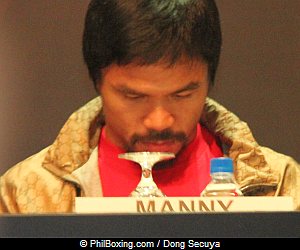 The sport of boxing, the name Manny Pacquiao and the country of the Philippines go hand in hand with each other. In recent years, all three form a manifestation of national pride, personal achievement and nationalistic fervor.


A country's favorite son will fight for a nation in distress
Sun, 24 Nov 2013
The sport of boxing, the name Manny Pacquiao and the country of the Philippines go hand in hand with each other. In recent years, all three form a manifestation of national pride, personal achievement and nationalistic fervor. Pinoy Pride was born of Pacquiao's achievements in the squared ri


Dan Nazareno Jr. earns spot in Macao by impressing Team Pacquiao during sparring sessions
Sat, 23 Nov 2013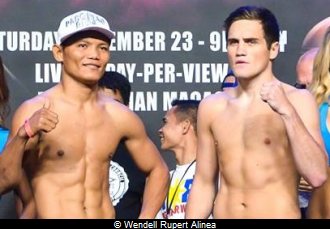 Macao, China - When Dan Nazareno Jr. received the call to spar with Manny Pacquiao last October, he was in shock. The 24 year old boxer from San Fernando, Pampanga in the Philippines, was unable to sleep for days


David Beckham visits Macao, shares Pacquiao's sentiments on Typhoon Haiyan victims
Fri, 22 Nov 2013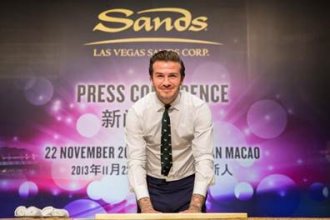 Macao, China - In the midst of boxing's biggest stage here in this bustling Asian peninsula that is headlined by global superstar Manny Pacquiao, another sports icon made its way to Macao today. Football superstar David B


Jessica Sanchez to sing both Philippine and U.S. National Anthems in Macao
Fri, 22 Nov 2013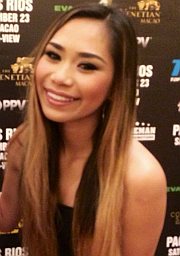 Sanchez. Macao, China -- Filipino-American Jessica Sanchez of the famed American Idol show landed in Macao, China today where she will be singing the Philippine National Anthem this Sunday during Filiipino supersta