There are 715 articles attributed to this author.
Displaying articles 291 to 300.
Early results from Macao: Pinoy Harmonito Dela Torre wins by KO
24 Nov 2013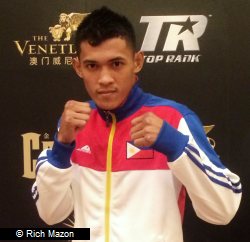 Macao, China - The mega event here at The Cotai Arena opened with one of two fighters from the Philippines against a fighter from Indonesia. Harmonito Dela Torre of General Santos City (11-0, 6 KOs) knocked out Jason Buta


A country's favorite son will fight for a nation in distress
24 Nov 2013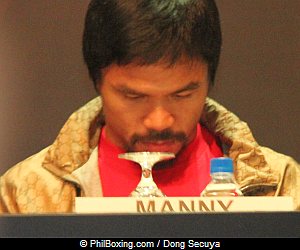 The sport of boxing, the name Manny Pacquiao and the country of the Philippines go hand in hand with each other. In recent years, all three form a manifestation of national pride, personal achievement and nationalistic fervor.


A country's favorite son will fight for a nation in distress
24 Nov 2013
The sport of boxing, the name Manny Pacquiao and the country of the Philippines go hand in hand with each other. In recent years, all three form a manifestation of national pride, personal achievement and nationalistic fervor. Pinoy Pride was born of Pacquiao's achievements in the squared ri


Dan Nazareno Jr. earns spot in Macao by impressing Team Pacquiao during sparring sessions
23 Nov 2013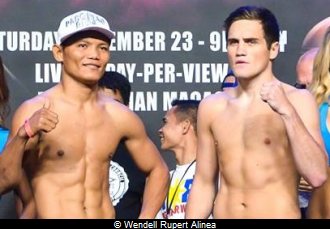 Macao, China - When Dan Nazareno Jr. received the call to spar with Manny Pacquiao last October, he was in shock. The 24 year old boxer from San Fernando, Pampanga in the Philippines, was unable to sleep for days


David Beckham visits Macao, shares Pacquiao's sentiments on Typhoon Haiyan victims
22 Nov 2013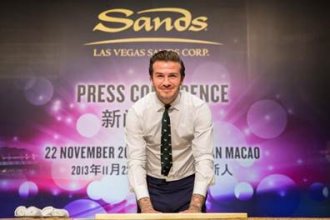 Macao, China - In the midst of boxing's biggest stage here in this bustling Asian peninsula that is headlined by global superstar Manny Pacquiao, another sports icon made its way to Macao today. Football superstar David B


Jessica Sanchez to sing both Philippine and U.S. National Anthems in Macao
22 Nov 2013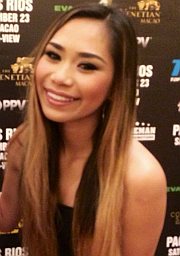 Sanchez. Macao, China -- Filipino-American Jessica Sanchez of the famed American Idol show landed in Macao, China today where she will be singing the Philippine National Anthem this Sunday during Filiipino supersta


Garcia does not regret hiring Ariza after ugly brawl with Roach
22 Nov 2013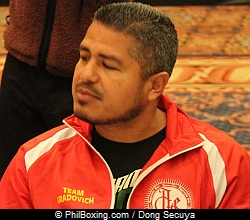 Macao, China - Trainer Robert Garcia expressed no regret in bringing in conditioning coach Alex Ariza to look after Brandon Rios's conditioning regimen in preparation for his mega fight with Manny Pacquiao th


Brandon Rios vs. Miguel Cotto at 154 post Manny Pacquiao
22 Nov 2013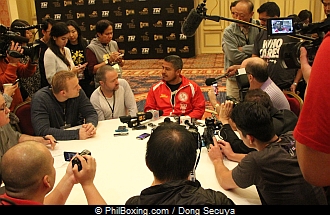 Macao, China - If Brandon Rios pulls off the upset over Manny Pacquiao at The Cotai Arena at The Venetian this Sunday, he might be looking at a bigger payday and bigger challenges ahead of him - literally. Ri


Pinoy fighter Harmonito Dela Torre will open for Pacquiao - Rios in Macao
21 Nov 2013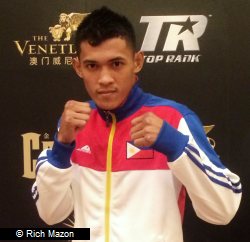 Dela Torre. Macao, China - A budding Filipino boxer will commence the biggest sporting event this side of the world this Sunday (Saturday in North America) at The Cotai Arena inside the massive Venetian Resort Hotel and


Rolly Lunas makes weight, dedicates fight to his countrymen
16 Nov 2013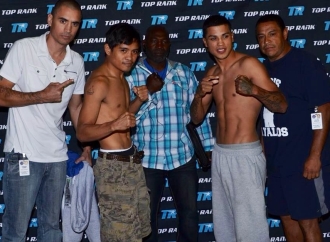 Filipino bantamweight Rolly Lunas of San Diego by the way of Tabaco City, Albay and opponent, Chris Avalos of Lancaster, California both made the weight limit one day prior to their prime time match in Nevada tomorrow nigh