There are 226 articles attributed to this author.
Displaying articles 51 to 60.
Marquez Outclass Diaz in 12 Rounds
Sun, 01 Aug 2010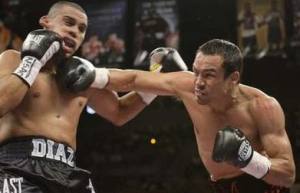 Las Vegas, NV--In the rematch of the fight of the year, Juan Manuel Marquez proved that even at 37, he still has a lot left in the tank as he won a clear unanimous decision over Juan Diaz. Early in the fight, Marquez was


Pirog Scores Stunning One-Punch KO over Jacobs
Sun, 01 Aug 2010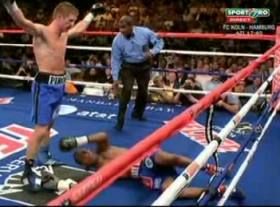 Las Vegas, Nv-- Just went it looked like Danny Jacobs would rise to another level and win his first world title, Dmitry Priog, with one right hand, ended the night of Jacobs. The stunning knockout took place in the 5th roun


Guerrero Survives 10th Round Knockdown to Beat Casamayor
Sun, 01 Aug 2010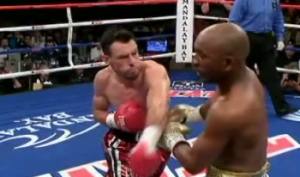 In a fight that lacked action, Robert Guerrero was able to defeat Joel Casamaoy by a unanimous ten-round decision. For the most part, Guerrero was able to use his heavy hands to keep Casamayor at bey. In the second ro


LINARES OUTBOXES JUAREZ OVER 10 ROUNDS
Sun, 01 Aug 2010
Las Vegas, NV-- Jorge Linares used his legs and great counter punches to control the fight against Rocky Juarez over ten rounds. It was the opening fight of the PPV telecast of Marquez-Diaz II. Linares was able to land left hands all night on Rocky Juarez, who didn't have any answers to Linares' a


Ward Perfect Against Green
Sun, 20 Jun 2010
Oakland, Ca--- In front of 8,797 fans at the Oracle Arena in Oakland, California, WBA Super Middleweight Champion, Andre Ward, successfully made his first defense of his title by shutting out Allan Green over 12 dominate rounds. The bout opened up with both fighters trying to size each other up.


Live updates on the Andre Ward vs. Allan Green Super 6 Fight
Sun, 20 Jun 2010
The last fight of the second round of the Super Six Super Middleweight Tournament is just minutes away as WBA Super Middleweight Champion, Andre Ward, makes his first title defense against Allan Green. The fight will be televised on Showtime, but you can get live updates on this main event on my tw


POST-FIGHT PRESS CONFERENCE QUOTES
Sun, 02 May 2010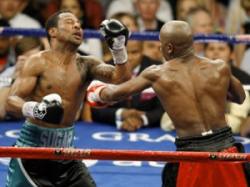 Mayweather landed 208 of 477 punches at a staggering 44% connect rating. Mosley landed 92 of 252 punches at a 20% connect rating. Average connects/punches a round was Mayweather 17/39 and Mosley 7/37. That mean Maywe


MAYWEATHER DOMINATES MOSLEY OVER 12 ROUNDS
Sun, 02 May 2010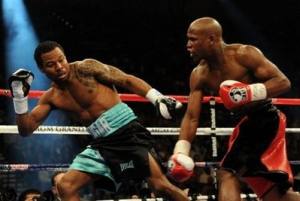 Floyd Mayweather once again showed his dominance, this time against a quality opponent in Shane Mosley. Mayweather was simply too accurate and in much better condition than the 38 year old Mosley. Mosley had his momen


Alvarez Hurt Early But Unfazed to Stop Cotto in 9 Rounds
Sun, 02 May 2010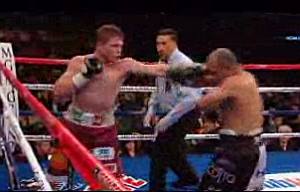 RINGSIDE FROM MGM GRAND, LAS VEGAS -- Mexican star Saul Alvarez was badly hurt in the first round against Jose Miguel Cotto, brother of Miguel Cotto. However, Alvarez was able to survive the round and get his feet settled


Ponce De Leon Pounds Out a Tough But Clear Decision Win
Sun, 02 May 2010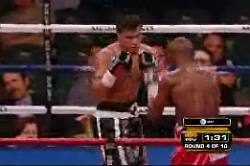 RINGSIDE FROM MGM GRAND, LAS VEGAS -- In a ten round featherweight fight, Daniel Ponce de Leon?s consistency and good body stack was enough to win a close, but unanimous decision over Corelius Lock. The former world champ, Ponce