There are 90 articles attributed to this author.
Displaying articles 31 to 40.
MELLIGEN TO ?STAND AND DELIVER?
Mon, 24 Jan 2011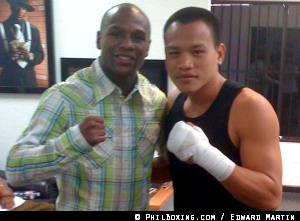 ?Mark is so different now,? Edward Martin of Team Melligen blurted out in excitement when I went to the Martin residence to interview Mark Melligen, world rated Filipino welterweight and Top Rank?s prospect. The 24-ye


CONGRESSMAN MANNY PACQUIAO, OUR FILIPINO BOXERS ARE HEROES, TOO?
Wed, 08 Dec 2010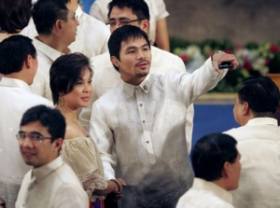 Overseas Filipino Workers (OFW) are considered our modern heroes because of their contributions in the form of remittances that help the Philippine economy. As such, there are so many laws, privileges and government pro


MARQUEZ SHOWS OFF CHAMPIONSHIP ?SHIRT? AFTER TKO WIN OVER KATSIDIS
Mon, 29 Nov 2010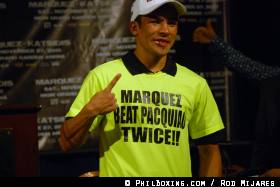 Mexican warrior and future Hall of Famer, Juan Manuel Marquez successfully defended his unified lightweight title on Saturday at MGM Grand Garden in Las Vegas after the referee, Kenny Bayless stop the fight in the 9th round


MGM HOSTS ?WARRIORS? BOXING EVENT
Mon, 22 Nov 2010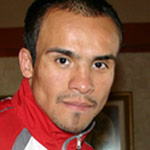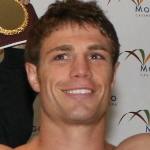 LAS VEGAS -- Mexican warrior and unified world lightweight champion Juan Manuel Marquez will excite boxing fans once again in a championship fight against Australi


BORICUA LEGENDS TITO TRINIDAD AND WILFREDO GOMEZ SHOW SUPPORT FOR JUANMA AT MGM GRAND
Sat, 06 Nov 2010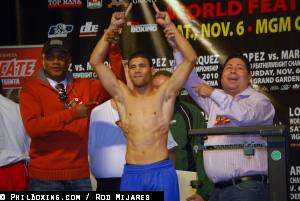 What is more fitting to grace today?s weigh-in at MGM Grand Garden Arena in Las Vegas than the presence of the two greatest boxers who came out from Puerto Rico, 3-division world champion Felix ?Tito? Trinidad (42(35KO),


MELLIGEN READY FOR ANOTHER MAIN EVENT IN RENO
Thu, 01 Jul 2010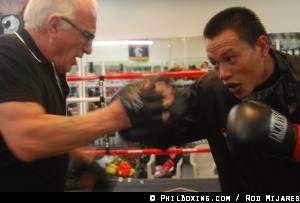 The pride of Cebu City?s ALA Gym Mighty Mark Melligen from Bacolod City, Philippines will see action on July 3, 2010 at the Grand Sierra Resort, Reno, Nevada in the main event against Anges Adjaho in the welterweight div


MELLIGEN?S CHANCE OF REDEMPTION: Rematch with erstwhile tormentor Michel Rosales set on July 3
Sat, 15 May 2010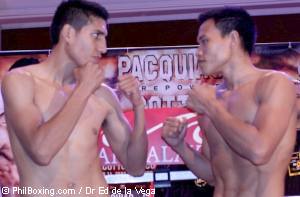 Tony Martin, the Las Vegas based trainer of Top Rank Promotions? Filipino welterweight prospect, Mark Jason Melligen just informed me that he had just emerged from a meeting with Top Rank Promotions regarding Melligen?


MAYWEATHER DOMINATES MOSLEY
Sun, 02 May 2010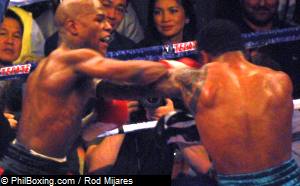 Rod Mijares also writes for Balita News Network in Los Angeles and Las Vegas. Floyd Mayweather, Jr. kept his undefeated record (41-0, 25 KO) by beating Shane Mosley (46-6, 39KO) in their welterweight bout via


MELLIGEN TO SEE ACTION IN LOPEZ-CONCEPCION UNDERCARD AFTER SATURDAY'S SHUTOUT WIN
Mon, 12 Apr 2010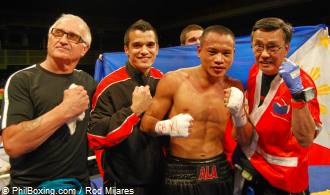 Team Melligen (Tony Martin, Ed Martin, Dr. Ed dela Vega, Mark Melligen, Matthew Martin holding the Philippine flag) celebrates after the fight. Photo by Rod Mijares.
Note: Rod Mijares also writes


MELLIGEN ON TRACK, BEAT THE SCALE TONIGHT
Sat, 10 Apr 2010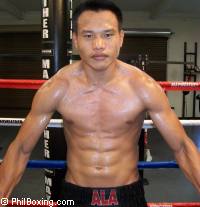 Team Melligen worked so hard for the April 10, 2010 ?Battle at the Hard Rock? that aside from the rigorous training and sparring sessions that Melligen has to undergo prior to the bout, they also have to ensure that he meets th