There are 1,038 articles attributed to this author.
Displaying articles 51 to 60.
DUNO FIGHTS AVILES ON SEPTEMBER 29 AT INDIO, CALIFORNIA
27 Sep 2018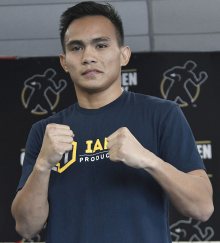 Filipino hard puncher Romero "Ruthless" Duno (17-1, 14 KOs) returns to the ring as he faces Ezequiel Aviles (16-2-3, 6 KOs) for the WBC youth lightweight championship on September 29 at the Fantasy Springs Resort in Indi


SPORTS ROUNDUP 19: ANCAJAS HAS NO WEIGHT PROBLEMS AND IN BETTER CONDITION
26 Sep 2018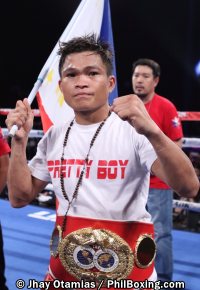 Jerwin Ancajas (30-1-1, 20 KOs) will fight Mexico's Alejandro Santiago Barrios (16-2-4, 7 KOs) for his sixth title defense, on Friday, September 28 (Saturday Philippine time) at the Oracle Arena, San Francisco, Californi


SPORTS TRIVIA: FIRST MAYWEATHER-PACQUIAO FAILURE IS THE RING EVENT OF THE YEAR 2010
24 Sep 2018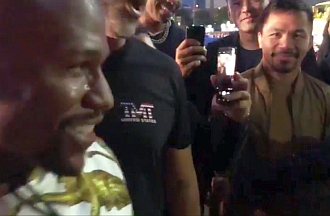 Floyd Mayweather announced that he would like to fight Manny Pacquiao in December this year. But before he returns to the ring from his retirement to rematch against Pacquiao, it seems Floyd wants to engage in a tune-up fi


MOST MEDIA FAVOR GOLOVKIN; CANELO AND GGG YES TO A THIRD MATCH
18 Sep 2018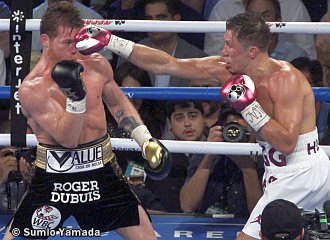 Saul "Canelo" Alvarez won the unified middleweight title by the slimmest margins during Saturday night championship rematch, winning by just a majority decision over arch rival Gennady "GGG" Golovkin and gave the Kazakh


THE ROAD TO THE CANELO-GGG REMATCH
16 Sep 2018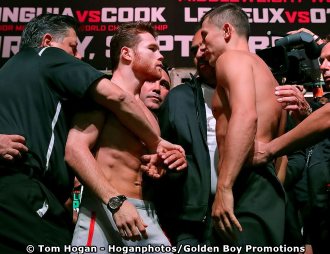 The first Canelo Alvarez vs. Gennady Golovkin match, billed as Supremacy, was for the unified WBA (Super),WBC, IBF, IBO, and The Ring middleweight championship. It was fought on September 16, 2017, at T-Mobile Ar


ONCE AGAIN, CANELO ALVAREZ VS. GENNADY GOLOVKIN
14 Sep 2018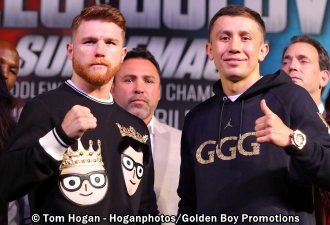 Saul "Canelo" Alvarez vs. Gennady "GGG" Golovkin rematch will take place at T-Mobile Arena in Paradise, Nevada on Saturday, September 15, 2018 (Sunday Philippine time). The super fight was originally scheduled on May 5,


PACQUIAO VS. TOP RANK IN A LEGAL BATTLE
11 Sep 2018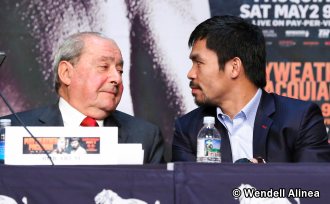 Manny Pacquiao posted in his Instagram that he will file legal complaints against Top Rank and other parties concerned because he has not received the US rights payment for his July 15 WBA welterweight championship fight agai


NIETES' DREAM TURNS INTO A NIGHTMARE WITH A CONTROVERSIAL DRAW
09 Sep 2018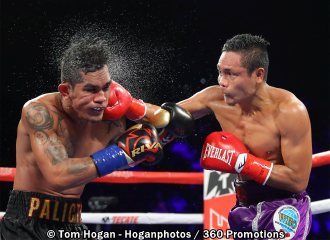 Donnie Nietes' dream of winning his fourth weight division title became a nightmare even if boxing experts saw him getting the advantage over Aston Palicte in their 12 rounds of tussle for the vacant WBO superflyweight tit


WILL NIETES' DREAM COME TRUE?
08 Sep 2018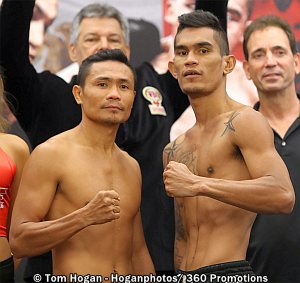 Donnie "Ahas" Nietes will fight for a world title in his fourth weight class when he battles Aston "Mighty" Palicte for the WBO super-flyweight title at The Forum in Inglewood, California as part of the "Super Fly 3"


CRAWFORD WANTS TO DOMINATE THE WELTEWEIGHT DIVISION
07 Sep 2018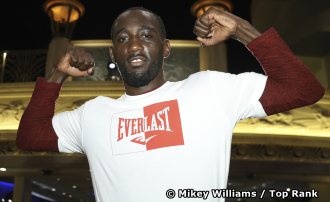 Terence Crawford signs a new multi-year deal with Top Rank as announced by the company. "Bud" considers himself "the best fighter in the world, hands down." The WBO welterweight titlist told Boxing Scene that "ESPN is the