There are 1,176 articles attributed to this author.
Displaying articles 1051 to 1060.
?THRILLA IN MANILA? TAKES CENTER STAGE AGAIN (PART I)
Sun, 05 Apr 2009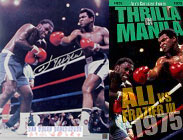 The bout often ranked as one of the greatest boxing fights of 20th century, ?Thrilla in Manila? is now an Official Selection at the 2009 Sundance Film Festival. It is the legendary third and final boxing match between Muhammad Ali an


VALERO AIMS FOR 25 WINS, 25 KO?S
Fri, 03 Apr 2009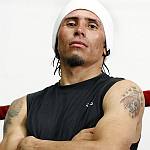 Venezuelan southpaw Edwin Valero holds a professional boxing record of 24 consecutive knockouts in all his 24 fights, 19 of these happened in the first round. It is an amazing 100% knockout rate and 80% of which occurred in roun


CHAVEZ JR. SHOULD FIGHT DE LA HOYA FIRST BEFORE PACQUIAO
Wed, 01 Apr 2009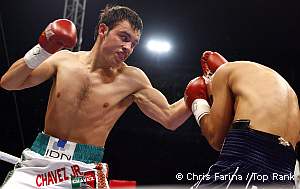 In the ring after his win over Luciano Cuello, promoter Bob Arum mentioned three possible next opponents for Julio Cesar Chavez, Jr., namely, John Duddy, Oscar De La Hoya and Manny Pacquiao. And Chavez Jr. does not mind wh


JULIO CESAR CHAVEZ, JR. IN ?TIJUANA THUNDER?
Sun, 29 Mar 2009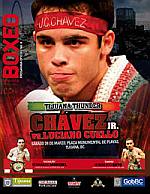 Julio Cesar Chavez, Jr. is ready to face undefeated Luciano Cuello of Argentina in the main event of ?Tijuana Thunder? in the big championship today in the Plaza de Toros Monumental in Tijuana, Mexico. He has a record of 39 wins,


RICKY HATTON TRIVIA
Sat, 28 Mar 2009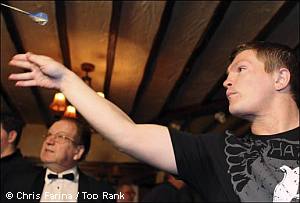 Ricky Hatton is currently ranked No. 8 by The Ring Magazine in the top ten pound-for-pound list and is also The Ring junior welterweight champion. Hatton?s nicknames are The Hitman, The Manchester Mexican, The Pride of Hyde


KLITSCHKO BROTHERS COLLECT HEAVYWEIGHT BELTS
Thu, 26 Mar 2009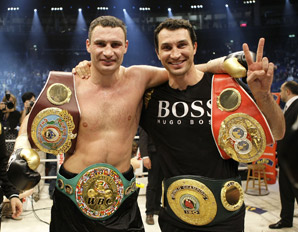 When Manny Pacquiao and Oscar de la Hoya fought the ?Dream Match? last December 6, 2008, there was no title belt at stake and it landed in the top ten pay-per-view all-time list. When Pacquiao faces Ricky Hatton on May 2, 2009, the titl


ADONIS AGUELO - MAASIN CITY?S PRIDE
Wed, 25 Mar 2009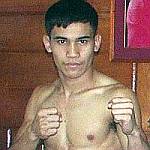 Aguelo. Adonis Aguelo successfully defended his Philippine Boxing Federation superbantamweight title via a split decision over Johnrey Verano of Bukidnon at the Otis Mall, Butuan City last Saturday, March 21, 2009.


VALERO-PITALUA IN ?LIGHTWEIGHT LIGHTNING?
Sun, 22 Mar 2009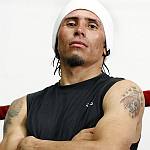 Knockout artist Edwin Valero faces Antonio Pitalua for the vacant WBC lightweight title on April 4 on Austin, Texas. It will be for the WBC interim lightweight title in the main event of the Golden Boy Promotions called ?Lightwe


WILL IT BE DREAM COME TRUE FOR Z GORRES?
Thu, 19 Mar 2009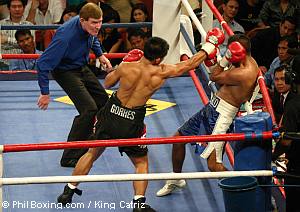 Z ?The Dream? Gorres had shown world championship caliber when he castigated Roberto ?Mako? Leyva en route to a seventh round stoppage when the Mexican?s corner threw in the towel. He won the World Boxing Organization Ori


MELINDO NOW RING NO. 5 STRAWWEIGHT CONTENDER
Wed, 18 Mar 2009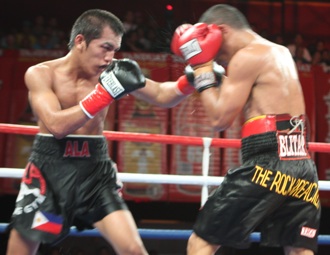 Milan ?Milenyo? Melindo barged into The Ring Magazine ratings from out of nowhere to No. 5 in the latest rankings as of March 15, 2009. He earned this when he won by a unanimous decision against fo