There are 1,084 articles attributed to this author.
Displaying articles 351 to 360.
CANELO VS. GOLOVKIN THE FIGHT FOR SUPREMACY; ALVAREZ WANTS MAYWEATHER NEXT
16 Sep 2017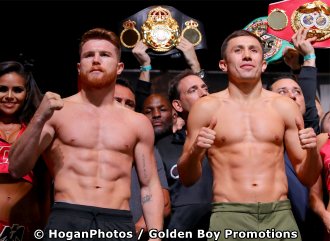 Saul "Canelo" Alvarez gives Gennady "GGG" Golovkin a warning that he will show him how a true Mexican fights, and he promised to reign as king of the middleweight division. Both fighters tipped the scales at 160 pounds.


MELINDO MAKES WEIGHT AFTER FAILING FIRST TRY; FIGHTS FOR GOD AND COUNTRY IN PINOY PRIDE 42
16 Sep 2017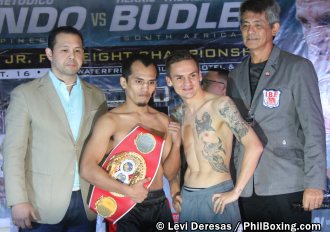 Milan Melindo finally made the required weight of 108 pounds for his IBF world junior flyweight title defense after failing the first weigh-in at the Waterfront Hotel and Casino in Cebu City. At the initial try at


A LOOK AT GGG AND CANELO GOING TO THEIR MOST AWAITED FIGHT
15 Sep 2017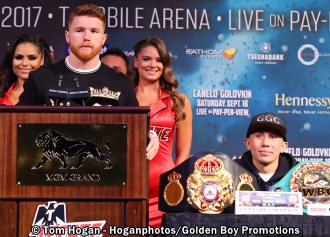 Gennady Golovkin versus Saul 'Canelo' Alvarez is the highly anticipated fight in Las Vegas on Saturday and is the highlight of the calendar for boxing fanatics all over the world. Golovkin, considered one of the world's


PINOY PRIDE 42 UNDERCARD: CASIMERO-SULTAN BATTLE IS THE CENTER OF ATTENTION
14 Sep 2017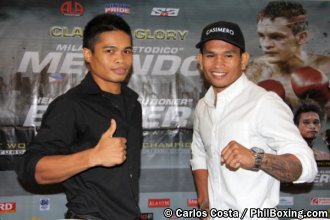 In the Pinoy Pride 42 undercards former two-division champion Johnriel "Quadro Alas" Casimero (24-3, 15 KOs) battles Jonas "Zorro" Sultan (13-3, 9 KOs) in an IBF junior bantamweight eliminator while Jason "El Niño" Pagara


MILAN MELINDO VS. HEKKIE BUDLER WAR OF WORDS; GGG VS. CANELO EPIC BATTLE
13 Sep 2017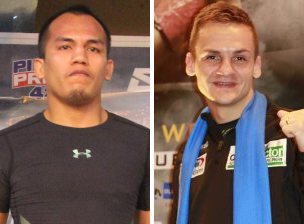 South African Hekkie Budler (31-2,10 KOs) together with his trainer Colin Nathan arrived Cebu City to challenge current IBF champion Milan Melindo (36-2,13 KOs). "We're going there to win, end of the story," said Na


NIETES TO DEFEND TITLE AGAINST REVECO OF ARGENTINA; RUNGVISAI FROM RAGS TO RICHES
12 Sep 2017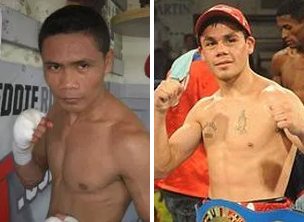 Donnie Nietes (40-1-4, 22 KOs) has his next opponent now known after Juan Carlos Reveco (39-3, 19 KOs) won over Komgrich Nantapech by unanimous decision last Friday in Argentina. The victory gave Reveco the chance to be


VILORIA TKO'S CARTAGENA, RUNGVISAI KO'S CHOCOLATITO
11 Sep 2017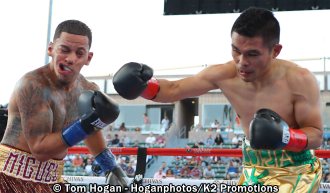 Former three time world champion, Brian "Hawaiian Punch" Viloria (38-5, 23KO), fought as if Father Time has not caught him up at 36 years old when he stopped his no-nonsense foe Miguel Cartagena (15-4-1, 6KO). The figh


VILORIA AND CARTAGENA MAKE WEIGHTS AND THE SUPERFLYS ARE READY FOR WAR
10 Sep 2017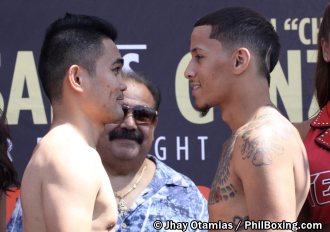 Brian Viloria made weight at the official weigh-in Saturday in Carson, California, where he registered 113.4 lbs. His foe Cartagena tipped the scales at 113.6 lbs. Now aged 36, the "Hawaiian Punch" is still hoping


VILORIA FIGHTS CARTAGENA IN THE RUNGVISAI-GONZALEZ "SUPERFLY" REMATCH UNDERCARD
08 Sep 2017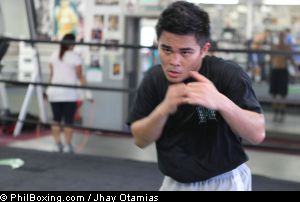 Brian "Hawaiian Punch" Viloria moves to the higher super flyweight category and will fight on the division's biggest card of the year. Viloria, a former junior flyweight and flyweight champion, will encounter his sec


MELINDO, CASIMERO, SULTAN, PAGARA, VILLANUEVA AND MEPRANUM READY TO RUMBLE FOR PINOY PRIDE 42
07 Sep 2017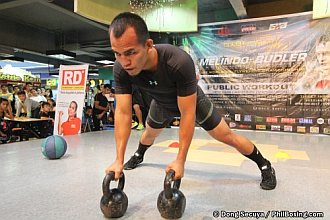 All systems go for the 42nd edition of Pinoy Pride dubbed "Clash for Glory" headlining IBF world light flyweight champion Milan "El Metodico" Melindo defending his title against IBO junior flyweight champion Hekkie "H