There are 226 articles attributed to this author.
Displaying articles 191 to 200.
Back to the US for Manny?
29 Nov 2013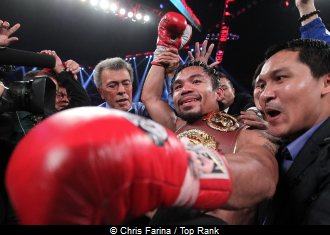 It appears likely that with his career resurrected, Manny Pacquiao will make a triumphant return to Las Vegas for his next fight, tentatively on April 12, and the opponent could be WBO welterweight champion Timothy Bradley.


Donaire overcomes cramps to unify titles
09 Jul 2012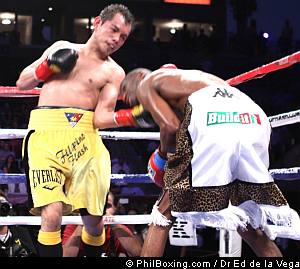 MANILA, Philippines - Nonito Donaire Jr. endured cramps in both legs starting the sixth round and put on a dominating performance over hapless South African Jeffrey Mathebula to unify the WBO and IBF superbantamweight t


Ariza gets Manny, Amir OK to leave camp
22 Apr 2012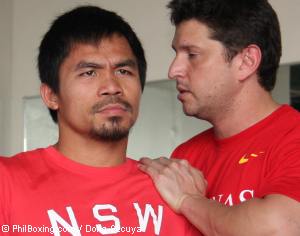 MANILA, Philippines - Strength and conditioning coach Alex Ariza left Manila for Los Angeles last night to hook up with WBC middleweight champion Julio Cesar Chavez, Jr. who defends his crown against Andy Lee in El Paso, Te


Julaton decks Marcos but loses title
18 Mar 2012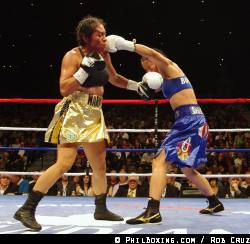 MANILA, Philippines - Unable to cope with the work rate of a volume puncher, Ana (The Hurricane) Julaton failed to capitalize on an early knockdown and yielded her WBO female superbantamweight crown to hometown favorite Y


Donaire wants public apology
07 Feb 2012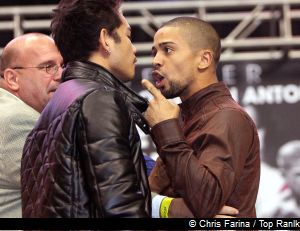 MANILA, Philippines - Nonito Donaire Jr. isn't satisfied with Wilfredo Vazquez Jr.'s personal apology after the Filipino Flash outpointed the Puerto Rican to capture the vacant WBO superbantamweight champion at the


Manager welcomes probe on boxer's death
04 Feb 2012
MANILA, Philippines - Boxing manager Anson Tiu Co said yesterday he will actively participate in an investigation of the death of his fighter Karlo Maquinto to prevent a recurrence of the ring tragedy if summoned by government probers. Neurosurgeon Rhoby Orata also said he will cooperate in case


Donaire not taking Vazquez lightly
04 Feb 2012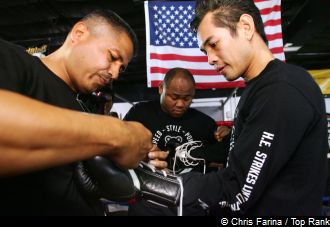 MANILA, Philippines - Former IBF flyweight and WBC/WBO bantamweight champion Nonito Donaire Jr. couldn't care less about the odds in his 12-round fight against Puerto Rico's Wilfredo Vazquez Jr. for the vacant WBO supe


The 60-40 alternative
30 Jan 2012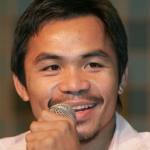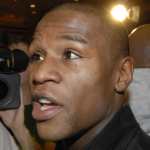 Negotiating with Floyd Mayweather, Jr. is like bargaining with a schizophrenic. You'll never know if what Mayweather confirms today, he'll deny tomorrow. Let's f


Second chance for Casimero
26 Jan 2012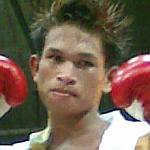 Ormoc City's Johnriel Casimero was only six years old when Luis Lazarte made his pro boxing debut in 1996. On Feb. 10, they'll face off for the vacant IBF lightflyweight championship at Club Once Unidos, Mar del Plata, Buenos Ai


Valero's manager justifies Manny's win
17 Nov 2011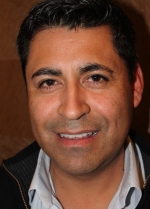 Jose Castillo. LOS ANGELES. The late WBA superfeatherweight and WBC lightweight champion Edwin Valero's manager Jose Castillo said yesterday even as Juan Manuel Marquez is his countryman, Manny Pacquiao deserved to win o