There are 16 articles attributed to this author.
Displaying articles 1 to 10.
NBA -- Mavs ink Barea to four-year, $16 million deal
Fri, 17 Jul 2015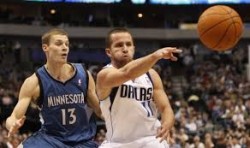 Barea. CHICAGO -- Spurned by All-Star center DeAndre Jordan, who broke his verbal commitment to come to Dallas and opted instead to return to the L.A. Clippers, the Mavericks continue to move. After signing Wes Matthews and D


NBA -- Blazers rout rusty Bulls, 91-74
Sun, 30 Mar 2014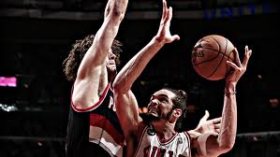 CHICAGO -- Entering Friday night's game, the Chicago Bulls needed a win or a New York Knicks loss to clinch a playoffs berth. The good news is that the Knicks did go down against the Phoenix Suns. The bad news is tha


NBA -- Bulls ship Deng to Cavs for Bynum, picks
Wed, 08 Jan 2014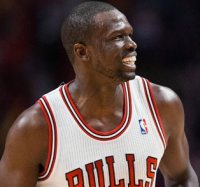 Deng. CHICAGO -- After nearly 10 seasons, Luol Deng's highly productive days as a Chicago Bull came to an abrupt end today. The 6-foot-9, 220-pound Deng, an all-purpose small forward whom Bulls head coach Tom Thibodeau


NBA -- Jennings fires 33 in Pistons' romp over Bulls
Mon, 09 Dec 2013
CHICAGO -- Brandon Jennings sizzled with a game-high 33 points and the Detroit Pistons overwhelmed the Chicago Bulls, 92-75, Saturday night at the United Center. Jennings nailed 12 of 22 field goals, including 5-of-8 threes to frustrate the Bulls, who were fresh off a 107-87 romp over the Miam


NBA -- Pistons acquire Jennings from Milwaukee
Wed, 31 Jul 2013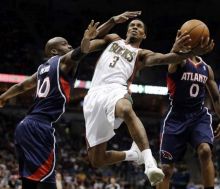 Jennings (C). CHICAGO -- Brandon Jennings' days as a spitfire for the Milwaukee Bucks are apparently over as the mercurial guard was shipped to the Detroit Pistons in a sign-and-trade deal. According to multiple rep


NBA -- Nuggets eyeing Robinson
Tue, 16 Jul 2013
CHICAGO -- The Denver Nuggets have expressed keen interest in signing free-agent Nate Robinson, ESPN's Marc Stein reports. The 29-year old Robinson, a journeyman who has toiled for five different teams in his eight NBA seasons, last played for the Chicago Bulls where he over-performed his one-


NBA -- Billups reunites with Pistons
Fri, 12 Jul 2013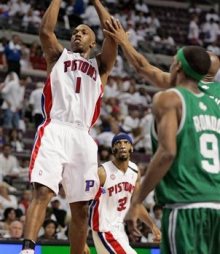 CHICAGO -- Chauncey Ray Billups is returning to the team where he won his first and only NBA title, the Detroit Pistons, agreeing to a two-year deal worth $5 million, reports the Detroit Free Press. The 36-year old Billups, the s


NBA -- No Bull! Belinelli done in Chicago
Thu, 11 Jul 2013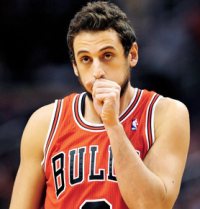 CHICAGO -- The NBA's moratorium on free agent signings was officially lifted today, and when former Milwaukee Bucks small forward Mike Dunleavy officially signed a two-year $6 million deal to join the Chicago Bulls, it meant the end


NBA -- O.J. Mayo agrees to 3-year deal with Bucks
Sun, 07 Jul 2013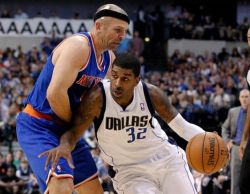 CHICAGO -- Ovinton J'Anthony "O.J." Mayo has come to terms with the Milwaukee Bucks. The deal, three years for a reported $24 million, won't become official until July 10 when the NBA lifts the moratorium on signings. The


NBA -- Dunleavy agrees to terms with Bulls
Wed, 03 Jul 2013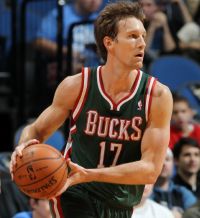 Dunleavy Jr. CHICAGO - - Mike Dunleavy Jr. will suit up for the Chicago Bulls next season, his fourth team in 11 years. In a report by Marc Stein of ESPN.com, Dunleavy reportedly agreed a two-year, $6 million contract.