There are 110 articles attributed to this author.
Displaying articles 91 to 100.
NBA -- Lakers escape Bobcats' bite, 101-100
20 Dec 2012
SAN FRANCISCO -- In a thrilling game of back and forth, the Los Angeles Lakers came back from 18 points down to narrowly escape a 101-100 decision over the never-say-die Charlotte Bobcats Tuesday night at the Staples Center in L.A. Trailing 40-29 midway through the second quarter, the Bobcats


NBA -- L.A. Clippers make it ten in a row
19 Dec 2012
SAN FRANCISCO -- The streaking L.A. Clippers extended their win-streak to ten games Monday night when they beat the Detroit Pistons, 88-76, at the Palace of Auburn Hills, Michigan. After a close first half where they clung to a slim 42-40 edge, the Clippers dropped 12 unanswered points to surg


NBA -- Orlando spoils GSW's run
16 Dec 2012
SAN FRANCISCO -- The Orlando Magic continues to be a thorn on the Golden State Warriors' side. Gunning for their franchise-setting record of six consecutive road wins on a seven-game Eastern Conference trip, the Warriors fell to the Magic on Friday night, 99-85, at the Amway Center in Orlando.


NBA -- Warriors tame Bobcats, win four straight
11 Dec 2012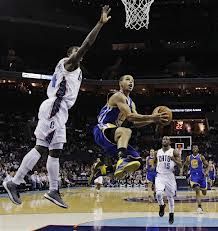 SAN FRANCISCO --- The Golden State Warriors exploded with 38 points in the first quarter and cruised to a 104-96 win over the Charlotte Bobcats Monday night at the Time Warner Cable Arena in Charlotte, North Carolina.


Lakers suffer another costly meltdown
06 Dec 2012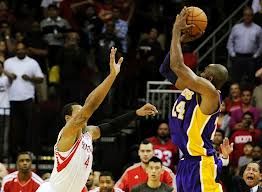 SAN FRANCISCO --- Ahead by 16 points midway through the third quarter and up 92-81 with 7:20 left in the final period, the Los Angeles Lakers appeared well on their way to a solid road victory that would have pushed them


NBA -- A Differrent Buzz Out West; Golden State Warriors Still on Top
02 Dec 2012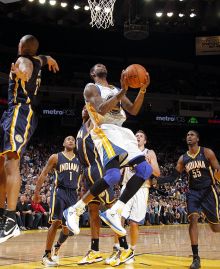 Oracle Arena, Oakland, CA -- Golden State Warriors used a balanced attack against Indiana Pacers to stay on top of the Pacific Division as Clay Thompson, who led the Warriors with 22 points, and Stephen Curry's clutch sh


NBA -- Lakers lose cliffhanger to steady Pacers
29 Nov 2012
SAN FRANCISCO --- The good teams often finish stroong down the stretch. And they make the free throws that matter. The Los Angeles Lakers didn't do both Tuesday night and lost a 79-77 nail-biter to the Indiana Pacers at the Staples Center. Two missed free throws by Metta World Peace wi


NBA -- Lakers, finally, win one on the road
26 Nov 2012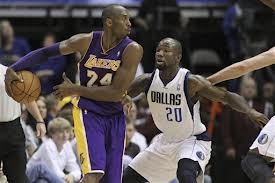 SAN FRANCISCO --- After four previous futile attempts, the Los Angeles Lakers finally won a road game this season last Saturday night, and they did it in grand fashion by blowing away the Dallas Mavericks -- 115-89 -- at the


NBA -- Durant stars in OKC rout of Golden State
20 Nov 2012
SAN FRANCISCO -- Well into his sixth NBA season, superstar Kevin Durant finally had his first triple-double Sunday night at the Chesapeake Energy Arena in downtown Oklahoma. Too bad for the visiting Golden State Warriors. The sizzling hot Durant tallied 25 points, 13 rebounds and 10 assists as


NBA -- Howard flexes muscles, Lakers KO Kings
13 Nov 2012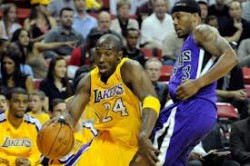 SAN FRANCISCO -- If the Los Angeles Lakers were distracted by their team's recent head coaching upheaval, they didn't show it Sunday night and easily beat the visiting Sacramento Kings, 103-90, at the Staples Center.