There are 1,203 articles attributed to this author.
Displaying articles 161 to 170.
US RELIGIOUS LEADERS SHOW THEIR SUPPORT TO PACQUIAO
19 Feb 2016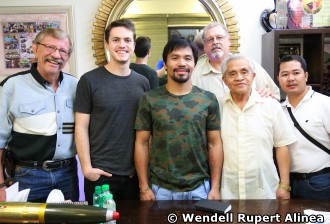 GENERAL SANTOS CITY -- The country's national hero, Dr. Jose Rizal, once said: "And hindi magmahal sa sariling wika ay higit pa sa hayop at malansang isda." The memory of that statement, borne out of Dr. R


BOBBY D. PACQUIAO RANDOM CHESS FESTIVAL GETS UNDERWAY IN GENSAN
19 Feb 2016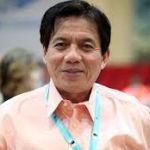 Eugene Torre. GENERAL SANTOS CITY -- The rich P2 million Bobby D. Pacquiao Random Chess Festival unwraps today at the SM Mall here. Organized by the Eugene Torre Chess Foundation and sanctioned by the National Chess Fe


PACQUIAO TAKES A REST FROM TRAINING
18 Feb 2016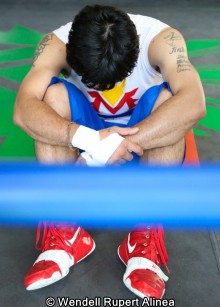 GENERAL SANTOS CITY -- Manny Pacquiao's chief trainer Freddie Roach could only offer a sigh of relief it happened this early in his preparations for his coming fight against fellow former World Boxing Organization welterweigh


ROACH PREPARING PACQUIAO TO KNOCK BRADLEY OUT
17 Feb 2016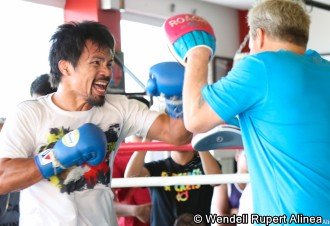 GENERAL SANTOS CITY -- It looks like Hall of Fame trainer Freddie Roach won't, indeed, settle for just a victory for his prized ward, Filipino ring sensation, Manny Pacquiao.


PACQUIAO EXCITED TO BE BACK IN THE RING; ROACH IMPRESSED (PHOTOS)
16 Feb 2016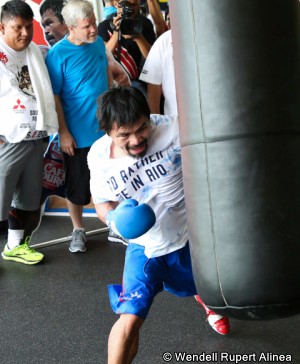 GENERAL SANTOS CITY -- Impressed by his prized student, Manny Pacquiao's mental and physical state despite a long nine-month layoff, chief trainer Freddie Roach, nonetheless, declared there are still a lot of things to


PACQUIAO PLAYS BASKETBALL FOR CROSS-TRAINING
15 Feb 2016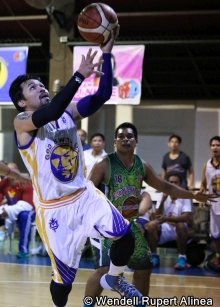 GENERAL SANTOS CITY -- For Filipino ring hero Manny Pacquiao, basketball is his way of staying fit, especially during lull in his fighting schedule. The sport, in fact, is his other passion, next only to boxing.


JINKEE, CHILDREN HAPPY THAT MANNY FINALLY WILL RETIRE
14 Feb 2016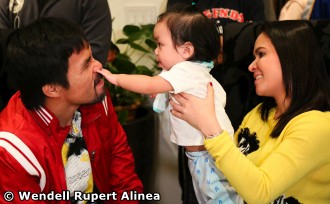 Enough! The lady considered as the reason why Manny Pacquiao has emerged a global boxing icon has spoken. "Tama na. I believe he's served his sport too much already so he should really retire and concentrate on serving hi


ATTACKING PACQUIAO'S SHOULDER A BIG MISTAKE
11 Feb 2016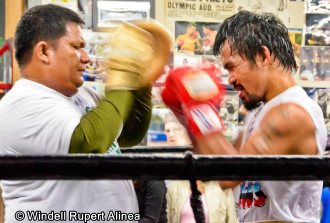 "Let him try doing it and let's see what happens next." Thus dared Filipino boxing sensation Manny Pacquiao in reaction to American Timothy Bradley's pronouncement that he will be targeting the latter's injured rig


ROACH PREPARES SPARMATES FOR PACQUIAO
10 Feb 2016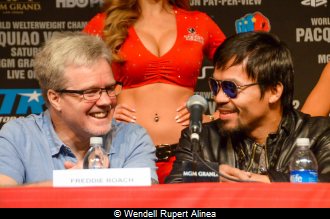 Manny Pacquiao's Hall of Fame chief trainer Freddie Roach is definitely bringing with him undefeated welterweight Frankie Gomez to be the principal sparring partner in the eight-division champion's preparations for his thi


PACQUIAO STILL AMONG THE POUND-FOR-POUND BEST
08 Feb 2016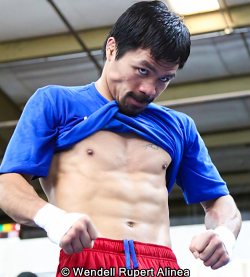 Don't count Filipino boxing icon Manny Pacquiao out. Not yet, anyway. All pound-for-pound ranking bodies, particularly ESPN and RING MAGAZINE, in fact, continue to include him in their recent top 10 best fighters list