There are 1,203 articles attributed to this author.
Displaying articles 181 to 190.
PACQUIAO RANDOM CHESS: DABLEO RULES INDIVIDUAL EVENT
17 Dec 2015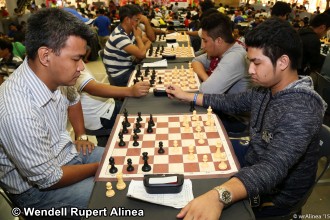 GENERAL SANTOS CITY -- Grandmaster candidate Ronald Dableo played catchup all day Wednesday and had to muster all the tricks under his sleeves to beat young FIDE Master Austin Jacob Literatus and rule the individual pla


Pacquiao Random Chess Day 2: Nica Team Ilonggo leads Pacquiao Chess
15 Dec 2015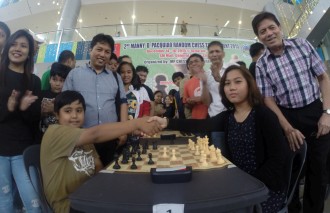 GENERAL SANTOS CITY -- The Nica Team Ilonggo, working behind the strength of its first three boards that included National Master Roland Andador, swept past Gov. R. Del Rosario's Team Davnor, 3-1, in Day 2 Tuesday to r


Pacquiao Chess Opens in Gensan
13 Dec 2015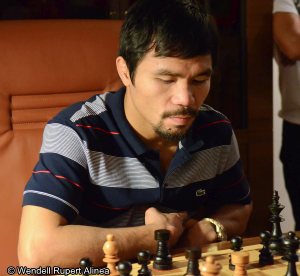 What is turning out to be the biggest gathering of Filipino chess giants to be assembled in one room -- the Second Manny Pacquiao Chess Championships -- unwraps today at the SM Mall in General Santos City. As of early


P1.5M PACQUIAO RANDOM CHESS TOURNEY OPENS THIS SATURDAY
07 Dec 2015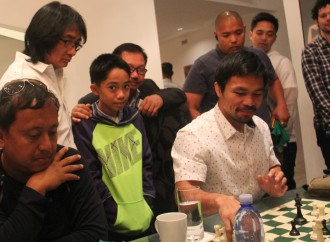 Novel moves and brilliant maneuvering are expected to highlight hostilities in the coming Php1.5 million 2nd Manny Pacquiao Random Chess Tournament which unfurls this Saturday at the SM Mall, General Santos City. The


On Kobe's Retirement
02 Dec 2015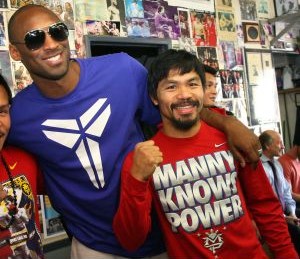 We will never see Kobe coming down the floor with the basketball again soon. Never see his serious face as he brings the ball across, stops, fakes and heaves a three-pointer 30, 35-feet away. Never see him practice shoo


Pacquiao On Heroes
29 Nov 2015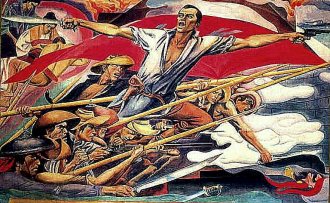 Boxing legend Manny Pacquiao paid tribute to the Filipino athletes, who, besides bringing honor to the country in international competitions, sacrificed their lives, too, on the bloc in the field of combat. Speaking on the eve


PACQUIAO RANDOM CHESS TOURNEY SLATED DEC 14-16 IN GENSAN
27 Nov 2015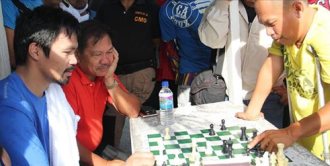 With the end in view to further develop and propagate the sport of chess among the Filipino youth, the MP Chess Players Organization in coordination with the National Chess Federation of the Philippines, has scheduled the S


REMEMBERING EMIL ZATOPEK
23 Nov 2015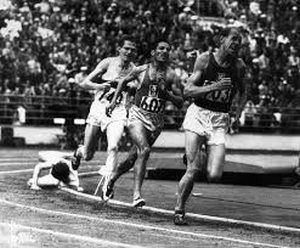 Remember Emil Zatopek, the all-time great Czech long distance runner who ran to an unprecedented Triple Crown in the 1952 Summer Olympic Games held in Helsinki? Zatopek, the teeth-gnashing, arm-waving Czech Army captain a


East and West battle in Kings Cup
18 Nov 2015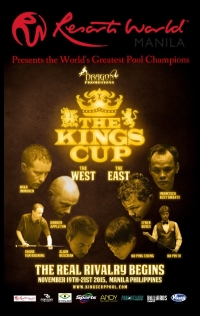 Eight of the brightest and finest pool sharks in the world battle starting today when the First Kings Cup of Pool unwraps at the posh Resorts World Hotel. Asia's best Efren "Bata" Reyes and Francisco "Django" Bustamante of


Pacquiao-Mayweather II, posible o hindi?
17 Nov 2015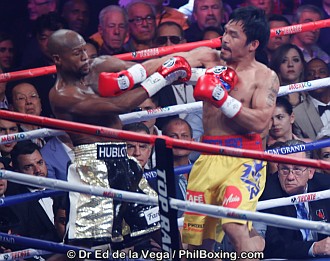 Okey, alam na nating lahat na retirado na si Floyd "Money Man" Mayweather Jr. at kung paniniwalaan natin ang bulong-bulungan malamang na sumunod ang mahigpit niyang kaaway, ang ma-alamat na Pilipinong si Manny Pacquiao.