There are 1,531 articles attributed to this author.
Displaying articles 1331 to 1340.
Javelin icon Lavandia seeks financial aid to defend crown
14 Oct 2010
Twenty eight years ago, former Southeast Asian Games javelin queen Erlinda Lavandia rocked the Asian Masters Track and Field Championships by sweeping the gold medals in all three events she took part in – her favorite javelin throw, shot put and discus throw – in the classic held in Hong Kong.


Zyrene Parsad prepares to sing Phil. National Anthem in Pacquiao-Margarito bout
13 Oct 2010
When up-coming singer Zyrene Parsad renders her rendition of the "Lupang Hinirang" on the November 13 fight of Manny Pacquiao against Mexican Antonio Margarito, such privilege can either rise her to eventual stardom of become the first artist to be jailed for violating a new law prescribing the righ


Pacquiao can spell the difference, again
10 Oct 2010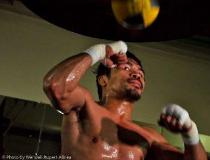 Manny Pacquiao stands to miss, again, today's scheduled training in Baguio City. The seven-division champion and his retinue flew to Manila following Saturday's workout to, according to Pacquiao himself, attend to his job as a lawmaker


PSC recovers P2 million from anomalous contracts
10 Oct 2010
In line with President Nonoy's thrust of cleansing the government of the anomalies inherited from the previous regime, the newly-constituted Philippine Sports Commission board has instituted measures towards attaining that purpose. PSC chair Richie Garcia, in a recent interview, disclosed that h


Chess Festival in Tuguegarao
09 Oct 2010
The finest Filipino chess masters, including members of the Philippine team that took part in the recent FIDE Chess Olympiad held in Russia, will see action in the two-day Philippine Academy for Chess Excellence (PACE) Festival today and tomorrow at the Paseo Reale Shopping Mall in Tuguegarao City.


$1,000 for anyone to knock Pacquiao down
09 Oct 2010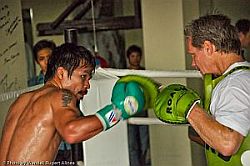 Manny Pacquiao's chief trainer Freddie Roach has again put up a prize of $1,000 for any one of his sparring partner who will succeed in sending him to the canvas whether it be in Baguio City where the Filipino icon is currently traini


Pacquiao beats virus, continues to train
08 Oct 2010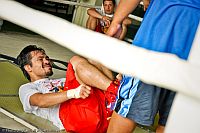 It was Manny Pacquiao's turn to allay fears of trainer Freddie Roach and his team that he was in no shape to complete his second week of altitude training in Baguio City. Showing all is well following a brief bout with flu that cancel


Virus downs Pacquiao
07 Oct 2010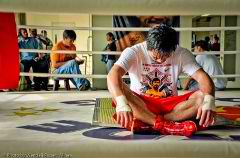 BAGUIO CITY – The inevitable that trainer Freddie Roach feared happened. Seven-division champion Manny Pacquiao went down yesterday, not by a punch from any of his sparring mates but with flu virus, Roach suspected came from the cro


HBO Crew to cover Pacquiao's training
07 Oct 2010
BAGUIO CITY – A five-man HBO television team arrived here to film Manny Pacquiao's training activities. Members of the team are director of photography Thom Stukas, sound engineer Bob Bryan, field producer Harley Glantz, producer Abtin Motia and John Roche, cameraman. The team arrived in Manil


Roach downplays injury rumors
05 Oct 2010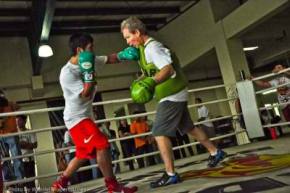 BAGUIO CITY – "It's under control. There's nothing to worry about." This was how trainer Freddie Roach reacted to fears made by some sectors as to the extent of Manny Pacquiao's leg injury suffered two weeks ago while jogging in a