There are 1,308 articles attributed to this author.
Displaying articles 1 to 10.
WEIGHTS FROM LAS VEGAS: PACQUIAO - 146 LBS, UGAS - 147 LBS
Sat, 21 Aug 2021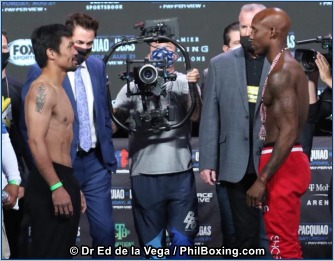 LAS VEGAS -- At a weigh in held at the MGM Grand Garden Arena for tomorrow's huge fight at the T-Mobile Arena one can easily see what the Covid-19 pandemic has done. For one, the usual huge crowd that gives the


Casimero Keeps WBO Title in a Boring Non-Fight
Sun, 15 Aug 2021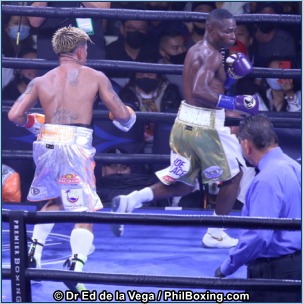 Filipino WBO bantamweight champion, John Riel Casimero, true to his boast held off the Cuban spitfire, Guillermo "El Chacal" Rigondeaux of Cuba. After a boring and uneventful 12 rounds at the Dignity Health Spo


Rau'see Warren Stops Damian Vazquez in Two
Sun, 15 Aug 2021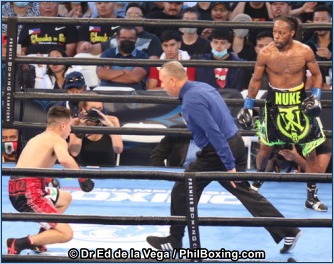 Carson, CA -- In the first of the three TV fights culminating in the Rigondeaux-Casimero main event on Showtime, Rau'see Warren (19-3-0, 4KO) of Cincinnati, Ohio dropped Damian Vasquez (15-3-1, 8KOs) of Thornton, Colorado


RIGONDEAUX-CASIMERO UNDERCARD RESULTS FROM CARSON, CA
Sun, 15 Aug 2021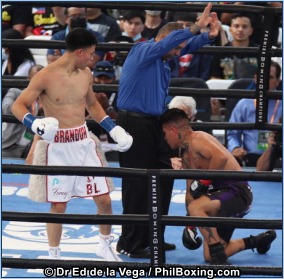 Brandun Lee finishes off Exequiel Fernandez in the first round. Below are the early results from the Dignity Health Sports Park in Carson, CA: Rising undefeated star Brandon Lee (23-0-0, 21KO) of La Quint


Rigondeaux and Casimero Make Weight
Sat, 14 Aug 2021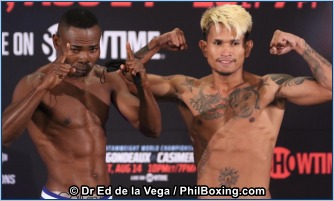 CARSON, CA -- At noon today, August 13, 2021 (PST) Premier Boxing Champions (PBC) and the TGB Promotions held the official weigh-in for the block buster fight card scheduled tomorrow at the Dignity Health Sports Center


CARLOS BALDERAS RETURNS TO THE RING ON AUGUST 14th
Thu, 12 Aug 2021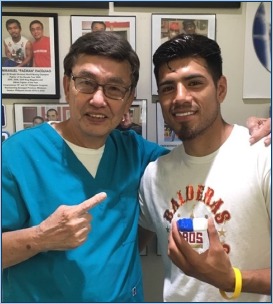 Carlos Balderas, the pride of Santa Maria, CA and a member of the US Olympic Team in 2016 at Rio de Janeiro, Brazil will make a comeback after a long layoff partly due to the Covid pandemic, promotional changes and a


The Monster Proved Too Much for Dasmariñas
Sun, 20 Jun 2021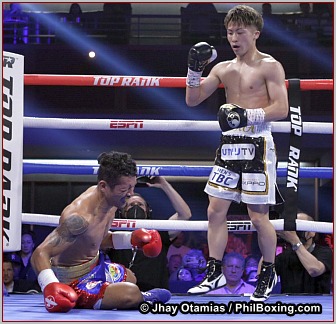 LAS VEGAS -- Japan's undefeated bantamweight WBA and IBF champion can now focus on Nonito Donaire Jr and John Riel Casimero, the two Filipino bantamweight champions. He can chase after them and attempt to get all the belts


MAYER DOMINATES FARIAS, RETAINS WBO JR LIGHTWEIGHT BELT
Sun, 20 Jun 2021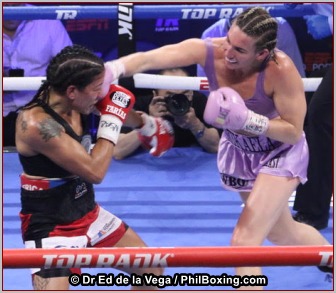 In the co-main event of the Inoue-Dasmariñas IBF-WBA bantamweight unified world championship at the Virgins Hotel in Las Vegas Saturday night, Mikaela Mayer bested Erica Faria to retain her WBO Junior lightweight title. Usi


ISAAC DOGBOE EDGES ADAM LOPEZ IN DOGFIGHT
Sun, 20 Jun 2021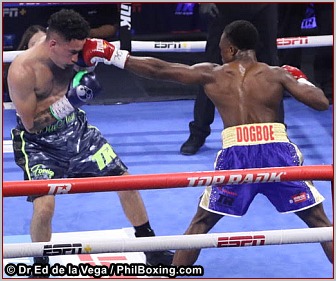 In a fight that can only be described as a classic slugfest, a phone booth fight, and I-hit-you, you-hit-me kind of a fight, Issac Dogboe (22-2-0,15KO) of Anyako, Ghana beat Glendale, California's Adam Lopez (15-3-0, 6KO)


INOUE-DASMARIÑAS UNDERCARD RESULTS FROM LAS VEGAS
Sun, 20 Jun 2021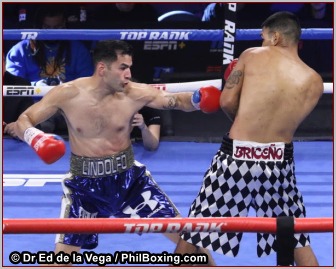 Third fight: Lindolfo Delgado 12-0-0 11KO of Linares MX scores a unanimous decision over Salvador Briseno (17-7-0,11KO) of Guadalajara MX. Scores 80-72, 79-73, 79-73.

1 | 2 | 3 | 4 | 5 | 6 | 7 | 8 | 9 | 10 | Next > | Last >>