There are 964 articles attributed to this author.
Displaying articles 1 to 10.
TOURNAMENT TO DETERMINE MAYWEATHER"S CHALLENGER IS UTTERLY STUPID!
18 Dec 2014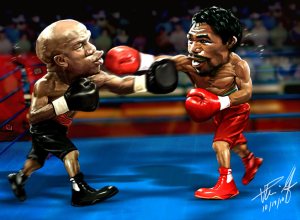 Pardon me, but in my humble opinion the proposal of promoter Sampson Lewkowicz and approved by the WBC to hold a tournament amongst welterweights and junior middleweights to determine a challenger for Floyd Mayweather


KHAN-ALEXANDER UNDERCARD RESULTS: MARES, CHARLO, ORTIZ WIN
14 Dec 2014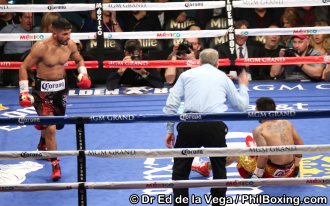 Below are the undercard results on the Amir Khan vs Devon Alexander headlinder at the MGM Grand Garden Arena in Las Vegas Saturday night: Comebacking former world champion Abner Mares (28-1-1, 15KO) dropped Jose 'Negro' R


KHAN vs ALEXANDER Weights from Las Vegas (PHOTOS)
13 Dec 2014


Las Vegas, NV: Golden Boy Promotions and its partners Corona Extra, ShowTime and MGM early this afternoon held the official weigh in for the fighters appearing in tomorrow's fight card at the MGM Grand. The fight featu


BRIAN VILORIA SCORES A KO BUT SUFFERS A 7-STITCH CUT
07 Dec 2014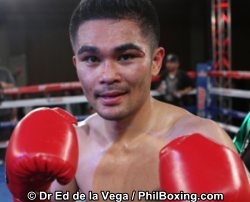 Glendale, CA: - Former two time world champion, Brian Viloria (35-4-0-2, 20KO) just hours ago got to show the boxing world that he is well on his way back to regain the belts he lost to Juan Francisco Estrada of Mexico a


VILORIA STOPS VAZQUEZ IN 4
07 Dec 2014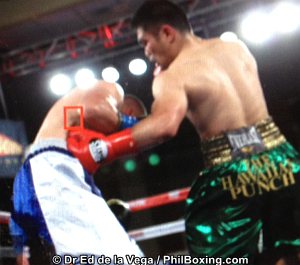 Former two-time world champion Brian Viloria landed a wicked left hook to the liver and dropped Armando Vazquez of Mexicali at 1:37 of the 4th round to win by knockout at the Glendale Civic Auditorium in Glendale, CA Satu


UNDERCARD RESULTS FROM GLENDALE: BARBOSA, FALCAO, KILIC WIN
07 Dec 2014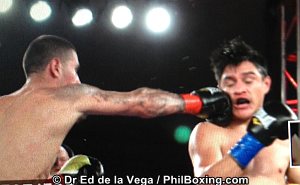 Below are the early results from Glendale Civic Auditorium, a boxing event headlined by Filipino-American Brian Viloria who goes up against Armando Vazquez of Mexico in a 10-round flyweight title bout. Arnold Barbosa of Lo


'MAYHEM' TURNS INTO A BORING FIGHT; IS PACQUIAO NEXT?
14 Sep 2014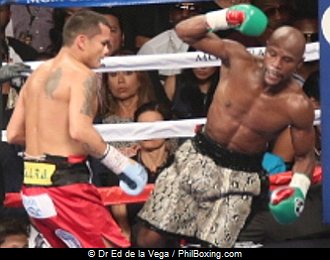 Las Vegas, NV:- Floyd Mayweather's handlers and promoters dubbed the fight as "Mayhem". The last time I checked that word meant "violent or damaging disorder; chaos." Truth be told -- it was far from being one! In fact


A BITE WITH A MOUTHGUARD ON?
14 Sep 2014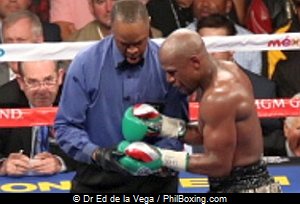 Las Vegas, NV:- Floyd Mayweather, during a clinch in round 8, suddenly backed out and started to complain to referee Kenny Bayless that Maidana "bit his left hand." As a dentist that makes mouthguards for many athletes, inc


MAIN SUPPORTING BOUT: SANTA CRUZ TKO 2 MIGUEL ROMAN
14 Sep 2014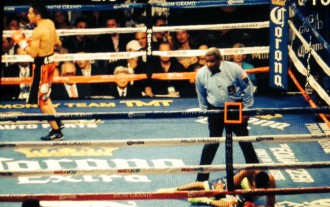 MGM GRAND GARDEN ARENA -- Leo Santa Cruz (28-0-1, 15KO) of Rosemead, CA kept his WBC super bantamweight title via a 2nd round TKO over Miguel Roman (17-3-3, 6KO) of Tijuana, MX. Time: 55 secs rd 2.


FIRST TV FIGHT: BEY WINS BY SPLIT DECISION OVER VAZQUEZ IN BORING FIGHT
14 Sep 2014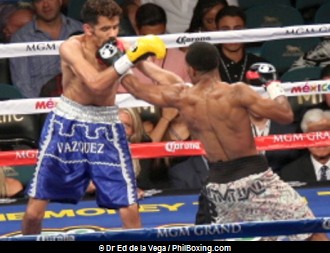 MGM GRAND GARDEN ARENA -- The first TV fight on Showtime was a title fight. Guadalajara's Miguel Vasquez (34-3-0, 13KO) the IBF lightweight champion laid his crown against Cleveland, Ohio's Mickey Bey (20-1-1, 10 KO). He is the