There are 254 articles attributed to this author.
Displaying articles 181 to 190.
Two Cotabato Boxers See Action in Thailand
Tue, 19 Feb 2008
Kidapawan City - Two of North Cotabato's upcoming professional boxers will try to break the streak of bad luck for Filipino boxers in Thailand when they go up against Thai opponents for very important fights in Bangkok on Friday Feb. 22. Highly rated bantamweight Philippine bantamweight Glenn Por


A Bitter Lesson
Tue, 14 Aug 2007
There was an air of disappointment and disgust as Rey "Boom Boom" Bautista, earlier reputed to be the inheritor of the Philippine boxing kingship now owned by Manny Pacquiao was brutally pummeled into submission by WBO Jr. Featherweight King Daniel Ponce de Leon. Well, I think disappointment is a


Bonegraft Saves Young Boxer's Career
Fri, 06 Jul 2007
Three years ago, American boxing trainer Freddie Roach pointed to a young and tall young boxer as a potential world class fighter. Glenn Gonzales, 18 at that time, a southpaw, impressed Roach because of his "There's No Tomorrow" attitude inside the ring. Once he connects, there's no stopping unt


HARVEST TIME
Mon, 02 Jul 2007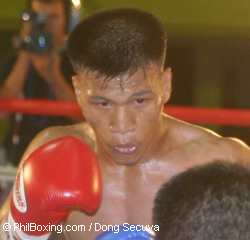 Reynaldo Belandres. For farmers like me, the greatest joy is when we start to pick the fruits of our labor and find these to be sweet. For gamefowl breeders, happiness is seeing the roosters they bred win in the pits.


The Cuban Secret Uncovered (Or Why Philippine Sports Sucks)
Tue, 05 Jun 2007
It was the week of Easter in 2005 when I and my bosom friend, Recah Trinidad of the Philippine Daily Inquirer, took a long trip from Los Angeles, California to Havana, Cuba passing through Mexico City. It was a trip that I had long wanted to make in my desire to discover what makes this small an


Manny Parts Ways with ABS-CBN, And It's Not Just a Lovers' Quarrel
Tue, 29 May 2007
It was about two years ago, a few months before the Pacquiao-Morales II, when I brought up the idea of ABS-CBN's involvement with bigtime professional boxing to the network's top man -- Gabby Lopez. Gabby and I were in a golf game with Davao City Mayor Rody Duterte at the scenic Apo Golf and Cou


Manny Pacquiao's Political Defeat is Boxing's Gain
Sun, 27 May 2007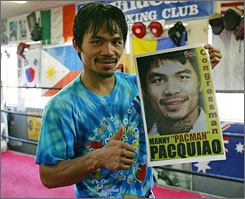 Manny Pacquiao sounded deeply hurt when I talked to him on the phone a few days ago, a little over a week after his defeat in the political arena. "They deserted me at the last minute," he said referring to his cam


Louie's night
Tue, 08 Nov 2005
It was a thin crowd that came to the San Andres Civic and Sports Center in Manila to witness the fights held to raise funds for former world champion Luisito Espinosa, but it was a successful event nevertheless. Even before the first tickets could be sold, supporters of Louie have pledged P150,0


LUISITO'S HOMECOMING
Tue, 18 Oct 2005
I am sure there will be no motorcade or grand welcoming party when Luisito Espinosa comes home from America this month to be present at the October 29 benefit boxing event at the San Andres Civic and Sports Center in Manila. The boxing event, called "Fight for Love," is intended to ra


VILORIA NEXT RP BOXING IDOL
Thu, 13 Oct 2005
My wife, Emily, who is involved in boxing simply because it is my passion, was pleasantly surprised to hear Brian Viloria speak in flawless English as he dedicated his victory over World Boxing Council (WBC) flyweight champion Eric Ortiz to a number of people who helped him. "Wow! Boksinger