There are 913 articles attributed to this author.
Displaying articles 781 to 790.
SOLIS, BATAWANG GUEST GUADALAJARA TV AND RADIO STATIONS
14 Dec 2007
GUADALAJARA, MEXICO -- "Golpes de Poder" protagonists Ulises 'Archi' Solis of Guadalajara and Bert Batawang of the Philippines guested TV and Radio shows throughout the day to promote their Saturday night (Sunday morning in Manila) IBF minifly world title fight at the Auditorio Benito Juarez here.


BREAKING NEWS: DIAZ-KATSIDIS FIGHT IS A NO GO
14 Dec 2007
GUADALAJARA, MEXICO -- Topnotch matchmaker Sampson Lewkowicz said that the highly anticipated fight between world champion Juan Diaz Of Mexico and Michael Katsidis of Australia scheduled on February 9 next year in the United States wouldn't push through. "Someone botched during the negotiation a


BATAWANG SEES A GOOD FIGHT WITH SOLIS
13 Dec 2007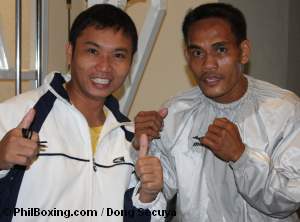 GUADALAJARA, MEXICO -- Filipino world title challenger Bert "Ninja" Batawang, who is trying to become the Philippines' fifth world champion this year, sees a good fight with local boy IBF minifly champion Ulises "Archie" Soli


MAYWEATHER TKOs HATTON IN ROUND 10
09 Dec 2007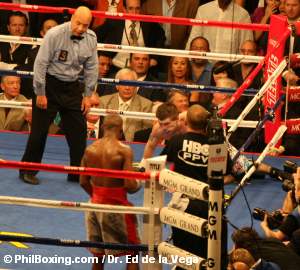 LAS VEGAS -- Hatton's bullying and a rabid British crowd that filled that 16,000-capacity MGM Grand Garden Arena were no match to Mayweather's excellent boxing skills here tonight. Pound-for-pound king Floyd May


MAYWEATHER-HATTON IS ONE OF THE BIGGEST MONEY FIGHTS IN HISTORY
09 Dec 2007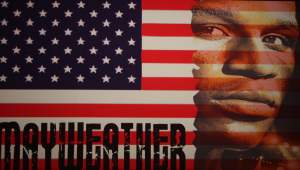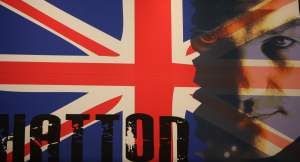 LAS VEGAS -- A few hours from now, undefeated boxers Floyd Mayweather, Jr. (38-0, 24KOs) of Grand Rapids, Michigan and Ricky Hatton (43-0, 31KOs) of M


BAUTISTA, BANAL WIN IN PAYBACK!
02 Dec 2007
Rey "Boom Boom" Bautista of the Philippines won by unanimous decision over tough-as-nails Antonio "Barrio" Meza of Mexico in the well-attended 'Payback' event at the Araneta Coliseum in Quezon City. The scores were 118-110, 117-111 and 116-112, all for Bautista who now improved to 24-1-0 (17 KOs)


BOXING MAKING A HUGE COMEBACK IN ZAMBOANGA
Canoy, Francisco in Knockout Victories
02 Dec 2007
After a long absence, boxing in Zamboanga is making a huge comeback when more than 15,000 people came in droves to the Zamboanga City Coliseum last night to witness local featherweight prospect Eric Canoy and highly rated flyweight Draian Francisco fashioned out knockout victories against their Thai


SOLIS-BATAWANG FIGHT POSTPONED ANEW!
29 Nov 2007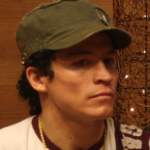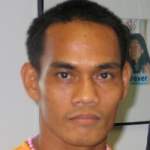 The oftentimes postponed IBF mini-fly title fight between defending champion Ulises Solis of Mexico and Bert Batawang of the Philippines, last scheduled o


IT'S PACQUIAO VS MARQUEZ!
27 Nov 2007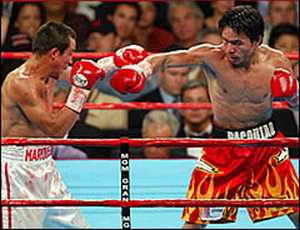 It will be a rematch of the ages, Pacquiao-Marquez II. Everything has been set, except for the formalities. A press conference to announce the megafight deal is scheduled on December 20 in Los Angeles to be attended by Go


SGG PROMOTIONS LINES UP TWO MAJOR BOXING EVENTS IN 2008
Peņalosa, Larios To Headline Feb. Card As World Cup III is Set in May
24 Nov 2007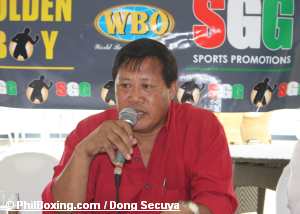 CEBU CITY -- SGG Promotions president Sammy Gello-ani has announced two major boxing events in the first half of 2008 during a press conference at the Cebu Grand Hotel yesterday. Gello-ani said that S