There are 943 articles attributed to this author.
Displaying articles 801 to 810.
GORRES IMPRESSIVE IN PUBLIC SPARRING
18 Jan 2008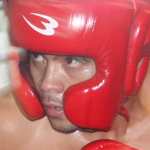 Cebu City -- Z 'The Dream' Gorres, who will face former world champion Vic Darchinyan in Australia on Feb. 2 at the Waterfront Hotel & Casino, displayed sharpness and good timing during yesterday's public sparring sessi


CONDES' CHALLENGER RAUL GARCIA PROMISED BOON IF VICTORIOUS
13 Jan 2008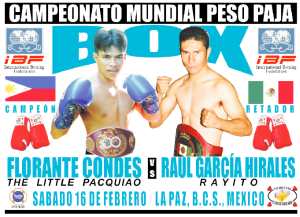 In a press conference Friday at La Paz, Baja California, Mexico, the venue of the Condes-Garcia title fight on Feb. 16, Condes' opponent Raul Garcia had been promised a 'car of the year' by the governor of Baja California


PACQUIAO-MARQUEZ II PRESSCON ON JAN. 15
11 Jan 2008
Pound for pound fighters Manny Pacquiao of the Philippines and Juan Manuel Marquez of Mexico will come face to face with each other for the first time in almost four years when the duo will hold a press conference on Tuesday, Jan. 15 at the Rodeo Room of the Beverly Hills Hotel in Beverly Hills, CA


VILORIA FIGHTS TODAY
05 Jan 2008


Former world champion Fil-Am Brian Viloria (19-2-0 12KOs) returns to action today after a nine-month layoff against Jose Garcia Bernal (27-9-1 18KOs) of Columbia at the Alameda Swap Meet in Los Angeles. Both Viloria and Berna


'PACLAND' ONE OF THE MOST SEARCHED TERMS IN GOOGLE IN 2007
31 Dec 2007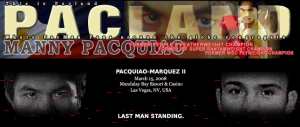 'Pacland', which refers to the unofficial website of Filipino boxing icon Manny Pacquiao, was among the most search keywords for 2007 in Google.com.ph, the Philippine version of the popular search engine, according to the 2007 Y


PACQUIAO-MARQUEZ TICKETS WILL GO ON SALE FRIDAY
19 Dec 2007


MANILA -- Top Rank president Bob Arum spoke briefly to PhilBoxing.com and informed that tickets for the Pacquiao-Marquez rematch set on March 15 at the Mandalay Bay in Las Vegas will go on sale this Friday, Dec.


SOLIS SHUTS DOWN BATAWANG'S DREAM
16 Dec 2007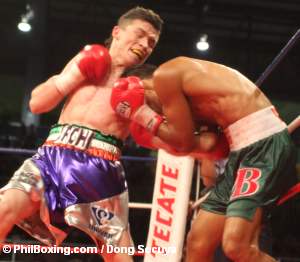 GUADALAJARA, MEXICO -- Guadalajara's own son and hero, Ulises 'Archie' Solis, amidst the wild cheering of thousands of his compatriots inside the Auditorio Benito Juarez here, brought the fight to Bert Batawang of the Phili


BATAWANG ATTEMPTS TO MAKE HISTORY TODAY
16 Dec 2007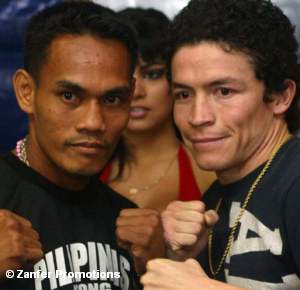 GUADALAJARA, MEXICO -- Cebu's Bert Batawang alias "Ninja", now in the twilight of his 17-year boxing career, attempts to make history today by trying to wrest the IBF light flyweight crown from a much younger opponent and Gu


'WE ARE NOT AFRAID OF FILIPINOS, ONLY MANNY PACQUIAO'
15 Dec 2007
GUADALAJARA -- During tonight's TV appearance of Archie Solis and Bert Batawang at TV Azteca, Mexico's biggest television network, Batawang's manager Samson Gello-ani articulated to the TV host Batawang's purpose in coming to Guadalajara. Gello-ani said that "first, Batawang wanted to continue


SOLIS, BATAWANG MAKE WEIGHT
All Set for Tomorrow's Title Fight
15 Dec 2007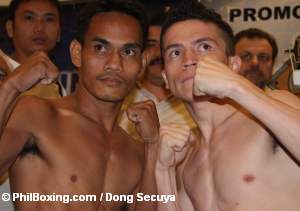 GUADALAJARA -- Defending IBF light flyweight champion Ulises "Archie" Solis of Mexico and challenger Bert Batawang of the Philippines make weight at today's weighin held at Hotel Victoria Express here for tomorrow's title fi