There are 899 articles attributed to this author.
Displaying articles 761 to 770.
'PACLAND' ONE OF THE MOST SEARCHED TERMS IN GOOGLE IN 2007
31 Dec 2007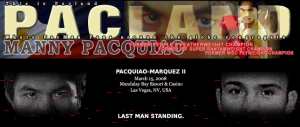 'Pacland', which refers to the unofficial website of Filipino boxing icon Manny Pacquiao, was among the most search keywords for 2007 in Google.com.ph, the Philippine version of the popular search engine, according to the 2007 Y


PACQUIAO-MARQUEZ TICKETS WILL GO ON SALE FRIDAY
19 Dec 2007


MANILA -- Top Rank president Bob Arum spoke briefly to PhilBoxing.com and informed that tickets for the Pacquiao-Marquez rematch set on March 15 at the Mandalay Bay in Las Vegas will go on sale this Friday, Dec.


SOLIS SHUTS DOWN BATAWANG'S DREAM
16 Dec 2007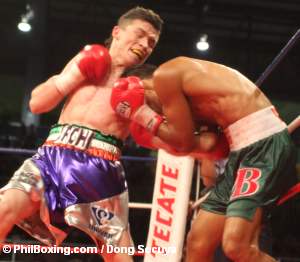 GUADALAJARA, MEXICO -- Guadalajara's own son and hero, Ulises 'Archie' Solis, amidst the wild cheering of thousands of his compatriots inside the Auditorio Benito Juarez here, brought the fight to Bert Batawang of the Phili


BATAWANG ATTEMPTS TO MAKE HISTORY TODAY
16 Dec 2007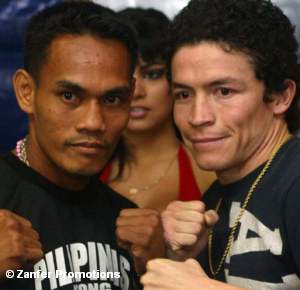 GUADALAJARA, MEXICO -- Cebu's Bert Batawang alias "Ninja", now in the twilight of his 17-year boxing career, attempts to make history today by trying to wrest the IBF light flyweight crown from a much younger opponent and Gu


'WE ARE NOT AFRAID OF FILIPINOS, ONLY MANNY PACQUIAO'
15 Dec 2007
GUADALAJARA -- During tonight's TV appearance of Archie Solis and Bert Batawang at TV Azteca, Mexico's biggest television network, Batawang's manager Samson Gello-ani articulated to the TV host Batawang's purpose in coming to Guadalajara. Gello-ani said that "first, Batawang wanted to continue


SOLIS, BATAWANG MAKE WEIGHT
All Set for Tomorrow's Title Fight
15 Dec 2007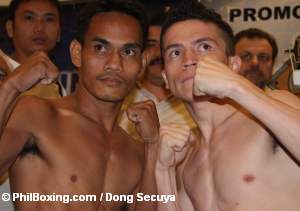 GUADALAJARA -- Defending IBF light flyweight champion Ulises "Archie" Solis of Mexico and challenger Bert Batawang of the Philippines make weight at today's weighin held at Hotel Victoria Express here for tomorrow's title fi


SOLIS, BATAWANG GUEST GUADALAJARA TV AND RADIO STATIONS
14 Dec 2007
GUADALAJARA, MEXICO -- "Golpes de Poder" protagonists Ulises 'Archi' Solis of Guadalajara and Bert Batawang of the Philippines guested TV and Radio shows throughout the day to promote their Saturday night (Sunday morning in Manila) IBF minifly world title fight at the Auditorio Benito Juarez here.


BREAKING NEWS: DIAZ-KATSIDIS FIGHT IS A NO GO
14 Dec 2007
GUADALAJARA, MEXICO -- Topnotch matchmaker Sampson Lewkowicz said that the highly anticipated fight between world champion Juan Diaz Of Mexico and Michael Katsidis of Australia scheduled on February 9 next year in the United States wouldn't push through. "Someone botched during the negotiation a


BATAWANG SEES A GOOD FIGHT WITH SOLIS
13 Dec 2007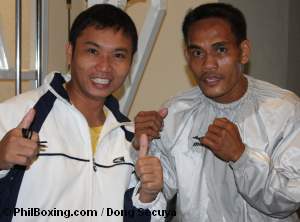 GUADALAJARA, MEXICO -- Filipino world title challenger Bert "Ninja" Batawang, who is trying to become the Philippines' fifth world champion this year, sees a good fight with local boy IBF minifly champion Ulises "Archie" Soli


MAYWEATHER TKOs HATTON IN ROUND 10
09 Dec 2007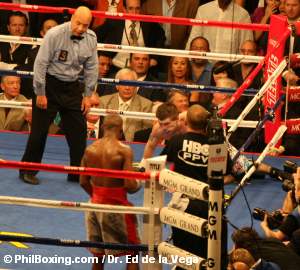 LAS VEGAS -- Hatton's bullying and a rabid British crowd that filled that 16,000-capacity MGM Grand Garden Arena were no match to Mayweather's excellent boxing skills here tonight. Pound-for-pound king Floyd May