There are 1,450 articles attributed to this author.
Displaying articles 1411 to 1420.
PEACH BREAKS THE HEARTS RP FANS, BEATS DJANGO IN CONTROVERSIAL FASHION
Sat, 10 Nov 2007
QUEZON CITY, PHILIPPINES -- ENGLISHMAN Daryl Peach broke the hearts of the Filipino fans by beating hometown favorite Francisco "Django" Bustamante, 11-10, in an intense and controversial quarter-final game this afternoon at the Big Dome in the ongoing 2007 Philippine World Pool Championship. Dra


FOUR PINOYS SEEDED IN 2008 WORLD POOL CHAMPIONSHIPS
Sat, 10 Nov 2007
MANILA -- FOUR FILIPINO POOL sharks are not only enjoying a guaranteed $4,500 each but have already been seeded into the 2008 World Pool Championships, courtesy of the four having reached the round-of-16 of the ongoing 2007 World Pool Championships in Philippines. This was bared yesterday Matchr


JOVEN OUSTS FORMER WORLD CHAMP WU IN WPC
Fri, 09 Nov 2007
QUEZON CITY, PHILIPPINES -- A day after crushing compatriot Dennis Orcollo, 10-6, Joven Bustamante pulled another big upset win and this time defeating ex-World Pool Champion Wu Chia-ching of Taiwan, 10-8, to advance into round-of-16 at the Big Dome Thursday night. The 28-year-old Joven, distant


WPC Update: Gomez Beats Feijen, De Luna Clashes with Corteza in Round of 64
Wed, 07 Nov 2007
ROBERTO GOMEZ WINS 1ST MATCH FILIPINO ROBERTO GOMEZ clustered three straight racks to upset heavyweight European no.1 player Niels Feijen of the Netherlands, 9-6, to inch closer to the last 64 in the ongoing 2007 Philippine World Pool Championships at the Big Dome yesterday. "Buti na l


WORLD POOL: ANDAM EXACTS REVENGE ON SOUQUET, MANALO ALSO WINS 1ST MATCH
Mon, 05 Nov 2007
LEONARDO ANDAM waited a year to avenge his loss in the last year's edition of the Philippine World Pool Championships. The veteran cue artist remembered too well the loss he suffered from German Ralf Souquet in the preliminary of last year's World Pool Championship in a 4-8 rack score. "Isang


WPC UPDATE: DJANGO, ALEX, BEBENG ADVANCE INTO LAST 64
Mon, 05 Nov 2007
QUEZON CITY, PHILIPPINES -- FRANCISCO "DJANGO" BUSTAMANTE, Alex "The Lion" Pagulayan and Ramil "Bebeng" Gallego posted back to back contrasting victories yesterday to advance into last 64 of the Philippine World Pool Championship at the Big Dome. The power-breaking Bustamante from Tarlac City be


WPC UPDATE: ALCANO, UCHIGAKI IN ROUND OF 64; INCENTIVES FOR TAIWAN PLAYERS
Sun, 04 Nov 2007
RONATO ALCANO ENTERS ROUND OF-64 QUEZON CITY, PHILIPPINES -- Ronnie Alcano flashed his toothless smile and winning form yesterday to lead the charge of Filipino cue artists in the World Pool Championship yesterday at the Araneta Coliseum. With the knockout rounds in sight, Alcano didn't


Pacquiao to Welcome WBC Convention Participants
Sat, 03 Nov 2007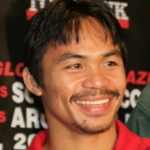 MANILA, PHILIPPINES -- MANNY Pacquiao, arguably the best fighter the Philippines has produced in modern times, will welcome participants to the 45th World Boxing Council (WBC) Convention set Nov. 11-17 at the Manila Hotel. Pacquiao


ALL EYES ON SHANE VAN BOENING IN WORLD POOL CHAMPIONSHIPS
Sat, 03 Nov 2007
MANILA, PHILIPPINES -- ALL eyes on America's brightest hope Shane Van Boening as his skill will be tested in the biggest 9-ball pool today. While his name hardly rings a bell to many, Van Boening, the recently crowned US Open champion, easily tops the list of fancied players in the World Pool Ch


WPC Update: Taiwanese, Japanese Take First Two Qualifiers
Mon, 29 Oct 2007
MANILA -- Lu Hui-Chan of Chinese Taipei and Kenichi Ichigaki of Japan took the first two spots of the WPC qualifying tournament at the Star Billiards Center on Saturday, October 27. Lu beat compatriot Ching Yu-lung 9-2 in the final of the first qualifier. The field consisted of 80 players.